4 Major HR Trends to Follow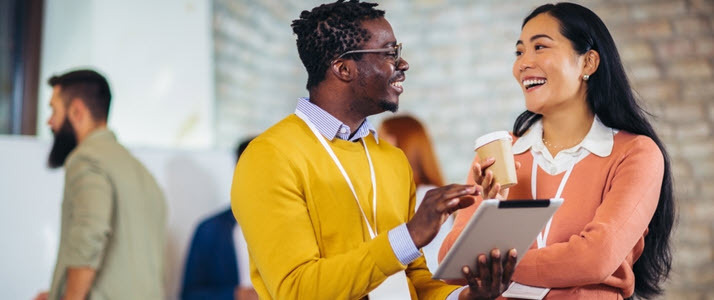 The employee experience will take center stage this year as employers act on employee feedback to further personalize the employee experience and respond to real-time support expectations, among other trends that will shape HR throughout the year.
What's in store for the next 12 months? It's a question on people's minds as they start wrapping up their year. HR and business leaders are no different. Many hope to understand the industry trends affecting their workdays and workforces, so they can prepare, respond and adapt accordingly. Here are four HR trends that will shape the evolution of the workplace in 2023. [But first: Register for the 2023 trends webinar and hear from the experts directly.]
1. Workers are forever changed and want work to be personal
The COVID-19 pandemic and its aftermath changed how people experience work, working and the workplace. Traditions and conventions were questioned and challenged. Notions of job security were re-evaluated. Millions resigned, looking for something different. "How do I integrate home, life and work?" became a purposeful exercise in self-examination. Since 2020, many have merged their personal and professional priorities to create work-life integration, blending, not balancing, both sets of duties. In 2023, employers will continue to navigate this integration. They should be ready to talk to their employees about their personal goals, including those related to flexibility, purpose and career paths, to understand how they can satisfy their wants and needs. Talent management and activation tools and a powerful survey solution can guide decision making in this area, helping leaders substantiate and personalize their employee initiatives.
2. Workers are providing real-time feedback, expecting a real-time response
Gathering and analyzing employee feedback to understand and improve the employee experience has accelerated, becoming a top priority for HR practitioners by way of employee surveying. In a recent survey of ADP clients, employee survey capabilities surfaced as one of practitioners' top three priorities. Additionally, digitalization has intensified employee expectations regarding real-time support. In other words, when issues arise, many expect prompt assistance. Some organizations have deployed employee self-service technology, survey solutions and engagement platforms to address, detect and talk to employees about their challenges as they arise — instead of after engagement and morale have been jeopardized.
Learn more in this video by Emma Phillips, Division Vice President of Human Resources at ADP, about how data will increasingly empower HR leaders to make strategic real-time decisions at the pace of change: How Will HR Shape the World of Work in 2023?
3. Workers are empowered by data and expect transparency
Concerns about data and how data are being used may compel some employers to re-evaluate their data management infrastructure and pay-related policies in 2023. Data privacy developments, specifically, will be essential to follow. Transparency-wise, awareness of pay, pay ranges and pay equity will continue to generate discussions and influence decision making amongst employers, employees and candidates. Pay data and benchmarking can serve as helpful guideposts for leaders, including when discussing pay transparency requirements, which have influenced how and when employers disclose salaries and wages. Research suggests that employees support both pay transparency and learning about fair pay. According to Glassdoor:
63 percent of employees prefer to work at a company that discloses pay information over one that does not
69 percent of employees wish they better understood what fair pay is for their position and skill set at their company and in their local job market
70 percent of employees across seven countries believe pay transparency is good for employee satisfaction
72 percent of employees believe pay transparency is good for business
Learn more in this video by Jack Berkowitz, ADP's Chief Data Officer, about how data will reshape the worker experience: How Will Data Shape the World of Work in 2023?
Learn more in this video by ADP's Vice President of Compliance and Government Affairs, Pete Isberg, about two regulatory focus areas that will impact employers this year: How Will the Regulatory Landscape Shape the Future of Work?
4. Workers want to work differently, demanding employers find innovative solutions
The pandemic and its aftermath reminded people of their resourcefulness and adaptability. Changes over the past several years have reinforced that transformation, creative solutions and ingenuity can happen, do happen and must happen to support people-first approaches to work and leadership. Examples include providing flexible working arrangements and schedules, prioritizing skills over credentials, making data-driven decisions to support underrepresented groups and resolving inequities with data over time. In 2023, employers will benefit from leaders who view forward-thinking perspectives not as enemies but as allies. Exploring ways to introduce, create and support innovation will prove helpful. Data-driven leader development, providing upskilling and reskilling options through learning management, mining internal talent for career development opportunities, personalizing employee career paths and broadening talent pools to attract people from nontraditional backgrounds are tactics worth considering.
Learn more in this video by Roberto Masiero, Senior Vice President of ADP Innovation Labs, about how data-driven tech will make work more personal: How Will Innovation Shape the World of Work in 2023?
Next steps
HR trends are moments in time, changing alongside industries, technology, employers and labor markets. Subscribe to a SPARK newsletter to receive additional updates on HR trends throughout the year. You are also invited to register for and replay the on-demand 2023 HR trends webcast anytime to hear from the experts directly.
Dive deeper: Download our 2023 trends guide to learn how to adapt to this year's trends.
---