The Wisdom of ADP Women in STEM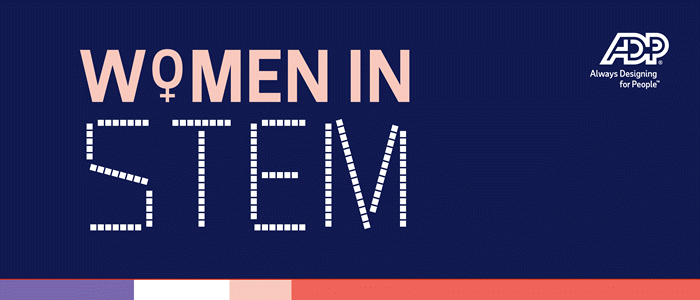 While all of the women I interviewed work in technology, they are each works of art.
Women in STEM fields face unique challenges since careers in science, technology, engineering and math tend to be dominated by men.
I had the privilege of interviewing more than 20 women at ADP to learn their stories. They have generously shared their wisdom, often gained the hard way. While all the women I interviewed work in technology, they are each works of art. Here is some of what I have learned — in both my words and theirs.
Stay open to the extraordinary; it's present everywhere. — Martha Bird
You May Be the Only One, But You're Not Alone
Everyone's actions and behaviors affect something or someone else. — Samantha Ortiz
Women in STEM are often the only one — the only woman in their engineering class, the only person of color on the team, the little girl who liked to take things apart and get messy. Feeling "other" and being treated differently was a common thread. They had a harder road and larger obstacles but never let being the only one stop them. Instead, they overcame, achieved, and let the doubters underestimate them.
Mentorship made a difference. Asking for and receiving help from mentors provided guidance, especially in handling difficult situations or conversations. It also opened up new opportunity.
Having the help and support of spouses, family, and friends as well as creativity, and spiritual practices were also essential. What got them through the difficulties and loneliness of being the only one was the guidance and love of others. Working on their relationships and connections was an essential foundation for their individual success.
Follow your heart and trust that it knows. Stay optimistic, be persistent, and keep going. Give up the spirit of fear for the power of love. — Kanyatta Walker
Believing in Yourself Is What Makes You Teachable
I've learned to be comfortable saying when I don't know. — Hanneli Hudock
Having confidence is essential to learning new things. Trusting yourself and your abilities makes it possible to stay open to new information, take constructive feedback, see things from someone else's point of view, and move ideas forward. Confidence is essential to curiosity.
When we don't believe in ourselves, we spend our energy appeasing our fear. We seek certainty, then hold it tight for comfort. And that requires keeping our world small and manageable.
The essence of STEM (and STEAM) is inquiry and the capacity to gather new information, test its accuracy and usefulness, and be willing to change our minds in the face of reliable data.
I used to be really hard on myself because I thought I had something to prove. Now when I make mistakes, I know that I am learning. I offer myself grace, and I keep going. — Giselle Mota
YES!! Wait — this isn't that hard. I wonder what else I can do? — Lyndze Blosser
Be Prepared, But Also Take Risks
One open door leads to many. — Guadalupe Garcia
The best way to contribute is to show up prepared. Know who will be at a meeting, consider their point of view, and be prepared to address the issues with either solid information or well thought out questions about a valid concern. Being prepared honors the work, the people we work with, and ourselves.
It also lets people know our capabilities and demonstrates that we are ready for the next challenge.
Yet, even when we have prepared, worked hard, and believe in ourselves, it can be scary to take on unfamiliar things and seek the next opportunity. So, take calculated risks, let people know what you would like to try next, and don't limit yourself because you don't feel completely ready.
Greatness happens when you are outside your comfort zone. — Rita Mitjans
Take on new things, make mistakes, have fun, take risks. It's okay to be afraid. Do it anyway! — Hanneli Hudock
You Can Do It, But Maybe Not All at the Same Time
We've all said that some days we feel like we've been run over by a truck. — Lyndze Blosser
In our culture, women still carry more of the load in childcare and at home. Then we're often expected to outman the men at work. Although this is changing, nobody, even women, can do everything.
Understanding our capacity is fundamental to doing great work and helping others. Sometimes this means delaying big things like having kids, moving for work, going for a degree, or taking on a new role. Sometimes, it means going for it, but needing support to make it happen.
There are many right ways to managing the competition for our time, attention, and care. But they all require the ability to prioritize, delegate, get help, and find time for ourselves. Each person's path is different. But most things are possible if you take care of yourself and ask for help along the way.
We need to accept that women's career cycles are different from men's and make sure that everyone has access to opportunity for growth and success. — Ahu Yildirmaz
I need my best self to make a difference, and that requires taking care of me. — Aisha Thomas-Petit
I do a lot of planning and a lot of delegation. I like structure. The dog is more difficult. — Virginia Magliulo
Ready for more?
Explore the stories of these and other ADP Women in STEM, and learn about careers at ADP.