ADP Women in STEM Profile: Giselle Mota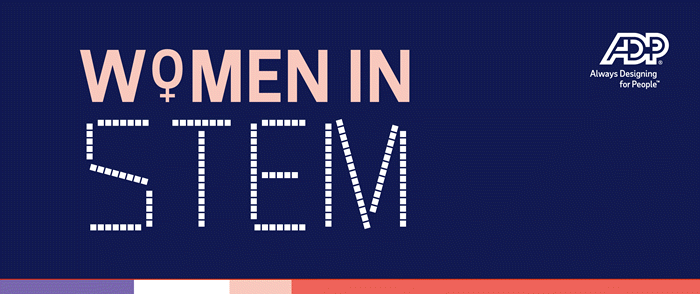 Continuing our profiles of some of the many extraordinary women in STEM at ADP, we sat down with Giselle Mota - Principal, ADP Future of Work team.
Growing up, one of Giselle Mota's heroes was MacGyver, the genius television character who was always solving insurmountable problems in unconventional ways. Like MacGyver, Giselle loved taking things apart to figure out how they worked. The problem solving, thinking outside of the box, and pattern finding intrigued Giselle as the energetic and often mischievous child that she was. She once managed to rewire a toy walkie-talkie and hack into a telephone conversation when her mom was on the phone. Unscrambling and decoding has always been Giselle's mission.
Finding patterns
That mission has also involved her own brain. Giselle has dyslexic tendencies which translated into struggling with reading and learning early on but helped make her extraordinary at math and science.
What started as learning struggles became her superpower because today, Giselle sees the world in patterns. She deconstructs complex concepts into elemental pieces and designs, and intuitively understands how they fit together. This "backwards thinking" as she described in a TEDx talk, eventually led to her interest in artificial intelligence (AI); specifically the algorithms, calculations, and data behind it. But Giselle's interest is not just in the elements of AI, it's that AI can be used to solve real problems.
Once Giselle had identified her superpower, she learned to apply pattern thinking to everything, including one of her personal passions --- music. Giselle sings and plays multiple instruments. She taught herself from an early age by seeing patterns in chord progressions. This out-of-the box perspective has also fueled her love for inventing in the kitchen and expressing herself through the arts. Peek at Giselle's meeting notes and you may find a drawing of a person across the room, or some sort of illustration breaking down the topic at hand into symbols, frameworks, and patterns.
Always learning
Initially Giselle struggled in school. But after finally figuring out her learning style and how to use it to succeed, she began to thrive academically and was accepted into advanced courses. Giselle enrolled in a magnet school program and then into the International Baccalaureate program for high school. These programs were often held in areas unlike the tough neighborhoods where she grew up, so Giselle would travel quite a distance to attend these schools.
"Even though I was often the only person of color and from a different socio-economic background, I didn't let anything stop me. I refused to be labeled or boxed in; I refused to be just a statistic," Giselle said.
Giselle also had a lot of support from her family who emigrated from the Dominican Republic to United States in the 1970s. "They understood what it was like to struggle, adapt, and thrive against all odds," Giselle said. Her faith has also been an important factor in her achievements. "When I realized that all things are possible with a little bit of faith, I finally tapped into what I could do, and there was no turning back."
Giselle graduated with degrees in Management and Marketing from the University of South Florida. During that time, she also founded a staffing and recruiting company that she used as a part of her capstone project for the School of Business.
Giselle went on to earn an MBA in Organizational Design and Change Management while taking many additional mathematics courses. From there she became a college professor both on campus and online, teaching and developing courses in math, business, and economics.
After several academic and corporate positions, Giselle later founded a consulting company that used AI and adaptive technologies to optimize corporate learning and development (L&D) strategies. She is fascinated by the changing world of work and how organizations can leverage technologies and strategies to respond to these changes.
Coming to ADP
After a stint at PricewaterhouseCoopers (PwC), and while continuing to consult, Giselle joined the future of work team at ADP. The change came after making a presentation at DisruptHR, where Jennifer Phillips Kirkwood, VP of the Future of Work team at ADP, was presenting on the power of analytics and Giselle was presenting on AI. They clicked immediately, and Giselle was asked to join Jennifer's team which has been a perfect fit. Jennifer describes Giselle as "intelligent sunshine with heart."
Prior to joining ADP, Giselle knew of the company for simply their payroll services. When Jennifer approached her and described the team she was building, Giselle learned that ADP was evolving – focusing on the very things that intrigued Giselle: the future of work, trends, innovation and research. The opportunity to join an evolving organization and to make an impact was so attractive that Giselle not only left PwC, but also discontinued her consulting. "I guess Jen is just that good at selling, because she somehow won me over", Giselle said.
The Future of Work team, known as The Edge, informs the "why" behind the technology and solutions ADP provides. "We are often brought in to communicate thought leadership to prospects, clients, and our internal sales teams," Giselle said.
"We work closely with the ecosystem at ADP such as the innovation labs, security, data and product teams, and many others, sharing feedback and messaging around ADP innovation. Our team is continuously thinking about trends, technologies, and innovation and how this impacts ADP's prospects and clients in the changing world of work."
Right now, Giselle is most excited about how artificial intelligence/machine learning (AI/ML) and analytics continue to evolve from experimentation and hype, to being applied and integrated into next-generation solutions – and how all of this will benefit ADP's clients.
"AI/ML are continuously expanding what they can do because their inherent function is to learn and evolve," Giselle said. "These technologies use data and end up providing new data insights, and in turn we continue to learn what's important to our clients, their people and organizations, and continue to innovate to solve for those areas of interest."
Be yourself
Sometimes being different accelerates self-acceptance. That was certainly the case for Giselle who figured out early to let any criticism fuel her efforts to finding her unique voice and path.
"The best advice I have received throughout my journey was to believe in myself. This informs everything else that I do; how I treat people and how I carry myself in the world," she said.
Giselle sees her uniqueness and individuality as a strength. "I don't let anything intimidate me. I used to be really hard on myself because I thought I had something to prove," she said. "Now when I make mistakes, I know that I am learning. I offer myself grace, and I keep going. The other option is to be paralyzed in self-doubt, and I'm not going to do that."
Giselle's advice? "When other people are uncomfortable with your success or self-acceptance, that's the time to practice the same grace and patience you developed for yourself, and extend it to them," she said. "So whenever someone is uncomfortable with your confidence or success, consider that as a sign that they aren't where you are in terms of self-acceptance yet, and be gracious."

Giselle Mota