ADP Women in STEM Profile: Virginia Magliulo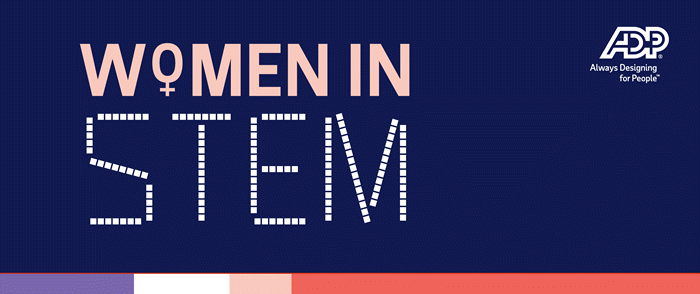 Continuing our profiles of some of the many extraordinary women in STEM at ADP, we sat down with Virginia Magliulo, General Manager of Southern Europe.
Growing up, Virginia Magliulo had questions. She wanted to know how things worked. She sought information on space and astronomy. Virginia had so many questions that her mom gave up trying to answer them all and bought her a set of encyclopedias. She read them all and had more questions.
Virginia was also a talented dancer. When she was 11, her teacher asked if she wanted to be a professional dancer. Virginia replied, "No. I want to be an engineer!" Now she is.
Electronical Engineering
Virginia earned her degree in Electronical Engineering from Politecnico di Milano in Italy. Electronical engineering studies automation such as robotics and mechatronics. Mechatronics is a hybrid of electrical, mechanical, and computer engineering working with things, systems, and computer programs. Not only is the field fairly obscure, there are few women in it. Of the 400 students in the program when Virginia was there, only about 20 were women.
Despite being one of few women, Virginia thought the field was perfect for her because she not only was able to learn about how things work, she also got to create new things and got them to work in new and interesting ways.
After university, Virginia moved from Italy to London to work as a project manager for Air Products. The work required spending long periods working on construction sites, and while Virginia enjoyed the work, she was also ready for a more normal life.
Focus on Customer and Team Success
Virginia moved back to Italy and joined IBM as a project manager. She was there for 16 years in different positions including working with one of the vice presidents who became a mentor. "He wanted to make informed decisions and would ask a lot of questions. I love asking questions too, to find out the reasoning and understand the dynamics. I learned that you get better decisions when you have the input of other points of view."
While at IBM, Virginia also worked as an innovation leader, then worked with service delivery, outsourcing sales and business development, and more. The variety of experience gave Virginia a chance to see the sales and service sides of the business. "It was a great experience. It came from being open and willing to embrace change and to try different positions. Being able to broaden my perspective has been very useful for me. I learned to be effective as a leader by staying open, curious, flexible and able to put myself in others' shoes."
In 2015, Virginia joined ADP in Milan as a customer service director focusing on cloud services, managed services, business process outsourcing, and services beyond payroll. After a few months she was promoted to general manager: "I am obsessed with quality and have always had an amazing team. I am very proud we were able to increase customer satisfaction by 50 points."
Virginia then became the general manager for Southern Europe, which includes Italy, Spain, and Portugal. While she speaks fluent Italian, French and English, Virginia realized to be effective she needed to learn Spanish as well. "It is essential that I can understand thoroughly what people want to tell me. So, I am taking Spanish lessons."
She never stops learning and loves seeing transformation. "I like to look back and see how things have changed and to look forward to what we want to happen."
Virginia also loves working with people – especially her team and ADP's clients – and helping them succeed. "Supporting others and seeing them do their best is important to me. I always try to do what is right for the company, projects, and clients. Communication is the key."
Diversity and Inclusion for Better Decisions
Diversity of thought is how Virginia gets to the best decision. "I talk with people different from me to get their perspectives and approaches. For an important decision or when I'm facing something new, I like to get advice from four to five people in and outside the office. I may change my mind or keep my original opinion, but I always have a clearer and more balanced view. It's very important to have diverse perspectives."
Inclusion is also an essential part of Virginia's approach to work, and she spends significant time mentoring. She is active in Break the Ceiling and iWin, two internal ADP initiatives that support women in leadership through networking, mentorship, and unconscious bias training.
The Importance of Being Yourself
Along the way, Virginia got a lot of advice on how to be a woman in a male-dominated field. Early in her career, people told her not to mention family at work. But she was always herself. She never tried to act like a man or change herself to work with men. Instead, Virginia participated in things she enjoyed, like the company baseball team, and was always honest and direct about why she was leaving if her kids were sick and needed to be picked up early. When clients told her they would rather talk to a man, she would just reply, "Let's focus on what is important, start working together and make the project a success."
Virginia's family and friends keep her busy away from work. She has a husband and three children with busy lives as well. "I make sure I have the right priorities and that I am there for important events. I also have a lot of support from my husband and a fantastic network of extended family and friends. I learned early on that you can't do everything by yourself. So I ask for help when I need it and give help in return. I know my kids are in good hands when I am not there."
The trick is to just do one thing at a time. "I try to be exactly where I am and do what's required of me in that place at that time. When I'm at work, I focus my energy there. When I'm home, I'm just a mom." She also uses her finely honed project management and engineering skills. "I do a lot of planning and a lot of delegation. I like structure." The one thing she's still trying to figure out is managing the dog. "The dog is more difficult," she said with a laugh.
Don't Be Afraid of Challenges and Learning New Things
Virginia's best career advice is to take chances and let people know who you are and what you want to do. "Don't say no to change. Don't wait to be 100% ready for the next job — go for it! Stay determined and positive." She also tells women moving up in their careers to explore their next moves and plan for the next opportunity. "Learn about new positions, ask to shadow, volunteer for a stretch assignment, stay open to new opportunity. Then when you know what you want, tell people. And ask yourself what you need to do to get to the next place, what skills, training, or language do you need to learn."
Take on challenges and never stop asking questions.

Virginia at work.

Virginia at play.
Read about other remarkable ADP Women in STEM.
Learn about careers at ADP.