ADP Women in STEM Profile: Samantha Ortiz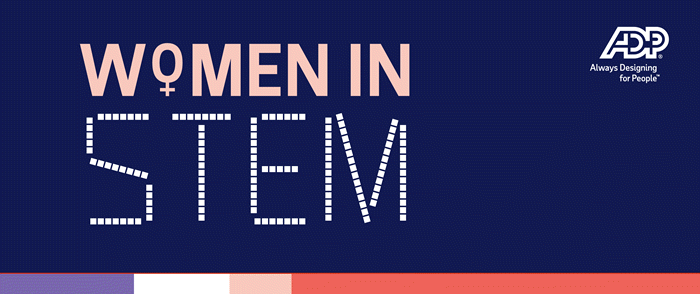 Best advice Samantha ever received? "If you are the smartest person in the room, you're in the wrong room."
Samantha Ortiz started out as a zookeeper. Then she went into marketing. Now she's a software engineer at ADP's Innovation Lab working on its NextGen Platform. Her ever-present curiosity, creativity, and passion for understanding behavior and solving problems have been common threads throughout her varied life experiences.
From Horses to Manatees …
Samantha was born and raised in the Bronx and was comfortable in the city, but she always had an interest in the natural world around her. Her older brother raised tropical poison dart frogs at home, and she was mesmerized as a child while observing them in their terrariums. She also spent most of her free time riding and training horses at Riverdale Riding Center in the Bronx's Van Cortlandt Park, expanding the interest she had in animals.
After spending most of her life in the city, her family moved to Florida, and she was suddenly surrounded by agriculture. She made the most of her new journey in life. Sam joined the local Future Farmers of America, becoming the chapter's student advisor and showing a pig at the county fair. Sam also continued her love of riding horses by finally fulfilling her dream of owning a horse and practicing dressage. "My mother was always so supportive of my adventures with animals," she says. "Even if she felt a little out of place on the farm – she is a New York native, after all – she was there for me every step I took."
Her passion for understanding living things continued in college as she studied psychology at New College of Florida, focusing on animal behavior and conservation. She spent her undergraduate years working with a wide range of animals, from studying manatee sensory behavior to handedness preferences in lemurs. Sam also conducted research on numerous species of fish, including Indian Mudskippers (an amphibious fish), and Stoplight Parrotfish. She spent several summers in Panama working on her thesis research on Parrotfish's feeding behavior and its effects on coral reefs. She was also introduced to design, exploring zoo and aquarium design, its effects on animals, and how it fosters conservation behaviors in visitors.
… and from Reptiles to Coding
After college, she worked as a zookeeper in Florida, caring for animals and presenting reptile educational programs to visitors. "So many people were curious about alligator behavior, especially since we were in Florida," Samantha says. "I shared with them how human actions, particularly humans feeding wildlife, would contribute negatively to the animals' natural behavior, making them more dangerous as they'd become acquainted to people. Everyone's actions and behaviors affect something or someone else."
Samantha's natural interest in behavior took her down a winding path beyond the natural world and into technology.
A relationship took her to Texas, where she worked for a digital marketing consultancy. While she worked as a copywriter and copy editor, Sam also started to combine her knowledge of behavior with the tools of technology. The marketing campaigns she ran combined multiple applications, and she realized she wanted a deeper understanding of the software she was using. How did it target specific demographics? What data did it use to determine which campaigns would trigger actionable behavior in users? "Where I went to college, they encourage you to be an independent thinker and deeply analyze things," she says. "That's how I have always approached everything."
Samantha started to explore coding by teaching herself web development through an online program. After relocating back to New York, she applied to Hack Reactor, an intensive, full-time coding boot camp
"At first, I was telling myself I'm not ready, maybe it's too late, I don't know if I can do this," she remembers. "So, I started with some prep classes before deciding that software engineering was what I wanted to do."
Coming to ADP
While Samantha was at Hack Reactor, she built applications with classmates, and two of them went on to work at ADP. She was invited to a networking night at the ADP Innovation Lab, where "I met lots of fun, intelligent people who love what they do. I started talking to Yaara (Katz) and we just clicked. It was so great to meet another female software engineer with a passion for her work. We laughed and I really felt comfortable. I knew I was home."
Samantha loves software engineering, noting, "It's such a creative process. I have loved writing my whole life, and designing programs and coding is similar. We notice the audience, figure out how to present the information and design the task, and focus on the user. Building software is writing; refactoring code is editing."
Continuous learning is another part of the job Samantha loves. "Every day is a different challenge," she says. "I get to work with new technologies, learning more every step of the way. I am part of a team with great people, and I always feel valued. I started around Christmas a few years ago, and they invited me to their holiday party before I even started. Any idea I have is considered by my team. That's been true from the first day I walked in the door."
The best advice Samantha has received was from one of her software engineering instructors, she says: "If you are the smartest person in the room, you're in the wrong room. Keep learning. Stay open — even if you're scared or not feeling confident."
Samantha's advice to people considering a career shift is, "I wished I had jumped into coding earlier, when I was first drawn to it. Making a change doesn't have to be a scary obstacle. Take it in steps, and know that everyone is learning all the time."

Samantha Ortiz

Samantha and Redtail Boa Constrictor, Sniper, while she was a zookeeper.

Samantha with her horse, Amelia, practicing dressage in Florida.