ADP Women in STEM Profile: Aisha Thomas-Petit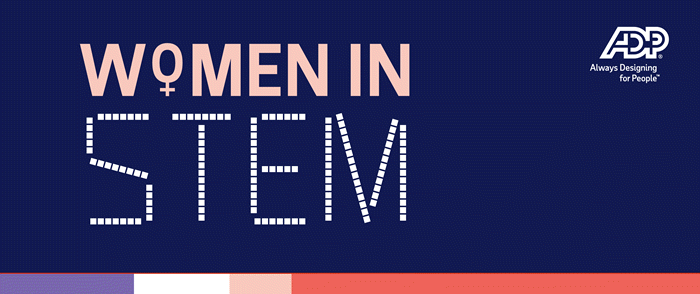 Early in her career, Aisha Thomas-Petit was usually the only woman of color on the team and in the room. She was often ignored, overlooked, and underestimated. Fast forward to 2019 when she was named ADP's Chief Diversity & Inclusion and Corporate Social Responsibility Officer. Read how she got there.
Aisha Thomas-Petit knows what it's like to step into the unknown, embrace it, and make a difference. She's been doing it since she was 5 when she started traveling alone between Philadelphia and Los Angeles to spend time with each of her parents. Air travel is stressful for large humans. It takes a special kind of courage and confidence for a small human to make that trip solo. Aisha did it several times a year her entire childhood.
Courage and Mentorship
"My parents told me that fear is all in your mind," Aisha says. "They said I could do anything. The important thing is to start, know it won't always work out the way you planned or hoped, and learn to pick yourself up when you're knocked down. Who I am is rooted in courage and the ability to overcome adversity."
When Aisha was 12, she decided to reverse the travel. She moved to Pasadena to live with her dad and visited her mom in Philadelphia on holidays. Even though she went to high school on the West Coast, her dad was from upstate New York and the East Coast still felt like home. So, Aisha applied to Syracuse and was admitted to the business school, where she majored in marketing.
"I knew I wanted to go into business," she says. "My parents were both college educated, which was pretty unusual when I was young. My dad grew up in a predominantly white town. When he and his best friend met with the guidance counselor to discuss college, the counselor told them 'black people don't go to college. Why would you think that?"
"The two young men thought differently and applied to historically black colleges and universities, Morgan State and Virginia State, and got in. My dad became a city planner and his best friend, who I call uncle, ended up as one of the most prominent black executives at JP Morgan Chase. You can see where I get my boldness."
After graduating with a degree in marketing, Aisha did a management rotation at JP Morgan Chase where she sampled different roles including investment banking, business analysis, client management, internet marketing, recruiting and HR. Technology was and continues to be a common theme and focus throughout her career.
Aisha went on to get her MBA at Rutgers while working full time at JP Morgan Chase where she was lucky to be mentored by the man she called uncle. He talked straight to her about what it takes for a black person to succeed in finance.
"He would tell me to look at the people at the top of the organization, see how they present themselves, watch and listen," Aisha says. "He taught me to be intentional about how I show up because that is how people perceive whether you are capable of performing the work and the role. I am successful for a reason. I had great training and mentorship that prepared me for the reality I was working with."
Picking Battles with Care
Early in her career, Aisha was usually the only woman of color on the team and in the room. She was often ignored, overlooked, and underestimated.
"I've dealt with many difficult situations that were discriminatory. Initially, I met them with anger, and you would know that I was angry. Over time, I developed the maturity to work with the situation. I've learned that when someone shows me their biases, they may think they're talking about me, but they are really telling me about themselves. I don't have to take it as personally. So, I take a 10-count to pause and don't speak. That gives me the opportunity to collect my words to respond in a way that's constructive."
Becoming a mother was also a great education in learning to pick her battles. With two young and very bright daughters, Aisha has learned a whole new level of patience. She also had to figure out what's important and what to let go. "I have limited time and capacity. I can't deal with every little thing. So I ask, what impact will this have? How does this matter to me, my family, team, organization, or the world? If I cannot make a difference, it's not worth spending my time and energy on it.
"Today, I am clearer than ever that people are inherently good, but often show up with lack of understanding and exposure," Aisha says. "They have unconscious biases. We will not make progress with any of this until we develop relationships with people different than us. We must see, talk about, and address the ugliness in the workplace. I feel it is my responsibility as a leader and a citizen of the world to do so."

Coming to ADP
After about eight years at JP Morgan Chase, Aisha took a role with Lehman Brothers in HR, leading college recruiting for the technology division. Eventually she also became responsible for diversity. She worked with the company as it went into bankruptcy and was with one of the divisions that was purchased by Barclays. Through those transitions, Aisha had the opportunity to look at questions such as what leadership should look like. How do leaders effectively guide people through difficulty, failure, and reinvention?
"In many ways, I had the most success in conditions where I was not expected to thrive. A lot of the work we were doing in HR was focused on how to get by with the bare minimum instead of growth and development."
During this time, Aisha was going through her own transitions. She lost a dear friend and colleague who died unexpectedly. She took on that person's duties, which doubled her work. She also had become a new mom and wanted more time with family. She was ready for a change.
A friend had just accepted a role with ADP and was very excited about joining the company. Aisha started going through her mental rolodex to figure out who she knew who worked there and remembered a friend and former colleague. She called him and asked about ADP, what he was doing, and what it was like to work there. Aisha was intrigued by her friend's enthusiasm. He was also a recruiter and invited her to come to the corporate headquarters for coffee and to chat. There weren't any current openings. But when Aisha left the building, she knew she was going to work there. A couple months later when her friend called about an opening in HR for the Innovation Lab, she responded, "I'm in. Sign me up!"
The role was the opportunity to build a team from scratch. When Aisha was hired, there was no building, no organizational structure, and no people in the Innovation Lab. She took the teams from 0 to 200 in about two years. It was all growth and development, the opposite of her last role in banking.
After working a couple years focused on ADP's Next Gen Solutions, Aisha realized she wanted to know more about the rest of ADP, its products and role in its clients' success. So, when an opening in HR for Major Accounts came up, she jumped at it. "It was an incredible opportunity to get to know the flagship product and learn more about how ADP was changing along with its clients." Aisha then worked in HR for Major Accounts and Canada sales, another opportunity for her to learn something new.
She has always been fascinated by technology. Aisha remembers being an intern early on and sitting at her desk when the very first email communication came through. She was on the phone with a friend talking about how cool email was. She may not still feel that way about email (I didn't ask), but Aisha finds it fascinating to watch tech transform companies, industries, or a person's life. "To be a part of that transformation has been very rewarding," Aisha says.
What's Next?
In late 2019, Aisha was named ADP's Chief Diversity, Inclusion & and Corporate Social Responsibility Officer (after Rita Mitjans stepped down to enjoy retirement or as she calls it "rewirement"). Aisha is still exploring the role and where she can have a positive impact, but she is tremendously excited about the opportunity.
"I can't believe I get to do what I do. HR changes people's lives. I really feel that this work, D&I and CSR, is changing people's lives in a material way. This is work that will affect my daughters and that they can be proud of."
Aisha cares deeply about wellness and how organizations can make a difference for their workers and in their communities. She will continue to mentor others because her mentors made such a difference for her. "I will make sure that I'm always reaching back and pulling others up."
Best Advice
The best advice Aisha has received came from two people she respects:
"It is not about how likeable you are or how smart you are. It's about who is talking about the impact that you have made.
"Your actions, reputation, and the impact you have precede you. When I show up, I expect that somebody in that room will know why I'm there because they know about my work. That means do the work, make a difference, and make it known."
Aisha advocates inclusive leadership. "I'm a coach. I play to people's strengths and help them succeed. And it comes back in the work they do."
Aisha's best advice for others is: "Get up on the 10 count. The world is going to knock you down. The world is going to give its best shot. There will be struggles and difficulty. Get up. Find your resilience and show it to the world."
To maintain her own resilience and center, Aisha loves spending time with her family and friends. "These are the people who are very dear to me and who I would not want to walk through this life without."
It's also essential to take time for herself. Aisha says, "Put your oxygen mask on first before assisting others. I pray. I exercise. I listen to music, podcasts and read books. I have to take care of myself so that I have something to offer others. I need my best self to make a difference, and that requires taking care of me."

Ready for more?
Explore the stories of these and other ADP Women in STEM, and learn about careers at ADP.
Read why ADP was named the "2020 Top Companies Winner for Women Technologists" by AnitaB.org.
Related Video: How ADP Walks the D&I Talk
One way ADP encourages diversity and inclusion among its associates is through business resource groups (BRGs). ADP's iWIN BRG is the company's largest with 5000+ members (male and female) from 19 countries across the business. Learn how iWIN engages, equips and empowers its members to achieve personal and professional success through networking, The iWIN BRG is an internal organization open only to ADP associates.