ADP Women in STEM Profile: Ahu Yildirmaz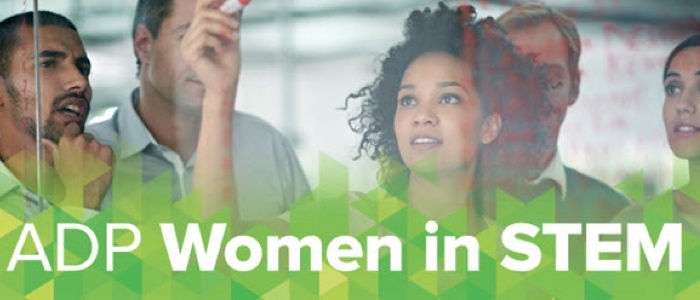 "Without self-awareness, we cannot be successful. Having smarts, expertise, and the ability to effectively work with people will differentiate you." - ADP's Ahu Yildirmaz
When Ahu Yildirmaz was studying economics in graduate school in Manhattan, she could see the National Debt Clock rising at Sixth Avenue near 42nd Street from her dormitory room. By early 2000, when the clock started to run backward because the national debt was actually decreasing, she was already working as an economist.
Data Give Us New Perspectives
Growing up in a developing country, Ahu was always fascinated seeing the linkage between economic news and what was going on in the streets. She enjoyed looking beyond the numbers, reading between the lines of what they were saying.
Ahu grew up in Istanbul. "Where Europe meets Asia," she says. "It's a cosmopolitan and multi-cultured environment because of the influences from two different continents. So, I experienced diversity from Day 1."
In college, economics was a natural fit for Ahu because she loved how scientific inquiry and data could explain both human and market behavior. "We see what is happening through data and learn how people perceive what is happening through surveys and interviews," she says. "Using both types of information, we can understand what is actually going on."
New York, Geese & Medicine
Ahu was excited to earn her doctorate degree in New York because it was the center of the financial markets. She was living right in the middle of the action as she learned how to question, explore and understand how markets both reflect and influence human behavior.
Her first job after school was with AT&T. One project was analyzing call times and traffic peaks in order to optimize the telecom network. Ahu remembers seeing seasonal call increases between the U.S. and Canada that did not immediately make sense. They were able to figure out that the call traffic matched the snowbirds moving from Canada to Florida. In the States, it was also interesting to see that there was no activity in the network when the O.J. Simpson verdict was announced. (Today, we just check Twitter.)
As an economist, it was important for Ahu to work in different sectors. She joined Johnson & Johnson because working in health care makes a difference in people's lives. One of the things she studied was how a new drug was adopted in the marketplace. Unlike tracking call locations and times (quantitative data), this was more complex because it related to human decisions about their health. How people decide what medicine to choose is influenced by many different and individualized factors, and often requires asking questions and analyzing qualitative data to get a clearer picture.
Both quantitative and qualitative data are important. Ahu explains, "Using a combination of qualitative and quantitative data provides a full picture and ensures that the limitations of one type of data are balanced by the strengths of another."
Making a Difference with Data
A recruiter for ADP called Ahu looking for an economist to create a research institute to leverage ADP's vast amount of data and provide research on employment, workforce management and HCM. When she went for the interview, she was delighted to meet another economist, and they began discussing opportunities to provide data-driven insights that could help organizations improve overall business performance with ADP's data.
Ahu realized this was a once in a lifetime opportunity to have access to the largest employment data in the U.S. and have a chance to lead the world-renowned ADP National Employment Report®.
Today, Ahu is Co-Head of ADP Research Institute® (ADP RI) and Vice President of Corporate Strategy. She led the founding of ADP RI, where she provides insights on the labor market including the National Employment Report and ADP Workforce Vitality Report®. Ahu and her team also analyze payroll and HR data to produce regular research reports on emerging topics.
Ahu describes her work as being in a data playground. She especially enjoys demonstrating the power of data in business. "Data has the power to provide guidance to policymakers to build more effective strategies and programs," she says. "Data can also help businesses make better decisions about their most important asset: people."
Ahu's broad research interests include workforce trends and labor market conditions, such as job and wage dynamics. She is an advocate for women's pay equity and the importance of negotiating. Her recent report, Rethinking Gender Pay Inequity in a More Transparent World, published by ADP RI, emphasizes how incentive pay plays a significant role in closing the pay gap between genders.
Work-Life Integration
Ahu does not believe in work-life balance. Instead, she believes we should develop work-life integration, where we acknowledge all of the demands on our time and energy and help each other manage them. It's also important to understand that different people have different needs at varying stages of their lives. For example, only women give birth. "We need to accept that women's career cycles are different from men's and make sure that everyone has access to opportunity for growth and success," Ahu says.
Ahu's best career advice came from her dissertation advisor, who told her, "No matter what you do, focus on your work, do your best and become the top." As she has gained experience, she would agree that hard work is a must for success. But it is not the only requirement for success. She believes emotional intelligence and self-awareness are key.
"Without self-awareness, we cannot be successful," Ahu says. "Being smart, having expertise and the ability to effectively work with people will differentiate you."
That and, of course, data analytics.

Ahu Yildirmaz