ADP Women in STEM Profile: Kanyatta Walker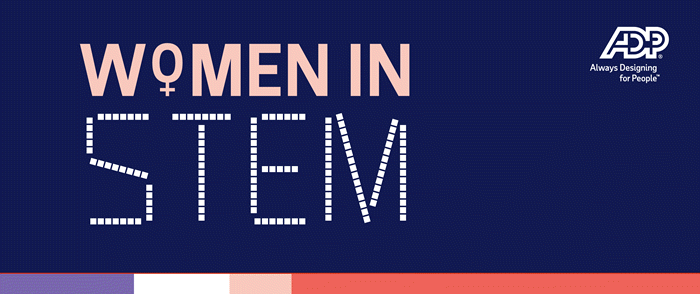 This inspirational woman in STEM lives by a four-word personal mantra: girls can do anything.
Kanyatta Walker's unapologetically fearless outlook began when she was only three years old. A boy cast as Santa in her preschool Christmas play did not enjoy being on stage and kept missing lines. Kanyatta offered to step in, but the teachers said she couldn't because Santa was a boy. When it turned out none of the boys knew the lines and Kanyatta did, the first female Santa debuted in the play. The crowd loved it.
In high school, Kanyatta was interested in occupational therapy and planned to major in it in college. Then she did some aptitude tests with a good friend who wanted to join the marines. The recruiter told her she was excellent at math and could pretty much do anything she wanted - except be an engineer.
Kanyatta graduated from college with a degree in software engineering technology and has never looked back.
"I always loved math," Kanyatta said. "My aunt was a math teacher and the way she explained it just made sense to me. I love that there is always a precise answer. But there is also always more than one way to get to that answer and lots of trouble shooting."
Management math
She was recruited by Accenture, a multinational consulting firm, where she worked in a variety of roles from sales to program manager and development manager. By 25, she was leading a team with a significant budget. "I learned by trial and error. There was so much I did not know and I made a lot of mistakes. But I also knew that teams are a mirror of their leaders. I worked at a grocery store when I was 16. When it got busy, the managers would leave their office and come help wherever needed. After the store was bought by a chain, the new managers didn't come out of their office to help. I learned how important it is for leaders to understand what people need and show up for their team."
As her career progressed, Kanyatta realized that there are multiple roles for leaders too. "It's like a baseball team," she said. "There are coaches and general managers. Coaches assemble the teams and knows who to play to bring out their best. The general manager deals with the overall strategy and choosing the right coaching staff to create the win.
"To be an effective leader, you don't personally have to play every position. When I see something I want to do, I work to understand the underlying skills. I see how to unravel things and figure out what I know, what I need to know, and how to learn the skills I need. With core skills and ability, you can do anything."
The desire to understand executive strategy led Kanyatta to an MBA program at Emory University while she was still working full time leading product managers, business analysts and program managers for a large telecom company. She discovered the perfect combination of math and business in her finance courses. "I can look at a company's finances and tell you what their strategy is," she said.
Coming to ADP
After finishing her MBA, a friend helped recruit Kanyatta to ADP in Atlanta. She was excited at the opportunity to combine her business skills with her software engineering experience. She started out as Vice President of Operations working in National Accounts on outsourcing operations. Today, Kanyatta is Vice President of Global Product and Technology - Client Product Support, where she leads teams providing product and technical support for ADP's business units and clients.
"I love the ability to transform here. As the company is transforming, so are the opportunities for people within the company and our clients to grow. I love helping people connect the dots and see where we are going from process to technology to culture, Kanyatta said.
"I also appreciate seeing women executives at ADP and how women help each other here. I met ADP business unit presidents Debbie Dyson and Maria Black within my first six months, and they always find time and make themselves available to help others."
Helping others succeed
Kanyatta is also committed to helping others grow and achieve their dreams. She is involved in Women in Technology International and Emory's Executive Women of Goizueta —while also mentoring and coaching rising leaders in her role at ADP. She loves helping women figure out what they want and how to get there.
"Connecting with others can be scary, but it's important so you can understand the playing field," Kanyatta said. "You have to lift your head up to see and for people to see you. There's no way for people to know how amazing you are if your head is down all the time.
"There are not many women of color in tech, so I always try to say yes when people ask me to speak. It's important to build bridges and for younger women to see people who look like them doing the things they want to do."
Kanyatta is quick to say that she does not do it all alone. Her husband is very supportive and encourages her to connect with others and volunteer. Together, they manage a busy family schedule with their 12 year old daughter who is playing softball on a traveling team. "I love being a softball mom and spending time with my family," she said.

Kanyatta, Kya and Kevin Walker enjoying time as a softball family.
Kanyatta's advice to others
Be careful how you treat people because you never know who you may need or who may need you. God works through other people.
Be a dream giver, not a dream killer. Build authentic relationships with people. Give your perspective, but show them what it takes and how to progress instead of telling someone they can't or shouldn't.
Follow your heart and trust that it knows. Stay optimistic, be persistent and keep going. Give up the spirit of fear for the power of love.


Read about other ADP Women in STEM.