4 Black History Month Activities for the Workplace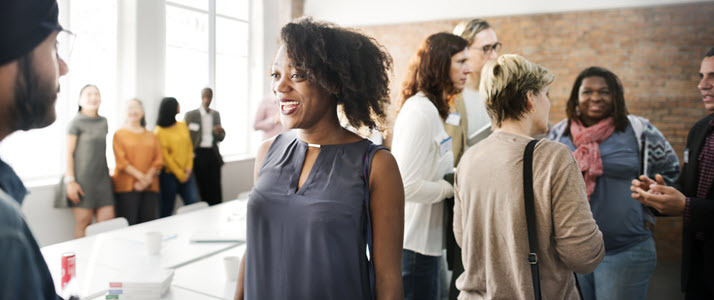 Black History Month can be recognized practically anywhere, including in the workplace. With some planning and effort, your organization can honor the month and make a positive difference today.
If you're looking for Black History Month activities for the workplace, ADP's Black/African-American business resource group (BRG), Cultivate, has you covered.
"We encourage leaders to celebrate Black History Month in ways that make sense for them and their organizations," says CT Mobley, division vice president, sales, small business services, diverse business channels, ADP, and president of Cultivate. "That said, we hope Cultivate's ideas can be a source of creativity and inspiration. Always be inclusive, seek employee input and recruit the right experts to ensure you're hosting a meaningful, supportive celebration."
Get ready for the occasion with these four Black History Month activities inspired by ADP's Cultivate BRG:
1. Analyze the impact of Black art
Identify works of art made by, influenced by or featuring Black talent and discuss their impact on the community and other communities that have benefited. Choose from various art forms and media created by, or with contributions from, Black actors, instrumentalists, singers, songwriters, filmmakers, photographers, painters, authors, poets, architects and sculptors. Partner with experts in HR, diversity, equity and inclusion (DE&I) and history in your workplace, network or community to provide meaningful analysis and context. Humbly and thoughtfully ask for employee support with inclusivity in mind, and avoid forcing participation or contribution.
For example: In a 2023 Black History Month panel featuring two cast members from the TV show "A Different World," Cultivate will analyze the show's impact on higher education in the Black community. Additionally, Ángel Cabrera, president of the Georgia Institute of Technology (Georgia Tech), will discuss making higher education more accessible to underrepresented groups (URGs).
2. Spotlight leaders and other success stories
Politely ask entrepreneurs, business owners, CEOs and other leaders to discuss their journeys, accomplishments and educational and professional backgrounds. Consult your community and network, presenting the opportunity as a commitment to bettering your organization's allyship. Speakers can be in your industry but don't have to be. Furthermore — and perhaps most importantly — this event format can have the added effect of promoting Black-owned, Black-founded and Black-led organizations and spotlighting success stories that may inspire and educate those interested in business and professional development. Be sure to include speakers who've enjoyed traditional and nontraditional academic achievements and career experiences.
For example: As part of its 2023 Black History Month celebratory itinerary, Cultivate will discuss traditional education, nontraditional education and career possibilities. Mobley will host the discussion, and Rick Wade, senior vice president of strategic alliances and outreach, United States Chamber of Commerce, will discuss his journey, including as a student at Harvard University, and present the state of Black business in the U.S. Additionally, Lavera Coleman, CEO of FlyBoss, and Jalen Uboh, CEO of JUBOH Companies, will discuss the experiences that led to their successes.
3. Reach across multigenerational lines
Consider hosting an educational roundtable led by professionals from multiple generations within your organization. You can center the discussion around career journeys, how formal and informal education has helped participants navigate your workplace, how specific challenges and obstacles have been overcome and how your organization has provided support. Encourage participation across locations if you have a central office with satellite offices. Career heroes and role models can be based out of a branch location or an organizational headquarters – and may be closer and more willing to be involved than you think. As always, partner with experts to ensure the discussion is supportive and inclusive.
For example: Cultivate will host a multigenerational roundtable during Black History Month, allowing talent at ADP to discuss their journeys in front of a live associate audience. The panel will include leaders from employment tax services, change management, sales, product inclusion and more. Tanedra Dance, treasurer of Cultivate, will host the discussion.
Read Support Your Multigenerational Workforce with Thought-Provoking Conversations for more on multigenerational discussions.
4. Commit to (or strengthen) diversity, equity and inclusion
Black History Month is a time to honor the history of the community, recognize progress and lean into improvements that have yet to be discovered, understood or realized. You can help support authentic workplace progress by ensuring URGs know that they belong, are represented in leadership and are paid equitably. Consult DE&I experts at your organization, or work closely with a DE&I-focused partner, to commit to each area effectively. If you've already invested and observed progress, consider hosting a DE&I update featuring your organization's business, HR and DE&I leaders. HR and DE&I experts can help you deliver your updates inclusively and strategically — and identify relevant data on trends and improvements.
For example: As part of its 2023 Black History Month celebration, Cultivate will feature members of ADP's executive committee and DE&I team in a roundtable focused on where ADP stands as an organization, where it's going, how it will progress, timelines and how Cultivate can help. The conversation will continue the BRG's year-long review of Black history and DE&I, using the following pillars: attracting and retaining talent, improving culture and belonging and facilitating economic empowerment.
Beyond Black History Month
Black History Month can motivate leaders to highlight Black employees and demonstrate appreciation, but support and recognition don't have to be restricted to one month. Read How Organizations Can Demonstrate Dedication to Black Employees Year-Round for more on this topic. Additionally, start thinking about strengthening and maintaining DE&I in your workplace. At ADP, DE&I starts — and progresses with — data and the scientific method.
"At ADP, we look at it from what we call the scientific method, where you develop the hypothesis, test your hypothesis with the data, and, depending on whether that data substantiates or refutes your original hypothesis, you either adjust on the fly or plow forward based on your findings," said Drew Lewis, vice president, diversity and talent, ADP, in a recent interview with Cheddar News. "[Data] is the starting point."
For more on strengthening DE&I at your organization, visit ADP's DE&I Resource Hub.
The Cultivate BRG is this article's chief source of creativity and inspiration.
Cultivate promotes the professional development of ADP's Black/African-American associates and their allies. The BRG inspires, empowers and encourages its members through career development, education, mentoring and networking initiatives and fosters inclusion at ADP by serving as an agent of change. As of January 2023, Cultivate is 2,056 members strong.
For more on ADP's commitments to DE&I, read ADP's Corporate Social Responsibility Report.