The Crucial Role DE&I Policies in the Workplace Play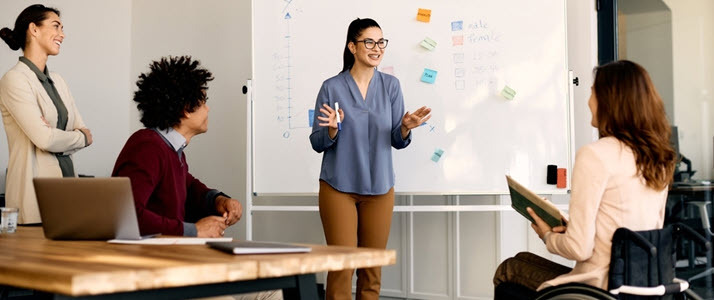 Award-winning broadcaster Soledad O'Brien, ADP Chief Economist Nela Richardson and ADP Chief Diversity and Talent Officer Bob Lockett sat down to discuss diversity, equity and inclusion (DE&I) policies in the workplace as part of Inclusion Summit 2022, hosted by ADP. Here's a look at the key takeaways from their conversation, which focused on ways to create, implement and foster effective DE&I strategies within organizations.
DE&I policies in the workplace — those focusing on diversity, equity and inclusion — have been a critical topic of discussion for the last several years. And while much progress has been made in this area, there is still work to be done.
This was one of the themes that took center stage during the opening session of the recent Inclusion Summit 2022 hosted by ADP. To kick off the highly anticipated conference, ADP's Chief Economist Nela Richardson and Chief Diversity and Talent Officer Bob Lockett joined award-winning Broadcaster and Producer Soledad O'Brien, whose work telling the stories behind today's most important issues, people and events has also made her one of the media's leading champions of diversity.
O'Brien sat down with Richardson and Lockett to discuss her career and share strategies for individuals and organizations navigating DE&I in the workplace. The discussion also explored recent findings from the ADP Research Institute®. Here's a closer look at key takeaways from the conversation and how leaders can implement effective DE&I strategies within their organizations.
Focusing on DE&I fosters success
In her opening remarks, O'Brien noted that important progress has been made toward diversity in the workplace. While there is more to do, she made sure to celebrate how far the discussion has come in recent years. Today, she anchors a show called Matter of Fact, which features the tagline "Stories as diverse as America."
"What I love about that tagline is that it really underscores intention. We're very intentional on this show about our commitment to diversity, and our show was named the number one national public affairs show," O'Brien says. "What we have found is that when you're very intentional in thinking about diversity, you actually can do really well in the ways you're measured for success."
O'Brien's show regularly highlights how a focus on DE&I — backed by accountability and clear policies — can lay the foundation for success and direct, data-filled conversations. These lessons can help leaders change their way of thinking and place a greater emphasis on inclusivity. When others see important changes being made, they're more likely to change too.
Moving beyond deficit-based thinking is critical
During the session, O'Brien shared a powerful example from her career, of reporting on a young woman's efforts to get into college. When the team working on the project highlighted the fact that the woman featured in the story had parents battling addiction, O'Brien challenged their thinking. "These aren't descriptions of this young woman," she explains. "Those are descriptions of the dysfunctions of a young woman in poverty."
Does your organization frame people in terms of their assets or their deficits? By focusing more on assets, it's possible to transcend negative stereotypes while putting potentially difficult information into context. It can also help open doors that might traditionally be closed to individuals who lack a certain degree or come from a background with challenges.
"I'm absolutely obsessed with framing because I think how we frame a story is really how we're going to see someone in the world," O'Brien notes.
Inclusivity is a value for uncertain times
Richardson, Lockett and O'Brien then took a deep dive into the ADP Research Institute's recent latest survey, which polled over 32,000 workers across 17 countries and highlighted that younger workers highly value DE&I in the workplace. The group noted that part of this trend may come from the personal experiences of a generation that experienced isolation and exclusion during the pandemic.
When organizations face challenges around the topic of DE&I fatigue, it's crucial to remember new generations of workers are entering the workforce, many of whom deeply care about these values and bring new energy and focus to the table. The next generation will continue shaping the workplace for the next five decades — and beyond — with these ideals.
As the speakers noted, Americans are currently experiencing uncertainty every day as they face high inflation, a possible recession and global political shifts. Amid this variability, an inclusive workforce can help combat worry and potentially even lead to organizational growth.
"If you look at any growth spurt in any economy, it's because that economy has become more inclusive," Richardson says. "It has broadened its workforce. Maybe it's added women, maybe older workers are working longer, maybe it's including workers of color or immigrant labor. It's all about inclusion. That's what makes economies grow."
Implementing DE&I policies in the workplace
Respondents to the ADP survey highlighted that they're looking to their organization's leaders to set the tone on gender pay equity, diversity and inclusion policies. Workers tend to look toward management teams, HR departments and even organization owners. Yet one of the key lessons from the ADP executives' perspective is that it's important for the middle management layer to be engaged as well.
While top leadership can set the tone and direction for DE&I policies in the workplace, engaging middle managers helps ensure a level of structure, systems and execution related to them.
"To me, DE&I is a leadership challenge just like any other challenge in business," says Lockett. "And in thinking about things like pay equity or ensuring a workforce is diverse, leaders have to take accountability for it. But the organizations also have to create structure and systems around those initiatives. If it means that I'm going to miss out on part of my bonus or my compensation because my team isn't diverse or because I don't pay fairly then guess what? I'm not going to miss out on that opportunity. So, I think the more we can tie it to economics, the better off we are."
Organizations that have a leadership vision for DE&I policies in the workplace and great interest from employees can make distinctive progress by bringing accountability and action to middle management, HR departments and other key nodes that can operationalize these values day to day. This can result in improved working conditions for employees and potentially benefit the organization's bottom line.
"I think if the leaders are engaged and are doing the right things, they'll create the right conditions for success for their teams," Lockett says. "They'll assess their teams and say, 'I need to ensure that we look like the community. And if that's the case, I'll be rewarded, not just from a compensation standpoint, but I'll help the organization grow into new markets as well.'"
Additional opportunities for DE&I innovation
The conversation revealed a number of areas where organizations still have the potential to invest in greater diversity. One area is disability representation and how technology can help introduce greater diversity of this type in roles across organizations. Another is finding ways to create greater flexibility in frontline roles that traditionally have been limited in areas such as locations and scheduling.
Interested in taking a deeper dive into topics ranging from DE&I policies in the workplace to creating an inclusive environment for all top talent? You can access a complimentary recording of the session and join O'Brien, Richardson and Lockett for their in-depth conversation.
Register today to watch the sessions of ADP's Inclusion Summit 2022 on demand.