How Organizations Can Demonstrate Dedication to Black Employees Year-Round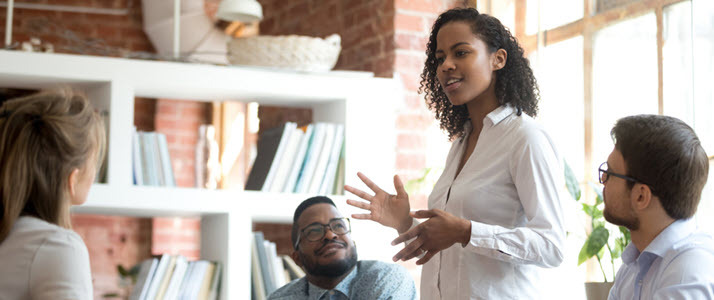 Black History Month motivates business leaders to highlight Black employees and show their appreciation — but these activities shouldn't be restricted to a single month. Here are some valuable resources to help you embrace and celebrate diversity throughout the year.
With sustained attention on racial violence and inequities still echoing from the pandemic, people — inside and outside of your organization — are likely to continue looking for signs of real commitment to diversity, equity and inclusion (DE&I). Recommitting to this work and evaluating progress is important, and Black History Month each February offers a perfect opportunity to do so.
Businesses rightly look to highlight their Black employees to demonstrate their appreciation and support, but it's crucial that these efforts are not equivalent to checking a box on a task list. The internet is full of memes poking fun at brands for leveraging pro-Black hashtags during their once-a-year marketing campaigns, and business leaders don't want to make that same poor impression on their own employees and community.
To truly show support, the focus on DE&I must be integrated into your strategies and activities throughout the year. That said, there's no time like the present to get started, and Black History Month is a great reminder to review and update your policies, programs and practices to align more closely with your ideals and values.
The following resources can help you evaluate, evolve and, in some cases, reframe your approach to diversity, equity and inclusion in your organization, especially with regard to the Black community. And above all, remember that the diversity journey in the business world has no destination or ultimate goal. You can start wherever you are now, make progress and continually set new benchmarks to ensure you're recognizing and celebrating diversity every month.
Understand the relationship between diversity and inclusion
Diversity and inclusion are often mentioned in the same breath, but while they're related, they are different. Diversity, which describes an organization's workforce demographics in terms of gender, race, ethnicity or sexual orientation, is the "what." Inclusion, on the other hand, is the "how." It describes the ways the organization's culture enables diversity to thrive. Both are essential for employees to feel they belong, remain engaged and produce their best work.
Many business leaders may think that once diversity is achieved, inclusion will naturally follow. But that's a mistake. Organizations must proactively foster inclusivity in order to be successful. At an ADP virtual Inclusion Summit, industry experts explained the importance of inclusion and shared advice that business leaders can follow to create more inclusive cultures at their organizations.
Incorporate intersectionality into DE&I programs and goals
While not represented in the DE&I acronym, intersectionality plays a crucial role in associated efforts. Intersectionality describes the interconnected relationship of social categorizations (such as race, gender and sexual orientation) as applied to an individual or group. It's a crucial consideration in building successful DE&I because it helps acknowledge and account for people's real life experiences. One individual can have "three different kinds of elements of diversity," explains Ted Kopta, VP of Marketing at ADP, and focusing on diversity in siloed categories doesn't adequately address real-life issues.
Business leaders should prioritize intersectionality because it's the right thing to do, and it can have measurable benefits. Research shows that diverse organizations generate higher revenue, and adopting an intersectional lens can help improve the employee experience, which could translate to increased engagement and retention. There are many ways to lean into intersectionality in your organization on both macro and micro levels to gain these advantages.
Foster diversity in the talent pool
Recruiting is often considered the first step in building a more diverse workforce. However, many business leaders have realized the benefits of going a step further and engaging younger generations to help foster a more diverse talent market. This may include investing in early education, encouraging gender diversity in science, technology, engineering and math areas, also known as STEM fields, and creating more entry-level opportunities and internships.
Root out discrimination in all forms
Diverse organizations have taken action and have the population make-up to greatly reduce discrimination. Yet, some policies may be inadvertently discriminatory when it comes to a variety of cultural identifiers. For instance, policies that prohibit or restrict certain Black hairstyles, such as locs, braids, twists or afros, aren't just working against your DE&I efforts — they could be illegal as well.
Tackle DE&I at any scale
While massive global organizations may get most of the attention regarding diversity, equity and inclusion in the workplace, it is the responsibility of all business leaders to support DE&I initiatives. The path and the tools needed to support DE&I at a small or midsize business may look a little different, and you may not be able (or even need) to devote a full-time employee to diversity efforts. Small business leaders must learn how to evaluate and measure diversity on their scale to create workplaces that reflect the diversity of their local communities and effectively attract new talent.
Build more diverse and inclusive workplaces
As a society, we've come a long way in recent decades with regard to workplace diversity, equity and inclusion — and it's important to recognize that development. Be sure to acknowledge and celebrate all forward progress as you continue your journey toward a more diverse and inclusive future that benefits everyone.
Read: 4 Black History Month Activities for the Workplace
Remember, though, that it could be dangerous to become complacent, as there's still a lot of work left to do. No matter your industry or business size, celebrating diversity and inclusion, and making meaningful advancements toward greater inclusion should be integral parts of your culture every day of the year.
Get resources to help your organization do and bet its best. Visit ADP.com/DEI.