How Employers Can Support Equal Pay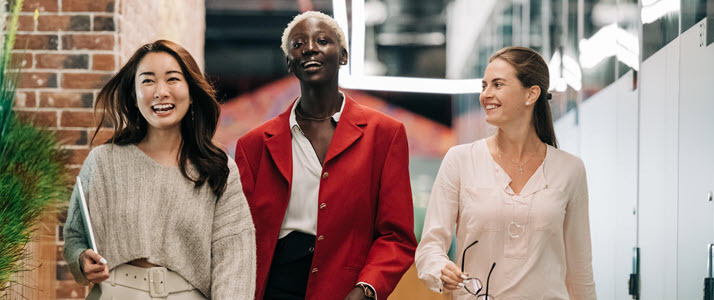 Pay equity is an essential component of confronting and overcoming discrimination in the workplace. Here's a look at what employers can do to support employees while working to close race and gender pay gaps.
As business leaders work to confront and overcome inequality and discrimination in the workplace, it's essential to include compensation in the discussion. Pay equity is a key approach in combatting the age-old differences in the way people are treated at work based on their gender, ethnicity, and other identifying factors. Equal pay is also in high demand, as more than a third of employees don't feel their employers pay fairly and a whopping 70% of Gen Z employees would consider switching jobs for increased pay transparency, according to recent research from Beqom.
Sound policies drive pay equity and sound practices ensure its reality. Getting pay equity right requires a holistic view across your organization, as it ties into nearly every HR goal and campaign — including talent acquisition, retention and organizational culture — as well as diversity, equity and inclusion (DE&I) progress. Business leaders need to rely on data to adequately reveal the starting point, to analyze and identify goals and to measure progress.
What does pay equity mean today?
In recent decades, the gender pay gap has shrunk, but it's still a problem. According to ADP Research Institute® data, women are still less likely than men to receive a pay raise or bonus for taking on additional work or changing roles. And non-white employees are even further behind, with experts warning it could take another 25 years to close the pay gap between demographics.
Every organization has to do its part to address this injustice. How you approach pay equity matters — a lot. Pay equity policies can't just apply to new hires; business leaders also need to address compensation of existing employees and ensure they haven't implemented policies that inadvertently exacerbate the problem.
Salary cap policies, for example, can create inequity. "If you cap the amount of pay increase that employees can make when they get promotions, without any room for discretion, you may end up punishing those who stay with your company longer and work up through the ranks," says Helena Almeida, VP Counsel for ADP. "If women in your company tend to stay longer than men, this could mean that dedicated women employees end up being paid less than the men who are newer to your company and not subject to the same caps when negotiating their starting salary."
Closing racial and gender wage gaps
Pay equity begins and ends with data. All leaders who make compensation decisions need access to data to understand how to achieve pay equity in their organization and evaluate progress.
"Data is everything," notes Ellen Feeney, VP, Assistant General Counsel at ADP. "Your HR and payroll data—including employee salaries, bonuses, demographic information, tenure, and performance data—all factor in to a robust pay data analysis. Accurate and easily accessible data is foundational so you can take advantage of analytics and compare those who are doing similar work across your organization."
Analyzing HR data within your organization is how business leaders can check whether their impact aligns with their intent. "Leaders who influence compensation should have a complete picture of their metrics," Almeida adds. "Only then can you identify how your seemingly neutral compensation policies impact your workforce."
Using the right tools to perform this kind of analysis can help you get better results. ADP's Pay Equity Explorer gives U.S. business leaders access to real time data to analyze pay within their organization and identify any potential pay gaps, so they can be resolved faster.
New challenges in today's employment landscape
The global health crisis may have created some new challenges for employers striving for pay equity. With the rapid rise of remote work, leaders may have a more difficult time keeping track of where their employees work, and thus what legal requirements and regulations apply.
Regulatory standards vary by location, with subtle differences from state to state and even at the local level. U.S.-based organizations with employees in Canada need to learn even more requirements. In addition to differences between jurisdictions, businesses need to understand how Canada defines and evaluates pay equity differently than the U.S.
"[Canada has] a very different legal framework when we're talking about pay equity," explains Natalka Haras, Senior Counsel for ADP. Canadian laws include requirements around "equal pay for equal work" as in the U.S., but some Canadian jurisdictions also require pay equity defined as "equal pay for work of equal value" or comparative worth, a different approach from the norms in the U.S. "[In Ontario, Québec, and the Canadian federal jurisdiction] you're not only comparing women engineers with men engineers, you have another legislative framework that also requires an employer to compare women engineers with men computer programmers, for example, or nurses with mechanics depending on the gender predominance of the job," she says. Canada's 10 provinces, three territories, and federal jurisdiction each have their own requirements around pay equity and equal pay, reinforcing the notion that employee location is crucial information for business leaders.
And these requirements are ever-changing, with new rules and reporting requirements popping up every year, giving organizations a moving target for compliance. All of this means leaders need to prioritize knowing where employees are and understanding what is legally required in each location. This multiplies the challenges — and the possible ramifications if you're not in compliance with pay equity regulations.
The future of pay equity
There is a growing movement in support of pay transparency, both externally and internally.
In some places, like Colorado and New York City, employers are now required by law to include salary ranges in job postings and other states and cities are considering similar legislation. This trend aligns with the growing demands of job seekers to evaluate salary potential before even applying to a job; it could help improve candidate engagement and possibly reduce candidate ghosting by allowing job seekers to clear that important hurdle before engaging with a potential employer.
Pay transparency matters to your existing workforce, too. "Current employees are seeing those job postings as well and beginning to appreciate that they're entitled to certain information about where their particular salary falls in terms of the salary range for the position and their company," said Almeida. "All of this gives employees bargaining power and leverage because it helps people negotiate for higher salaries. This is just another way that employees and candidates really have an edge in terms of negotiating the best deal for their new job and for their current jobs."
Learn more
[On-demand webcast] Pay Equity & Equal Pay: Strategic and Compliance Considerations
Employers in Canada and the U.S. need to stay on top of the latest requirements regarding pay equity and transparency, reporting, salary history information bans in hiring and compensation decisions, sex (including gender identity) discrimination prohibitions, and self-audits. Register and launch this on-demand replay anytime to get critical insights and potential strategies you can use.