Support Your Multigenerational Workforce with Thought-Provoking Conversations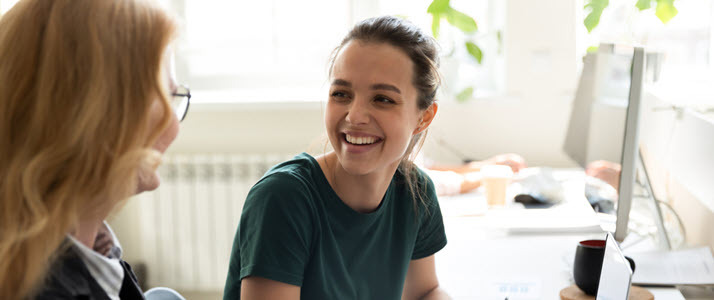 Creating a safe, professional space where members of multiple generations can share their thoughts and perspectives can lead to improved innovation, diversity and inclusion.
Generation Z, the millennial generation and Generation X contributed to this article.
Generational challenges facing organizations today include understanding how to support a multigenerational workforce, addressing generational stereotypes and creating an inclusive workplace where all generations feel they belong. Five generations comprise today's workforce: Generation Z, millennials, Generation X, baby boomers and the Silent Generation. Each generation, by nature of its place in history, has unique experiences of society and the world, which today's leaders should consider when developing their diversity, equity and inclusion (DE&I) initiatives. Approaches for supporting multiple generations at work include creating a safe space for intergenerational dialogue and avoiding generational stereotypes. But first, some leaders might wonder: "What are the benefits of a multigenerational workforce, anyway?"
What are the business benefits of a multigenerational workforce?
Ultimately, the business case for supporting a multigenerational workforce is rooted in the benefits of diversity. According to the ADP Research Institute (ADPRI), "Workers are signaling a willingness to walk away if employers fall short when creating a diverse workforce. DE&I is therefore fast becoming a make-or-break issue."
Multigenerational workforces are age-diverse, and research suggests that greater diversity can boost business performance, innovation and revenue. According to a Boston Consulting Group (BCG) study, companies that reported above-average diversity on their management teams also reported innovation revenue that was 19 percentage points higher than that of companies with below-average leadership diversity.
Why intergenerational dialogue matters
Developing a safe place where workers from different generations can talk and collaborate creates intergenerational learning opportunities and space for new and innovative ideas to form. In the context of DE&I, Corina Fisher, Generation X, leader, diversity and talent, ADP, says people often focus on demographic categories when addressing diversity; however, diversity also encompasses the variety of people's thoughts and experiences, a noteworthy takeaway for leaders of multigenerational workforces.
"When people with different backgrounds, thoughts, perspectives and ideas collaborate, innovation is sparked. When we challenge how we think, the impossible suddenly becomes possible," Fisher says. "And when you have differences — in this case, generational differences — it's not about one generation being right and one generation being wrong. It's about learning from each other."
A space for thought-provoking conversations
ADP's Generations business resource group (BRG) annually hosts a series of virtual roundtable conversations, known as "Let's Eat Cake" (LEC) events, where employees from multiple generations interact and discuss generations-related topics and issues. A professional networking format at its core, LEC is also a safe space for members of various generations to talk about generational differences and stereotypes, lessons they can learn from each other, the qualities they appreciate about each other and more.
"The goal is to have hard conversations and to dispel generational stereotypes but also to keep it a fun networking event," says Emily Laabs, millennial, delivery manager, ADP, and central membership director for the Generations BRG. "It's important to bring the generations together so that we can be better individually and as a business in general."
Planning intergenerational conversations
Organizations looking to create a workplace where multiple generations feel included may benefit from hosting an event like LEC. The Generations BRG hosts multiple sessions during its celebratory month. Each is kept intimate and personal, featuring a maximum of 10 participants from multiple generations. The sessions occur at various times to account for any time-zone differences and are led by designated hosts, who drive and facilitate a light, respectful exchange. Hosts are typically BRG members. Other organizations may ask BRG members to host or ask their DE&I, HR leaders or leaders generally interested in multigenerational workforces to host. Everyone should have space to share their thoughts while the hosts keep the discussions compelling with conversation starters like:
What is something about each generation that you like?
What is something from a different generation you've learned to adapt to?
What is your favorite lesson that you have learned from another generation?
What stereotypes about your generation do you not believe to be true? How can we see those stereotypes differently?
Additionally, avoid making the event feel too much like work, says Monique Bradshaw, Generation X, director, talent and learning, global product and technology, ADP, and national director of operations for the Generations BRG.
"Making it feel too structured takes the fun out of it," Bradshaw says. "It takes away from the intention of it, which is for it to be a networking event, not a work event."
Although networking is at the core of LEC, the format "goes beyond networking," says Cristian Orihuela, Generation X, vice president, insurance and strategic initiatives, ADP, and chairperson of the Generations BRG. "It's about learning from each other through generational nuances, commonalities and differences and creating a domino effect."
The domino is intergenerational awareness, sensitivity and understanding outside of work, which is "bridging generational gaps," says Jacqueline Miller, Generation X, senior executive assistant to the senior vice president of product development within national accounts and next-generation HCM, ADP. Miller is the marketing and communications director for the Generations BRG, a co-creator and past host of LEC and has observed participants collaborating on social media afterward. "Seeing those gaps being bridged is a wonderful thing."
Prioritizing individualities over generalities
While intergenerational roundtable discussions can be a space for positive professional networking, thought-provoking educational dialogue and personal relationship-building, there's always a possibility that harmful and inaccurate assumptions and stereotypes will be voiced. The Generations BRG recommends setting the stage for a safe and positive discussion at the beginning of each session, writing planned questions and talking points to keep the dialogue on track and navigating discussions about stereotypes with sensitivity, empathy and understanding. In this vein, Fisher says it's helpful to focus on individualities, not generalities.
"For me, it's about, 'What can we learn from each person's experiences?' Because each person is going to be unique," Fisher says. "Don't assume you know that, for example, certain generations don't work together or that you're going to be so far apart and so different that you'll never find common ground. Set that aside. Be willing to listen. Do more listening than talking, and look at the experience through a positive lens."
Generational diversity as a business imperative
Diversity is a business imperative. Some may think that reaping the benefits of generational diversity, specifically, is challenging or out of reach. But events such as "Let's Eat Cake," or any collaborative format through which diverse perspectives can be shared and leveraged, get the ball rolling — and can help leaders see generational diversity as a significant business advantage.
"It shifts it from, 'It's a challenge for us to solve,' to, 'It's a business advantage for us.' When we flip the script from, 'This is another thing for us to do and worry about,' and start seeing the collaboration and innovation that comes from it, it gives us an edge within the competitive talent landscape that we're in," Fisher says. "And that will help us attract and retain talent from all generations."
For more on generational diversity, read Promoting Generational Diversity in the Workplace and How to Manage Generational Differences in the Workplace.
Visit ADP's DE&I Resource Center for more on how your organization can do and be its best.
What people say about LEC
"It was very nice to meet people that I would not get a chance to speak with during my regular course of business."
"It was a small group, so it made it more personal and refreshing."
"I thoroughly enjoyed this meet and greet!"
A special thanks to ADP's Generations BRG, whose board contributed to this article and whose event format was its inspiration. The mission of the Generations BRG is to provide its multigenerational members a voice and platform to connect with and educate each other and influence growth and inclusion in their lives and communities, all while elevating the BRG's brand inside and outside ADP.