Honoring Black History Month Through Celebration, Allyship and Difficult Conversations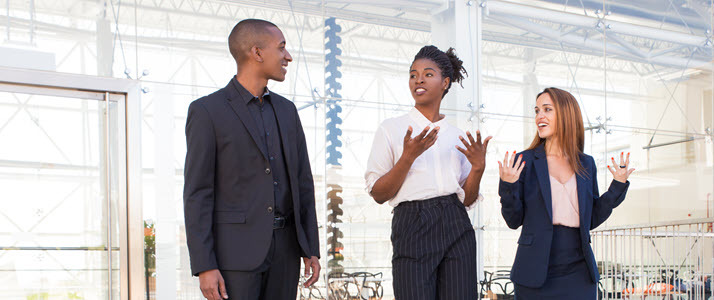 In this article from our series on affinity groups and their influence on creating cultures of inclusion, we celebrate Black History Month and look at what it means in the current business and social climates.
February is Black History Month in the United States. Black History Month is an annual celebration of achievements by Black and African Americans and a time for recognizing their central role in U.S. history. The event was the brainchild of historian Carter G. Woodson and other prominent African Americans and has been officially recognized since 1976.
This year, members of ADP's Cultivate business resource group (BRG) discussed how to best honor this February focus and the importance of celebrating Black history on an ongoing basis, rather than just one month a year.
Affinity groups
BRGs, or affinity groups, as they are also called, are one of the most important steps an organization can take toward creating a culture of diversity and inclusion. BRGs can truly let underrepresented employees be heard and elevate their ideas and influence in the workplace. BRGs are also a place to learn, connect and celebrate diverse experiences and talent. This month, Cultivate is presenting weekly events to the organization in a program entitled "Embracing Our Commitment," featuring webcasts, panel discussions, and a podcast and jam session.
Kelley White, Cultivate board member and Communications Manager in the Retirement Services business unit, notes that in the current climate of social unrest and with momentum for justice building, "Black people are looking to continue the conversation in a way that actually promotes change. It's important to realize that in order for any type of significant change to occur, other people need to be involved."
Cultivate's programming during Black History Month is an opportunity to spotlight voices of Black associates and invited speakers, share their views on resilience and serving the community, and look at how ADP as an organization is moving the conversation forward on these topics.

Amplifying underrepresented perspectives
In the webcast, Identity, Culture and the Employee Experience, a panel of ADP leaders discussed employee identity and how establishing a culture of authenticity and respect can benefit your entire organization. Carolyn Fullilove, Program Manager, Diversity Recruitment, spoke about how important it is for employees to feel they can be their authentic selves at work. To support them, coworkers and leadership need to understand and respect colleagues' differences. Celebrations like Black History Month are vital in raising awareness in the workplace of both positive and negative experiences of underrepresented groups.
Kyona Wilson, Cultivate board member and Senior Director of Marketing for Global Enterprise Sales, noted that during Black History Month events, she and her colleagues can demonstrate the pride they have in their workplace and in their lives. In addition, she pointed out that it's an opportunity to amplify struggles in the Black community. "The COVID pandemic is disproportionately affecting the Black community and other people of color. We need to look at how things like that affect how we think, work and play."
Fullilove shared on the webcast that "BRGs should encourage allies to join and learn how to support ongoing conversations about diversity from a place of understanding and awareness."
Dianne Greene, VP Diversity and Inclusion Strategy and Operations, agreed that affinity groups are one of the top tools for creating an inclusive culture. "They help feed a sense of belonging and help associates appreciate differences." Greene also mentioned that the inclusion has to start from the top down. "[Leadership] needs to assert that diversity and inclusion are the right things to do and needed for the employees, clients and communities we serve."
Community, momentum and allyship
While traditional Black History Month celebrations and observances in schools, workplaces and municipalities focus on accomplishments of Black artists, innovators, scientists, politicians, activists and more, the message at ADP as we prepare to launch Black History programming around many of these topics is one of community, momentum and allyship.
When asked what Black History Month means to her and what she would most like to share with ADP's clients, prospective clients, employees and leadership, White said, "We need to have the difficult conversations and focus on getting non-Black people to join the journey." The difficult conversations are ones in which participants put aside their preconceived notions and their egos and approach one another with open hearts and minds, and a willingness to give and take, even if the conversation is emotionally taxing. We often shy away from this type of dialogue in the workplace, but it is essential for us to pursue these exchanges in all areas of our lives. When we invite people to be authentic at work, we must be ready to embrace all that comes with authenticity for it to make any difference.
Black History in America represents achievement and struggle, inclusion and injustice. It is through the tireless and continual efforts of affinity groups at work and in our communities that the conversation keeps moving forward. While there is still progress to be made, Black History Month is a wonderful opportunity for members of the Black community to share their stories and for allies to listen, learn and support.
Learn more
Launch this webcast anytime for more on supporting your employees and working toward greater inclusion: Identity, Culture and Employee Experience.
At ADP, we believe the best ideas thrive in an inclusive environment that values diverse perspectives. That's why we made it the cornerstone of our one-of-a-kind culture.