Intersectionality and the Employee Experience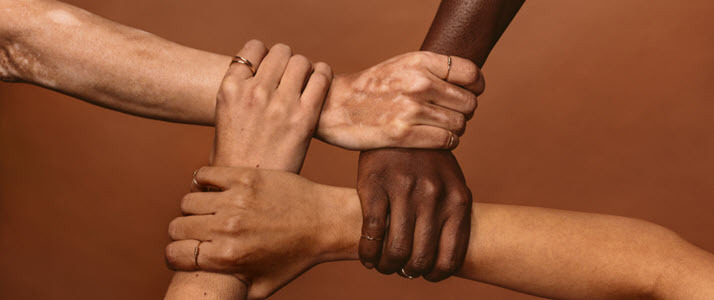 Research shows that a positive employee experience can play a key role in engagement, inclusion, productivity and retention. This article discusses how organizations can use intersectionality to enhance the employee experience.
Today's workforce is continuing to evolve into one of the most diverse in our nation's history. Included in the evolution of the workforce is the definition of diversity, which has expanded to include the multitude of combinations of internal and external traits. Ethnicity, gender, age, veteran status, sexual orientation and ability are dimensions of diversity that are often recognized, however, there are others that define who we are including our experiences, profession, socioeconomic status and our relationship to others. The overlapping of these traits makes up the holistic picture of our identity.
The Boston Consulting Group reports that diverse workplaces generate 19% more innovation revenue than less diverse environments. To enhance overall business success, organizations remain motivated to set diversity and inclusion (D&I) strategies to attract and retain diverse talent, many of which include a focus on the employee experience, because simply put, the way an employee feels about the company and the work they do can affect their performance and how long they stay. Research shows that a positive employee experience can play a key role in engagement, inclusion, productivity and retention. For underrepresented groups, the employee experience can be heavily affected by toxic workplace culture including discrimination, bullying, harassment and other unfair treatment. Because we identify by multiple diversity traits, each can add to the complexity of the prejudices and microaggressions employees face, ultimately shaping the employee experience. This is the framework on which intersectionality is based.
Intersectionality is a term that was coined by law professor Kimberlé Crenshaw, in her 1989 paper, "Demarginalizing The Intersection Of Race And Sex: A Black Feminist Critique Of Antidiscrimination Doctrine, Feminist Theory And Antiracist Politics." She explains that some dimensions of diversity are inseparable when considering individual experiences. The concept of intersectionality is still new to many and there is research being done to understand how it affects company culture and the employee experience.
It is important that organizations understand how intersectionality impacts the daily experience of their employees so that they can build a culture of inclusion (see video embedded at the end of this article). Too often, policies, programs and resources are developed to cater to specific marginalized groups, for example, women in leadership. Those same policies, programs and resources then get repurposed for other groups, for example, Black women, without consideration of the different, often compounded challenges they face. Black women often face additional microaggressions and prejudice because of their gender AND race, so their employee experience looks differently than their white peers. To gain a better understanding of inclusion, organizations should engage in conversations that explore how these differences impact the employee experience.
How can organizations use intersectionality to enhance the employee experience?
Consider asking employees what diversity dimensions are meaningful to them and use those dimensions as a baseline for conversations.
Look at current events that may impact employees and encourage an open dialogue with senior leaders through a series of activities such as town halls or monthly coffee chats. Encourage employees to discuss various diversity topics and social awareness concerns.
Use an intersectional lens when addressing discriminatory behavior so that actions taken to resolve injustices towards one group do not perpetuate inequities towards other groups.
Understand that intersectionality impacts all unique experiences of identity, and compound forms of discrimination, microaggressions, oppressions. Prejudice exist and are personal.
Avoid language that oversimplifies identity by making it one dimensional. Encourage inclusive language in all communication.
The employee experience is personal, so organizations should not use a one size fits all approach to inclusion. As Crenshaw explains, intersectionality is a lens that can be used to understand how people's experiences are subject to overlapping biases related to diversity. Inclusive cultures leverage the diverse experiences, perspectives and ideas of their workforce to inspire their employees to feel valued, respected and included. When leaders prioritize the employee experience, they position themselves to join the growing number of organizations that yield positive results including increased profitability, highly engaged teams and increased retention.
ADP understands that its associates come from many different backgrounds and carry many unique experiences which is why we promote a culture of inclusion, equality and diversity. Our company offers many opportunities to learn about intersectionality through Business Resource Groups such as Cultivate's "How Women Leaders Overcome Intersectional Invisibility" speaker series.
ADP also offers associates external opportunities to network and learn from each other about intersectionality. For example, Aisha Thomas Petit, Chief Diversity, Inclusion and Corporate Social Responsibility Officer, spoke at Black Enterprise Women of Power Summit in March 2019 on the topic of intersectionality in the workplace. Aisha participated on an executive leadership panel for "An Honest Conversation About Race in the Workplace" that provided strategies for successfully addressing intersectionality at all levels. ADP's Office of D&I also has partnerships with companies like Catalyst and Hispanic Alliance for Career Enhancement (HACE) that offer opportunities to learn more about identity intersectionality and inclusivity.
Get resources to help your organization do and be its best. Visit ADP.com/DEI today.