Diversity Initiatives: How Small Businesses Can Walk the Walk and Keep Pace with Enterprises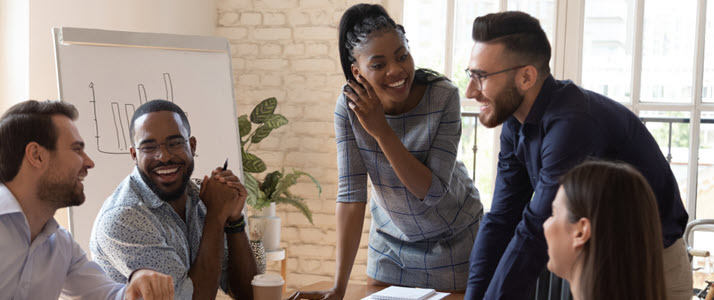 Job seekers are looking for employers with a demonstrated commitment to DE&I initiatives and proven results. Small businesses will be held to the same standards as large organizations when it comes to doing their part to build a more equitable and diverse business world.
When discussions about diversity, equity and inclusion (DE&I) take place, the focus is usually on large national employers. But when it comes to putting inclusivity into practice, no business is too small to work on DEI initiatives.
Due to the rise of remote and hybrid work arrangements, small and medium-sized businesses are now competing for the same talent as larger organizations. All businesses need to prioritize DE&I progress, as today's candidates are seeking potential employers who are actively working on diversity. Glassdoor recently reported that 67% of job seekers look for diverse organizations when they're considering their next employer, so your DE&I efforts (and results) have a direct impact on your ability to recruit top talent.
DE&I initiatives work at any scale
Progress is progress, no matter the size of the business. Whether your employee population is in the tens or the thousands, the real goal of DE&I initiatives is to do better than you did in the past.
"Leaders need to think about what it is that they want to do in their organization," says Bob Lockett, Chief Diversity and Talent Officer at ADP. He adds that organizations have to consider "what makes sense for them — whether they're a small business, a medium-sized business, or a large business — to be able to clearly articulate what it is they're trying to do."
While the strategies and tactics that small businesses use to improve diversity may differ slightly from how large organizations approach the same challenges, the basic principles are the same: Evaluate where you are, set realistic goals, measure progress toward those goals and repeat as needed.
Measuring DE&I progress is crucial
Every organization that works on DEI initiatives needs to start with data. This is how DE&I becomes a business imperative.
"How do we intertwine DE&I with our business results?" asks Corina Fisher, Senior Director, Diversity and Talent at ADP. "How do we help our leaders understand that DE&I is a business imperative? We need to ensure our focus areas, goals and our objectives align with that perspective? The business imperative is at the heart of what we're doing."
As a business leader, you must assess your diversity starting point and identify metrics to track over time. Fortunately, there are many tools available to make it easy and seamless to collect, analyze and interpret diversity data. The DE&I dashboard that ADP rolled out earlier this year is one such tool. The dashboard allows clients to break down diversity by organization, department and job level, and compare their metrics to other businesses — all in service of identifying opportunities for progress.
Small businesses will be held to the same standards as large organizations when it comes to doing their part to build a more equitable and diverse business world.
"The trends tell us that the growth and productivity and production in small business all lean toward the idea of thinking this way," says CT Mobley, Division Vice President, Small Business Services and Diverse Markets Sales at ADP. "A simple ask is just looking through the diversity lens at your current business to help you get focused on what you need to do."
Demonstrating a commitment to DE&I helps attract talent
Diversity progress matters to job seekers as well. According to Glassdoor's 2020 Diversity Hiring Survey, 76% of job seekers and employees say that a diverse workforce is an important factor in evaluating potential employers and offers. Additionally, 32% of employees and job seekers say they would not apply to a job at an organization with a lack of diversity. This doesn't mean that only organizations with perfect diversity representation can attract top talent, but it does mean that job seekers need to know what steps your organization is taking to improve the diversity of your workforce. These efforts are best demonstrated through action, rather than messaging alone, as candidates can tell the difference.
"Small businesses are asking questions from an HR perspective about 'how do I manage in this moment?'" says Mobley. "Candidates never used to ask what employers were doing for DE&I, but it's a real question now. The younger millennials and presumably Generation Z job seekers are asking about DE&I when they come in for interviews."
Organizations that are prepared with the right answers about their DE&I efforts (and tangible evidence to back them up) will find it easier to keep candidates engaged throughout the recruiting process.
Small businesses can make a big impact
Regardless of whether your small business has a fully remote workforce, a hybrid workforce or a workforce composed only of people from your local area, how your business performs in terms of diversity impacts your local community by providing jobs and resources to community members of all groups. Your organization's diversity status can also directly impact your ability to recruit and hire the best talent for your available positions.
Smaller organizations don't have to invest millions in DE&I initiatives, but every business can determine their starting point by examining their current situation and setting goals for the near and long term. However large or small your organization's next steps are, start planning them today to contribute to a more diverse workforce within your organization and throughout your community.
Learn about tools and solutions that can support your diversity, equity and inclusion goals. Download our DE&I guidebook and get more info here.