Diversity Without Inclusion Simply Isn't Enough: Why Inclusivity Is Key to Success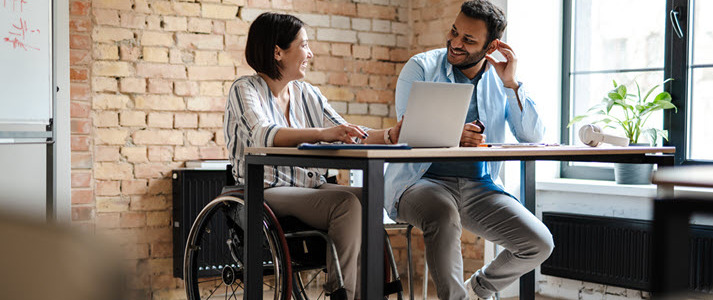 Getting diverse employees in the door isn't enough. Inclusion is a key ingredient that ensures those diverse voices thrive. The Inclusion Summit 2021 will explore how organizations can and should embed inclusivity in their culture.
Achieving diversity in the workplace is much more than a numbers game. Many organizations recognize the benefits of having diverse teams, so they focus on recruiting and hiring employees with different perspectives and backgrounds. But just getting different kinds of people in the door isn't enough.
Now, more than ever, employers need more resources to create the kind of workplace where people of all backgrounds can flourish. On October 20, ADP will host the Inclusion Summit 2021, where cultural game-changers including Soledad O'Brien, Abby Wambach and Glennon Doyle, will lead conversations about how inclusivity can profoundly impact the workplace. They will share expertise and insights, along with experts and leaders from ADP, the National Organization on Disability, AMB Sports + Entertainment, and Creative Spirit US. The presenters will break down the key distinctions between diversity and inclusion and explore strategies for making inclusive spaces where employees can thrive.
Two critical — but different — approaches
Diversity and inclusion are often mentioned in the same breath, but while they're related, they are different. Diversity, which describes an organization's workforce demographics in terms of gender, race, ethnicity or sexual orientation, is the "what." Inclusion, on the other hand, is the "how." It describes the ways the organization's culture enables diversity to thrive. Both are essential for employees to feel they belong, remain engaged and produce their best work.
Unfortunately, as much as many businesses still struggle to create diversity, they have an even harder time creating an inclusive culture and measuring inclusion in the workplace. There's also a gap in perception: A recent survey found that most leaders (68%) think they create an inclusive environment, but only 36% of employees agree.
Yet, the unemployment rate of African American and Hispanic employees remains significantly higher than that of white Americans, and many other inequities persist as well. While these disparities have long been challenging, new research on diversity, equity and inclusion examines the issues institutions are facing around diversity and inclusion and how those issues are impacting employees.
While businesses can improve diversity through aggressive hiring bursts, creating inclusion in the workplace requires a long-term strategy that focuses on every facet of the organization's culture. In today's environment, organizations are facing significant hiring and turnover challenges — and dreading they could worsen. With that in mind, fostering an inclusive work environment where all can thrive can be the difference maker in attracting and retaining employees.

Launch this summit on demand now.
Creating a culture of belonging at the Inclusion Summit
Why is inclusion so critical to business success today, and how can organizations create inclusive cultures? Industry experts will explain through a series of in-depth keynote addresses and panel sessions.
Setting the foundation with expert keynote addresses
Award-winning journalist, executive producer and motivational speaker, Soledad O'Brien will kick off the event with opening remarks, followed by an in-depth discussion with other thought leaders on the state of diversity, equity and inclusion (DE&I) in the labor market.
Marcus Buckingham, NYT best-selling author and co-head of ADP Research Institute, People + Performance, will share the latest data study focused on diversity and inclusion. As a global researcher, Buckingham builds on extensive insights from his groundbreaking studies on resilience and engagement.
Nela Richardson, ADP chief economist and co-head of ADP Research Institute, Labor Market, will discuss economic and labor market trends, using her rich history of economic analysis to provide an understandable, actionable perspective on inclusion in the workplace.
With an understanding of the underlying causes of inequities established, ADP Chief of Diversity and Talent Bob Lockett will explain what these issues mean for employers and how they will impact the future workplace.
Tapping into the opportunity of the veteran population
Every year, 200,000 service members transition from the military to civilian life, and the transition can be bumpy. With unemployment reaching nearly 7% in 2020, ensuring that veterans are embraced in a diverse workforce and that they feel they belong in their new setting is a critical aspect of inclusive and engaging employment.
The Inclusion Summit fireside chat will be a conversation about the value that veterans bring to the civilian workplace. Lockett and Steve Cannon, CEO of AMB Sports + Entertainment, will discuss why the veteran demographic presents opportunities for organizations to recruit top talent. The conversation will also include advice on how to overcome barriers in hiring veterans and how organizations can provide consistent support to their veteran workers once on board.
Highlighting employees with disabilities in a panel discussion
Disability inclusion is often an overlooked aspect of diversity, equity and inclusion with respect to both hiring practices and culture building. Giselle Mota, Principal of Future of Work for ADP, will moderate a panel featuring Charles Catherine, Director of Corporate and Government Relations for the National Organization on Disability, and Laurel Rossi, Co-founder of Creative Spirit US, the first global nonprofit devoted to matching individuals with disabilities with fair-wage positions around the world. These experts will provide insight and actionable recommendations on how organizations can launch and sustain disability inclusion efforts.

Launch this summit on demand now.
Changing the game in the closing keynote
To close the virtual summit, two cultural icons will discuss the value of prioritizing connection, teamwork and equity in the workplace. Glennon Doyle, activist, founder and president of Together Rising, and Abby Wambach, two-time Olympic soccer gold medalist and FIFA Women's World Cup champion, will share insights to further the critical dialogue around inclusion.
In an interactive session, moderated by President of National Accounts at ADP Debbie Dyson, these two New York Times best-selling authors will explore their personal experiences with inclusion and highlight how leaders can redefine what success looks like in the context of today's workforce.
The world of work has changed. Candidates and employees want more than a job; they want to feel connected to their work, their employer and their colleagues. They want to feel respected and know that their contributions are valued. As organizations consider the necessity of diversity, they must also embrace inclusion to help their employees feel comfortable, wanted and appreciated at work.

Different experiences; stronger together.
Register now and launch this powerful virtual summit on demand now.