Top Employers Have a Retention Checklist — Here's Why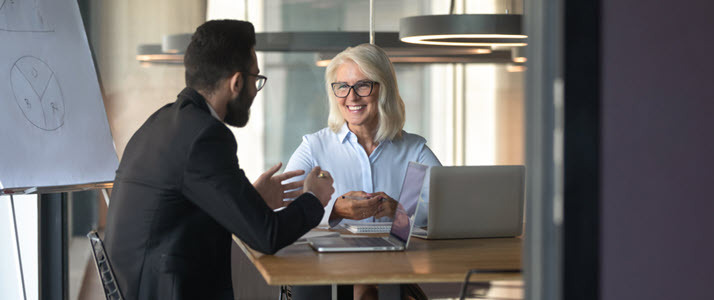 Retention is — and will continue to be — a universal concern for high-performing organizations. That's why ADP's Strategic Advisory Services team created a comprehensive retention checklist. Here are the four most important retention checklist questions ADP's VP of Strategic Advisory Services, Susan Hanold, thinks leaders should ask their organizations.
There's a reason HR leaders continue to be concerned about retention: It's nearly impossible to predict how employees will engage with the hiring landscape, whether the economy is up or down. The chaos of ongoing economic volatility, COVID-19 pandemic recovery and a workforce in the process of reshaping, well, everything is pushing organizations to ask some tough questions.
"Whether you call it the Great Resignation or the Great Reshuffle, a lot of companies are being asked to reprioritize their top hiring and retention goals," says Susan Hanold, VP of Strategic Advisory Services at ADP. "Even as post-pandemic layoffs and furloughs return to normal, quit rates are still rising and organizations continue to be short-staffed. In some issues, it is beginning to affect safety and we're seeing accident rates going up as a result."
Retention is — and will continue to be — a universal concern for high-performing organizations. That's why ADP's Strategic Advisory Services team created a comprehensive retention checklist of 25 questions to help organizations improve their retention strategies by narrowing their focus, identifying specific problems and pinpointing the root cause of high churn.
Interested to learn how a retention checklist roots out serious problems and helps to guide an organization to an effective solution? Here's a look at the benefits of an intentional, holistic approach and four critical checklist questions you can ask to improve your organization's retention strategy.
Question 1: Do we survey employee engagement?
Overall, engagement among U.S. workers is trending down, and a recent survey from Gallup revealed an eight-point decline in the percentage of employees who report being extremely satisfied with their organization as a place to work. ADP data confirms this trend, showing that only 16% of employees are fully engaged.
Low engagement rates lead to higher turnover, as Gallup's data shows 73% of disengaged workers report they are actively looking for another job. These employees also have higher levels of absenteeism, are less productive overall and are more likely to commit errors on the job — all of which contribute to the estimated $550 billion cost to U.S. companies for disengaged employees every year.
"This is a complex issue that can often be addressed by asking a simple question," says Hanold. "Survey your employees to see how engaged they are, and ask them what would get them excited for work every day. Our data shows that it doesn't necessarily matter what you talk about with employees as long as you are showing them attention and connecting with them on a personal level."
A business with a strong retention rate likely already knows the answer to this question. A business with a weak retention rate likely does not know the answer to this question — and likely does not understand what excites employees when they come to work.
Regardless of whether or not they have a mature strategy for addressing the results of such a survey, organizations should make an effort to survey employee engagement and track data associated with how much employees feel connected to their work. The findings can be incredibly valuable.
Question 2: Do we have regular, two-way communication with our employees?
Lack of communication is a major source of workplace stress. Joint research from The Harris Poll and Grammarly Business revealed that knowledge workers spend as much as half of their workweek communicating, and 86% of employees experience communication issues during that time. According to a separate study by Dynamic Signal, 80% of the U.S. workforce reports feeling stressed because of ineffective company communication, and 63% of workers want to quit their job because of it.
Hanold points out that as long as employees feel like they're a part of a team, engagement goes up. It doesn't matter the size of the team or where the team is located. But the communication part has to be intentional and consistent; that's where leaders can find the connection between regular, two-way communication and employee retention.
Employees want to feel connected to their organizations, managers and colleagues, and a lack of clear and consistent communication can lead to feelings of frustration, overwhelm and, ultimately, disengagement. Meanwhile, positive attention from leaders naturally leads to higher employee retention rates.
So what can your organization do to give employees more attention? Some businesses start an employee newsletter to circulate news more effectively. Others implement employee chats and performance management tools to make regular monthly or quarterly efforts toward regular, two-way communication. It all counts.
Question 3: Do we have a DE&I strategy?
Establishing a diversity, equity and inclusion (DE&I) strategy helps businesses remove discrimination from recruiting, hiring, development, leadership pipeline and succession planning practices. This levels the playing field to allow qualified talent to pursue roles previously out of reach and also builds up employee morale across the organization — ADP data shows that employees who feel their company treats everyone fairly are more likely to be engaged. Meanwhile, research from Deloitte shows that organizations leading in DE&I also report higher retention rates.
"Your organization's DE&I strategy is a common thread that affects how employees engage with the entire organization," says Hanold. "Getting comprehensive help from a team like ADP can help you more quickly assess your current challenges and create an action plan that can help you build a truly strategic approach to DE&I — which in turn will benefit your overall retention rates."
Organizations with nascent DE&I maturity have a foundational practice in place that takes culture and environment into account as well as a DE&I function or at least resources in place while they capture talent metrics and build employee resource groups. Organizations with the most mature approach to DE&I regularly score their DE&I efforts, have put formal governance processes in place, are pursuing pay equity and have taken a public pledge to focus on DE&I. Oftentimes, because of these initiatives, businesses experience a boon to their employee experiences as well as their bottom lines.
Question 4: Do our company mission, vision and values shine through?
Values alignment has a significant effect on retention, particularly with younger generations. Increasingly, workers are seeking organizations that are aligned with the environmental, social and governance (ESG) issues that are important to them. This is especially true in the wake of the pandemic.
According to recent data from Gallup, companies that foster a culture centered around their organizational values — and work to ensure those values are the center of all decision-making — average 70% employee engagement. Research from WeSpire shows that companies that include ESG in their corporate values retain 93% of their employees.
"Pay is an enticer, but company culture is the retainer," says Hanold. "An organization that 'walks the talk' when it comes to company values earns the trust of its employees, and trust builds long-term relationships that benefit your retention efforts."
Organizations won't be able to change the world overnight, and that's why it's so important to start now. Organizations that resolve to set actionable goals now will be more likely to discuss important mission, vision and values-related topics over the next few quarters and make slow, steady progress in communicating that mission over time.
Retaining top talent in any economy
Developing an effective retention strategy starts with gathering information. You must ask questions about the entire human capital management life cycle. You must ask these questions regularly. And you must ask them in a systematic way that allows you to organize, analyze and see the whole story of your employee retention practices.
If your organization is among those struggling to find and attract the candidates you need to be successful, it's time to make employee retention a top priority. This is because it's not just an HR issue — it's a core issue that affects talent, communications, performance and workforce management across the furthest reaches of your organization.
Learn more
Organizations that prioritize people first will rise to the top. Find out how to make HR more personalized to adapt to today's changing talent landscape. Learn how to design a people-centered workplace. ADP.com/ItsPersonal