Engagement is Local: How to Empower Team Leaders to Support Employee Engagement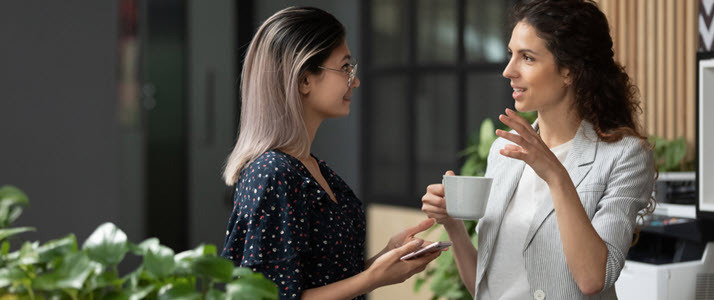 Improving employee engagement is not just about conducting an annual survey. Team leaders must be empowered with engagement data and the tools they need to give regular, individual attention — the factor that most affects engagement — to their team members.
Employers are investing more in employee engagement to improve retention and employee experiences. However, for many organizations, this investment translates to complicated engagement reports based on lengthy surveys which often result in large scale programs with limited impact. While measuring employee engagement is important, it's only the first step toward improvement.
Organizations need to embrace the reality that team leaders can have a greater impact on engagement than most action plans or HR-sponsored engagement programs. According to Amy Leschke-Kahle, Vice President of Performance Acceleration at The Marcus Buckingham Company, an ADP organization, what really moves the needle is ensuring that the right people get to see the engagement metrics and have access to the tools and resources necessary to effect real change.
After exploring virtually every approach to measuring and improving employee engagement, Leschke-Kahle has found that empowering team leaders with the data and support they need to improve the employee experience works consistently across organizations.
Measuring engagement from the top down is a mistake
Traditionally, organizations have measured engagement from the top down, but this tends to be an ineffective approach. When your goal is to improve employee engagement, it's important to approach employee engagement data analytics with a focus on where engagement is generated: at the team level. In this way, as Leschke-Kahle says, "engagement is local."
Historically, the top-down approach to engagement involves expensive strategic action plans, typically owned by HR, but Leschke-Kahle notes that this can be misguided. What high-engagement organizations do right, she says, is paying attention.
Knowing where to focus that attention is key. Leschke-Kahle describes engagement as "the emotional precursors necessary for employees to do extraordinary work that drives extraordinary outcomes for your organization." She encourages HR leaders to research what specific experiences are a priority for their workforce and conduct brief surveys on a quarterly basis to measure engagement.
"Asking the right questions is critically important," says Leschke-Kahle.
Team leaders can make the difference
Employee engagement is driven by relationships with managers and team leaders. This is a point that many organizations overlook as they strive to improve engagement.
When the team leader is fully engaged, 65% of team members are as well, according to The Definitive Series: Employee Engagement | 2020 from ADP Research Institute®. But when the team leader is not engaged, only 0.4% of the team members will be. According to Leschke-Kahle, high-engagement organizations ensure that their team leaders are receiving engagement data and communicating with their team members frequently.
Because traditional methods of measuring employee engagement focus on organizational charts, team dynamics can easily be overlooked. Some teams, such as those formed for specific projects, may not be represented in organizational charts, so it's important for HR to identify dynamic teams and evaluate engagement across them before aggregating data according to the organizational chart.
As Leschke-Kahle notes, research shows that the best leaders across all industries and business sizes have weekly conversations with team members about near-term future work and apply a strengths-based lens to these discussions. By focusing on employee strengths, helping to clarify priorities and objectives for the next five working days, and investing more attention in team members as individuals, team leaders can play a primary role in improving engagement through communication and encouragement.
"The secret sauce to engagement is attention," says Leschke-Kahle. "Engagement is a human thing, not a programmatic thing."
Keeping remote team members engaged
As remote work is now common, team leaders still may need help and encouragement to maintain close, connected relationships with their staff. Prioritizing effective communication is key to managing and motivating a productive remote team, and it can also help identify problems before they get out of hand. Team leaders can foster productive communication with remote associates by holding regular one-on-one check-ins and leveraging engagement tools that provide a user-friendly platform for managing weekly coaching check-ins between team leaders and team members.
HR also plays an important leading role in ensuring that that the practices that drive engagement are embedded in the organization. HR can measure engagement quarterly and use data from communication tools to check that team leaders are giving employees a sufficient degree of attention weekly. Tools can be implemented to help team leaders manage and conduct weekly light-touch meetings with every team member and check the perceived progress made in those meetings against engagement survey results.
Employee engagement may fluctuate naturally in response to factors outside of leadership's control, such as economic conditions, societal stresses or a global pandemic, but thoughtful team leaders can make a meaningful difference in employee engagement by giving frequent, light touch attention to their team members and ensuring that they have the resources they need to do their work every week.
Discover better employee engagement today with StandOut, a user-friendly platform that helps build engaged, high-performing teams and improve local team connectivity with strengths-based assessments, frequent team check-ins and personalized coaching for leaders.