A Flexible, Insightful Global Payroll System Is Crucial for Business Resiliency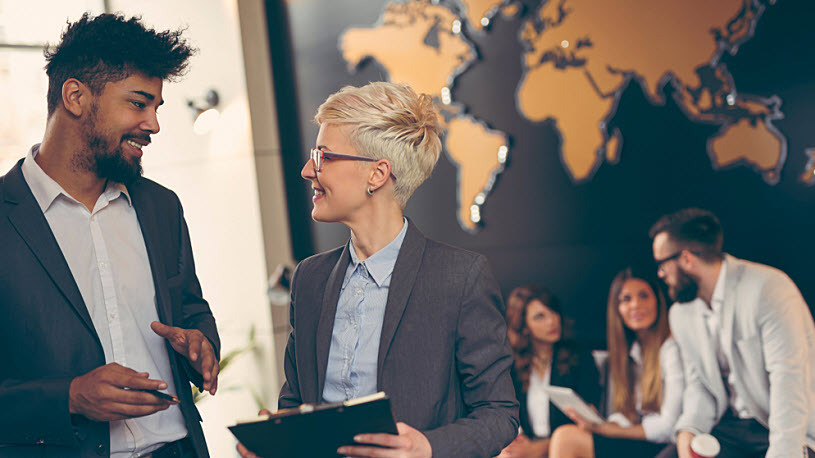 This is the second of a three-part series on managing global payroll. Here, we discuss how payroll system technology has evolved beyond singular functionality and can be considered a strategic asset that helps organizations adapt for multinational expansion and assess integrated, data-based insights. Check out part one to find out about solutions and best practices for global pay services' biggest challenges and part three to learn about the strategic value of global payroll data.
In an increasingly interconnected world, many organizations face the complexity of managing payroll across multiple countries. HR leaders take on the challenges of adhering to various national and local laws and synchronizing payroll processes.
Accurate and timely payroll is, of course, a necessity. You have to have a dependable tool for disbursing wages. But what if you could get more from your payroll software?
Per Tonya James, ADP's vice president of product management, flexible, insightful and integrated global payroll software can help you master compliance issues, streamline your operations and transform your payroll from a hurdle to a strategic asset for your organization.
James recently hosted a presentation showing how a well-equipped payroll system can be a resilient tool that does more than manage payments. Here are some of the benefits she highlighted in the session.
Adaptability for a globally expanding workforce
The pandemic drastically accelerated the evolution of the workforce, causing a seismic shift in how organizations manage and disburse payrolls across the globe. Many businesses quickly adapted to remote work structures, which, in many cases, created opportunities for employees to relocate not just within their city or country but across international borders.
Dispersed employees created new challenges in payroll management, such as adhering to global payroll laws, different payroll timelines and varying payment methods.
While some have returned to the office, a decentralized workforce continues as the new norm in many organizations. As the technology supporting remote and hybrid work evolves, flexible payroll software becomes essential, helping businesses navigate this complex, ever-changing landscape.
Adaptable payroll systems allow HR administrators to meet their organizations' evolving needs and growth trajectories. Whether a business is expanding into new markets or modifying its workforce structure, the right software can flex efficiently to accommodate these changes.
Optimized employee and payroll team experiences
"When you think about it, payroll is one of the only things that touches every single employee in an organization," James points out. "So thinking about that employee experience is important."
James says employees benefit from a simplified global pay system that helps them become empowered and informed. Tools that help them understand their pay and access earned wages and financial wellness features allow them to take control of their financial health. A system with transparency and easy utility can also contribute to employee satisfaction and trust.
An optimized experience also helps payroll professionals perform at a higher level and feel confident in their roles. An intuitive global payroll management solution boosts their learning and development, supports the expediency of routine work and directs them to take the right actions at the right time.
Plus, payroll software that supports multiple languages and currencies can enhance everyone's experience — ensuring seamless, user-friendly interactions for your globally diverse workforce.
Payroll data management that gives useful insights
Smart payroll systems have a clear purpose in maintaining compliance, but the data they offer is an undervalued feature.
James highlights the ways in which the data in payroll software can give meaningful insights, including:
How much you're spending on payroll across the globe, including the ability to compare countries and trends over time
Critical workforce trends, such as changes to new hires and terminations by country
The average tenure of employees across the organization, which can inform training and succession planning
How overtime impacts total labor costs, including trends over time
Deductions for optional benefits enabling insight into adoption and whether they're worth offering
For a system to offer insights, it must be able to consolidate payroll data from all regions in a common currency in a single platform. A worldwide view of these metrics empowers decision-makers with data-driven evidence to optimize staffing strategies and drive overall business performance.
Seamless integration for a holistic global view
In an ecosystem of interconnected business applications, isolated payroll information impedes success.
"There's a desire to connect payroll data in other business applications," James says. "There are a few benefits that come from that, including efficiency and data quality. When you use the same data in multiple places, you have less chance of that data being wrong."
For payroll data to truly drive strategic decision-making, it must integrate seamlessly with other essential business systems such as HR management, employee benefits and financial management.
The advantage of this integration goes beyond eliminating manual data entry and the associated risk of errors. It provides a more holistic view of the business, linking employee performance, benefits and payroll data to provide comprehensive insights to inform strategic decisions. For instance, correlating payroll and HR data can offer insights into the impact of benefits on employee retention or the relationship between compensation and performance. This integration allows the organization to get the most value from its strategic investment in both systems.
Strategic integration makes payroll management more efficient, and it transforms payroll from a back-office function into a strategic tool that can deliver significant business value. By choosing a solution that supports strategic integration, you're investing in a comprehensive tool that can help drive your business forward.
Making global payroll management part of your strategy
In an era of rapid change and increasing workforce decentralization, a rigid and inflexible payroll system limits an organization's potential to adapt to new markets, tax laws and workforce structures.
"In today's world, many organizations aren't having those strategic questions because they really can't get to that data," James explains. This can ultimately hinder business growth trajectory and impede the cross-regional insights crucial for strategic decision-making.
Without adaptable global payroll software, businesses risk falling behind in an increasingly competitive and globalized world.
Investing in a flexible and integrative solution isn't just a matter of enhancing payroll operations — it's a strategic move toward ensuring long-term business sustainability and success.
ADP offers global payroll solutions for mid-size and large companies that unify your worldwide data and offer powerful administrative and analytics features. Learn more about what they can do for you.