Why Different Experiences Can Help Teams Grow Stronger, Together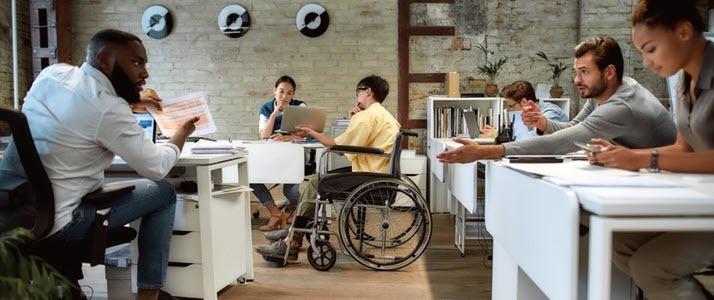 ADP's Inclusion Summit 2022 "Different Experiences, Stronger Together" offers attendees the opportunity to deep dive into the latest trends, tools and information they need to create change within their organizations. Launch this on-demand event here.
Diversity, equity, and inclusion (DE&I) has been at the center of conversations around building healthy, thriving organizations. It makes sense — having a DE&I strategy is essential to attracting top talent, as recent ADP research found that 76% of workers would look for a new job if they discovered their company lacked such a program.
And yet, a third of organizations that espouse the importance of these policies don't actually have them in place.
Here's a look at some of the key topics discussed during Inclusion Summit 2022.
Global sentiment of DE&I is on the rise
These days, fewer issues are more important in recruiting and retention than DE&I. From underrepresented communities working to find a voice to Gen Z employees being DE&I-focused in their job hunts, a number of trends are shifting the role of DE&I to a central point in today's employer branding and employee experience conversations.
During the summit, speakers explore recent trends emerging from the working world, as well as the latest ADP Research Institute® research. With the help of several other thought leaders, ADP's Chief Economist Nela Richardson and Chief Diversity and Talent Officer Bob Lockett offer attendees targeted guidance on how these insights can be applied to a business.
Broadcaster and executive producer Soledad O'Brien has led news coverage and reporting for networks such as NBC, CNN, HBO, and anchored major franchises such as Good Morning America. During the inclusion summit, O'Brien joins Richardson and Lockett for a conversation on her career as well as the challenges and opportunities that she sees for DE&I in the workplace today, offering insight and inspiration for emerging and experienced leaders alike.
Rekindling the passion
The rapid changes experienced over the last three years have had a dramatic impact on the workplace and employee morale. The Harvard Business Review recently reported that employees' sense of community declined 37% since pre-pandemic levels. That impacts engagement and other business objectives.
When considered against the backdrop of the Great Realignment — driven by individuals seeking work environments that made them happy or met other goals — learning how to navigate these conversations as a manager and employee is crucial. Marcus Buckingham is wading into the fray to discuss his new book Love + Work, which confronts the reality that today's working world isn't always configured to support the advice "do what you love" and offers hands-on strategies for finding what you love, making a contribution and turning it into a lifelong career.
Advancing underrepresented communities
If part of your DE&I initiative involves a specific focus on advancing underrepresented communities in your organization, you're in good company. This critical work has become a primary focus as businesses strive to elevate and amplify voices that may not traditionally be heard. But how do you know where to focus? What do today's most successful initiatives look like? How can you start the process?
Noelle Lambert is a record-setting para-athlete who went on to set new world records at the Tokyo 2021 Paralympics after losing her leg in a moped accident. She's also the founder of Born to Run, a foundation that provides specialized prosthetics to children and young people who want to live fun and fulfilling lives. In a conversation with Giselle Mota, ADP's Chief of Product Inclusion, Noelle speaks about her experience, the power of resilience and what's next for her, and share her insights around persevering with the DE&I challenges that matter to you most. (Just announced: Noelle is a "Survivor" Season 43 Cast Member.)
Learn from a panel about the power of hiring veterans and what military personnel can bring to the private sector, led by Bob Lockett. During the panel on women in technology, NexusTek VP of Human Resources Suzanne Harris shares insights from her 35 years in the field of human resources and discusses the current landscape for females in the wider world of technology.
Battling DE&I fatigue
As the focus on DE&I initiatives in the workplace persist, it's important to confront the issue of fatigue head on. What are the causes of DE&I fatigue, and how can you continue to advance initiatives while being mindful of this impact?
Join keynote speaker and founder of the Human Equity framework Peter Trevor Wilson's conversation with Anita Ricketts. Ricketts serves as the Head of Strategic Partnerships for DiversityInc, where she advises consultant, advisor and coach to the organization's corporate partners. Their insights can help you identify and build strategies to address DE&I fatigue within your business.
Mota frames why organizational leaders should consider inclusion not just as a DE&I nice-to-have, but as a business imperative.
"In representation, we need to think about inclusive processes and points of view. And we should rally together different voices, different points of view, whether that's race, ethnicity, age, gender, you name it."
Mota says, "It's not only about designing a product, but it's designing a product for us. By 'us' I mean everyone."
This virtual event covering the most important topics in DE&I today is available now.

Inclusion Summit 2022 "Different Experiences, Better Together"