The Continued Evolution of Recruiting: Updating Your Employee Value Proposition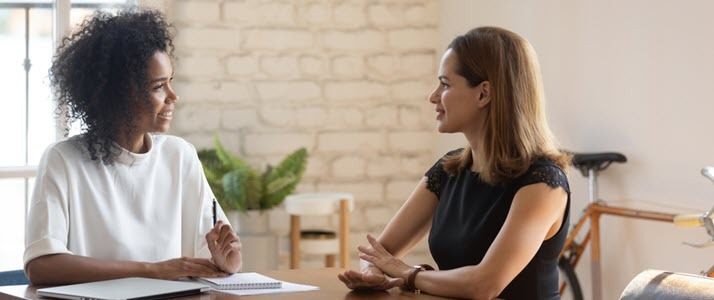 Are you evolving your employee value proposition? It's an important question that organizations must ask in the wake of massive cultural and business changes. ADP's Tiffanie Ross provides her insights regarding the evolving landscape of recruiting.
When you consider the wide range of effects the pandemic has had on the workplace, what comes in at the top of the list? Unlimited time off probably isn't the first response that comes to mind, but the fact that 50% of workers surveyed want unlimited paid time off is a big clue for organizations that want to have a competitive employee value proposition.
The workforce transformation brought on by the pandemic have dramatically shifted numerous priorities for both employers and employees. Candidates are rethinking their relationship with work, and businesses that want to attract and retain top talent need to understand the current recruiting climate and realign their employee value proposition accordingly.
Tiffanie Ross, Senior Director of AIRS, powered by ADP, brings over 20 years of experience in the recruitment training industry to the discussion. Here's a look at how your organization can respond to the new and developing needs of current and prospective employees during recruiting, based on Ross's insights.
The lasting impact of remote work
The global health crisis served as the initial catalyst that forced many organizations to make the leap to remote work. Now, the majority of employees have embraced it and prefer it, according to research from Forbes. Two years after the first lockdowns, many individuals now see remote work as a non-negotiable requirement. In a Future of Work survey conducted by Growmotely, 74% of respondents stated that they view remote work as the "new normal."
Savvy employers are responding to these changes, says Ross. As the shift toward remote and hybrid models continues, a growing number of candidates are seeking even greater autonomy in their work. With the aim of choosing where and when they want to work, many are looking for employers that offer flexible work options and open talent structures.
Open talent structures can cover a range of scenarios, including part-time, seasonal and per-project schedules, as well as on-premise, fully remote or hybrid work arrangements. But the term is most broadly applied in reference to independent freelancers or contractors who work for organizations in non-permanent, non-employee capacities.
Adopting an open talent model for recruiting can provide several benefits for the employer and the talent. It helps organizations scale up and down to match staffing demand and enables them to gain access to talent they might not otherwise be exposed to — all while providing workers with the flexibility, freedom and autonomy they desire.
"Recruitment strategies should involve a blended approach that includes human interaction and technology," Ross explains.
Changing preferences around benefits
Ross also notes that candidates who opt to work full-time are increasingly relying on their potential employers to help them achieve (and sustain) a sense of overall well-being. In addition to remote and flexible work arrangements, recruiters are seeing a greater demand for an array of non-traditional benefit offerings.
Expanded wellness offerings
While health insurance coverage is still a primary concern for employees, today's candidates are looking for more. In fact, Gallup found that 61% of employees cite greater work-life balance and better personal well-being as being very important.
Organizations that have expanded their offerings to include robust employee assistance programs (EAP), mental health care, telehealth services, financial planning and nutritional counseling are demonstrating to candidates that they value their overall well-being. They can address this need by providing benefits that support and improve the physical and mental wellness of their employees.
Education reimbursement and professional development
Candidates are interested in organizations that offer pathways for career growth. In a recent Harris Poll, 80% of respondents said they considered professional development and training offerings to be important factors in deciding whether to accept a new job. Many organizations are responding to this demand by prioritizing education and professional development in their recruitment and retention strategies.
Ross points out that initiatives like the Starbucks College Achievement Plan and WalMart's Live Better U program — which offer 100% tuition coverage — demonstrate a commitment to supporting employees' long-term success. And by partnering with programs like Grow with Google, which provides candidates with online training and certification programs, companies can not only help their existing employees develop new skills but also connect with potential new hires.
Volunteering and community engagement opportunities
Employees want to know they're working for a business that aligns with their personal values. In a Gartner survey, 56% of employees reported that the global health crisis made them want to give back to society.
As Ross explains, candidates are seeking jobs that can help them find ways to make a difference. Accordingly, a strong corporate social responsibility initiative that provides workers with opportunities to engage with their community can play a powerful part in recruiting efforts.
Pay remains a factor
Candidates are certainly prioritizing non-traditional offerings more than ever, but Ross also points out that the majority of American workers still view higher pay as a top concern. As the "Great Resignation" has shown, workers are not looking to just make a living wage; they want a thriving wage, plus benefits. And according to SHRM, 73% of recruiters have reported seeing an increase in negotiating for higher salaries among candidates.
Pay equity is another factor that many candidates are paying particular attention to. In a Bankrate survey, 55% of workers stated that they felt underpaid compared to peers with the same work experience and qualifications. Candidates want greater transparency in the recruiting process and are looking for organizations that regularly work to identify and correct pay inequities.
Evolution never stops, we just adapt
Workforce demographics, industry trends, technological developments and the global economy are all informing the changes we're seeing, and employers must understand and respond to the evolving needs of candidates and employees alike. By doing so, organizations can increase their chances of identifying and connecting with talent, and convince more top candidates to respond and come on board.
A recruitment strategy that includes a thoughtful approach to pipeline building, candidate nurturing, networking and providing a continual feedback loop can enable organizations to respond and adapt quickly as employee needs shift and the recruitment landscape develops.

Want to know more about improving your recruitment strategy and technology?
Download our guide today: Maximizing recruitment results during and after labor market disruption