Is Corporate Social Responsibility Part of Your Recruiting Emphasis?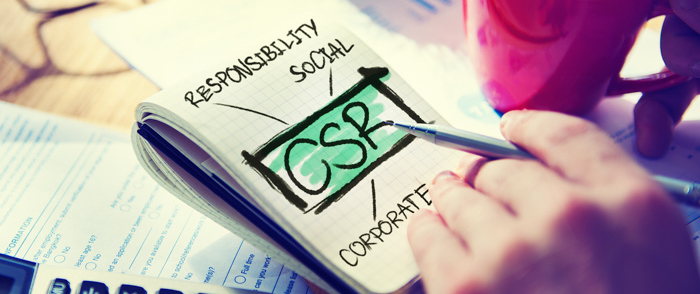 This article was updated on July 24, 2018.
Conducting a job search is hard work. Countless variables can affect a candidate's decision to pursue or accept a job. Job requirements, location, salary and benefits are typical items recruiters expect to address when speaking to potential candidates. Amid a renewed passion for ethics and sustainability, corporate social responsibility (CSR) has become an enticing attribute that organizations are using to attract potential employees.
Candidates Care About CSR
As organizations have become more aware of creating and promoting their CSR initiatives, candidates have become more socially selective throughout their job hunt. Candidates place heavy emphasis on an organization's reputation and commitment to the community and want to ensure their future employer engages in CSR practices that align with their own beliefs.
Forward-thinking, sustainable, CSR-competent leaders are in high demand by the new wave of young workers. GreenBiz found that millennial employees prefer to work for leaders they admire in businesses that exemplify good CSR practices. Similarly, according to Deloitte, 63 percent of millennials donate to charities, 43 percent actively volunteer or are a member of a community organization and 52 percent have signed petitions.
Since millennial workers will make up the majority of the workforce, it makes sense that businesses that want to succeed would actively identify CSR activities that will resonate with a increasingly younger, more socially responsible candidate pool. Despite what may be robust CSR policies on environmentalism, sustainability, health and human rights, or other social issues, in many organizations those programs may be disconnected with the organization's recruitment efforts.
Establishing a connection between an organization's CSR policies and recruiting staff can lead to significant talent acquisition gains. Bridging the CSR "knowledge gap" between recruiters and potential candidates can help attract talent and staff organizations with individuals with similar values.
3-Step Approach
Here are three ways to incorporate your organization's CSR results and key messages into your recruiting practices:
Cultivate Your Career Page. An organization's career page tends to be the first place potential candidates land when researching an organization, so it's important to have CSR information visible to help expose candidates to positive corporate programs. An effective way to inform candidates is to promote articles, awards and policies, as well as to post images and videos featuring employees volunteering or participating in charitable events.
Refresh Your Recruiters. In the intense race for top talent, it's key for recruiters to personalize and sell their organization's CSR initiatives to individuals within their pipeline. To that end, businesses must ensure that their recruiters are efficiently trained on CSR policies, and are capable of positioning these elements to potential candidates. Following an initial training session, organizations should continue to refresh and enforce the importance of CSR initiatives to the recruiting staff.
Bond CSR to Your Brand. Demonstrating the impact your organization has on the community — locally or globally — reveals a lot about your organization's values and beliefs to potential candidates. Characterize CSR as part of your overall workplace culture. This may not only influence a candidate's decision to choose your organization, but it can also influence future talent's perception of your brand.
Clearly, CSR programs can be used as an additional asset to secure a candidate. These programs can become the deciding factor to a candidate who is juggling multiple offers and trying to determine the best fit for their next career move. Additionally, candidates who are passionate about CSR programs during the hiring process are likely to become CSR champions for the business in the future.
Embracing CSR initiatives and promoting their success to attract talent has become a best practice, and helps ensure companies hire candidates who will work to promote and perfect workplace culture and brand recognition.