5 Must-Haves for Employee Retention in 2022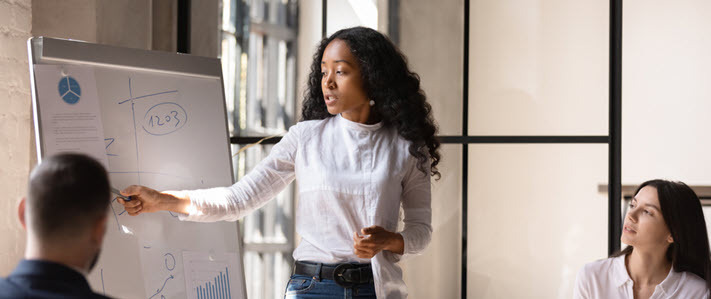 Employee retention is a top consideration, but employees and job hunters are currently looking for different things than in previous years. Discover how to update your 2022 employee retention toolkit.
Employee retention has become a critical consideration for businesses facing labor shortages and a reshaped workforce. The global health crisis changed the working world in innumerable ways, and its effects are still being felt. One significant change is that employees may be coming into the office less and facing different challenges in a hybrid landscape.
Traditional benefits, perks and incentives that previously helped deliver a winning employee experience may be less relevant in the current setting. If you're considering new solutions to help improve employee retention, here are five must-haves in 2022.
1. Flexible work arrangements
Flexible work arrangements used to mean the ability to work from home or shift hours occasionally to meet needs such as childcare schedules. Today, in the context of a largely hybrid workforce, employees may be working in the office, from home or a mix of both. Fast-changing health landscapes can also mean work arrangements vary from week to week.
A culture that embraces truly flexible work arrangements needs the right systems in place to ensure those arrangements are successful. So, how can managers keep employees engaged in a hybrid or mixed environment?
"Frequency really is the new currency," says Amy Leschke-Kahle, VP of Performance Acceleration at Marcus Buckingham Company, an ADP organization. Leschke-Kahle recommends briefly checking in with employees one-on-one every week to foster a sense of connection, and utilizing technology programs to help reinforce that connection. Platforms such as StandOut® powered by ADP® offer a unified activation solution designed to help team leaders turn their people's natural talent into extraordinary performance, with features like personalized coaching, strengths assessment and ongoing development opportunities.
2. Flexibility in compensation
Compensation remains critical to employee retention. However, it's not just how much you pay — it's also how you deliver payment. Increasingly, employees want a variety of flexible payment options. During a crisis it may be hard to cash or deposit a paper check if an employee has to be away from home, is not scheduled to be in the office to receive a check or banks are closed.
Research from ADP found that many millennials and Gen Z workers want the flexibility of a paycard. Diversifying the way you compensate employees and offering alternatives to traditional paper checks is an important update to consider. There may have been shifts in the ways your employees manage their money, and it's critical that employees are able to access their pay easily in a digital-first world.
3. Clearly communicated compliance needs
The work-from-home trend has introduced a variety of new compliance challenges for organizations, many of which employees may not necessarily be aware of. Businesses often struggle to note which regulations apply and what types of events (such as an employee working remotely in a new state) could trigger critical operational or compliance needs.
Different states may have vastly different requirements or policies on Wage & Hour and other Labor laws, paid leave or other benefits, taxation, and worker classification, among others . Employees need to understand what constitutes a change and when to communicate that information to employers. At the same time, employers need systems that quickly ensure they're complying with what states require. Slow responses or a lack of action can lead to employee complaints.
"That's what sparks audits from the Labor Department or the tax department," says Pete Isberg, VP of Government Relations for ADP. "Employees working in different states become aware of new benefit programs to which they are now entitled and register concerns with the Labor Department. All those things need to be considered. Not to be negative about this, but there are compliance issues that deserve a close look with hybrid work and people working across state lines." Develop a plan for when employees need to communicate with you and what you'll need to communicate back.
4. Professional development opportunities
2022 holds the potential for significant innovation, from new tools and industry opportunities to emerging trends. Businesses that offer their employees growth paths and professional development opportunities — including upskilling when required — can increase employee retention and satisfaction.
If you're identifying data gaps or skills gaps as you plan for the future, focusing on professional development opportunities can help you take your current talent bench into the next phase of your business. In the year ahead, businesses will embrace upskilling, reverse mentoring programs and digital learning as tactics to help employees continue growing and foster a development-oriented culture.
5. A culture that focuses on DE&I
Diversity, equity and inclusion (DE&I) are cornerstones of the culture today's employees want to be part of. Your corporate take on DE&I can impact whether job candidates will take a job with you. The Washington Post reports that 76% of job searchers evaluate diversity when they're considering organizations and job offers. Today's top talent want to work with organizations that value diversity and make it a priority in the workplace daily.
Investing in a culture of diversity can also help to improve the individual employee experience, which has a positive impact on employee retention. Research from the ADP Research Institute found that DE&I initiatives that focus on fostering a sense of connection have a direct impact on employee engagement: "Those who are Strongly Connected are 75x more likely to be Fully Engaged at work compared to Not Connected." As you develop your employee retention toolkit for 2022, consider whether your DE&I initiatives gather real-time data and support all employees feeling visible and connected.
It's time to update your employee retention strategy
Understanding what top job candidates seeking new opportunities want, and what will keep star employees happy with your offerings, can help you win over the talent you need. What employees need and want in terms of incentives, and what you need to offer to drive employee retention, have changed. Updating your approach and investing in supporting systems can give you a key advantage in retaining and attracting key talent.
Learn more
In the post-pandemic world of work, the organizations that prioritize people first will rise to the top. Find out how to make HR more personalized to adapt to today's changing talent landscape.
Get our guide: How to Design a People-Centered Workplace