The Complexities of Merging Payroll Systems During M&A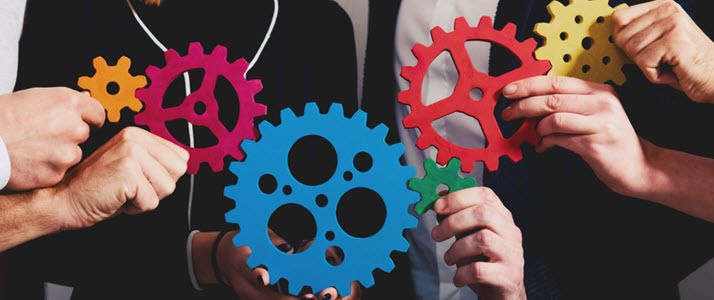 Combining payroll systems during M&A has more complexities and may take more time than organizations might expect — but it's also an opportunity to make payroll upgrades, such as adding pay cards, flexible work policies or mobile functionality. Organizations should give themselves plenty of time to handle the payroll merge, communicate any changes to employees and address challenges of the M&A process created by COVID-19.
As you prepare for an upcoming merger or acquisition, don't forget to plan how you'll combine the two payroll systems. It's something that can catch an organization off guard, as there are more complexities than one might think. Shannon Dever, Implementation Manager II at ADP, spoke with us about key issues in mergers and acquisitions payroll along with the best practices for handling them.
Potential challenges
As Dever notes, in an M&A situation, "Right off the bat, you've got organizations with two different house plans. There are going to be differences in how they handle time off, benefits, payroll vendors, hours and deductions, and perhaps pay frequency." Your analysis needs to identify these differences and determine how it will account for them. "Leaders should define a project team at the beginning to outline what the merger will look like," Dever says, "and identify the key steps needed to achieve the new organization's goals."
Businesses also need to figure out what will happen with their federal tax ID numbers after the deal. Dever says, "Will they keep the same EIN (Employer Identification Number) of one of the companies? Will they apply for a brand-new one after the merger?" If one of the merging organizations does end up changing EINs partway through the tax year, it would need to send out two rounds of W-2s to employees with the separate ID numbers.

Finally, the two companies will need to figure out pay scales and address any differences, especially if there are significant gaps for similar positions. The HR team needs to figure out why gaps exist and whether they make sense. For example, two roles might have similar titles across the two businesses, but one of those roles might require a specialized degree and therefore receive higher pay.
The COVID-19 landscape
Dever notes she has seen COVID-19 have a mixed impact on M&A deal flow. "Some organizations previously wanted to change but decided to hold off, whereas others accelerated as [situations required them to] complete the deal more quickly."
On top of the usual M&A payroll complexities, COVID-19 created additional delays in working with the federal government, and in some cases, the government has taken much longer to respond to inquiries. If your organization is trying to replace its EIN or needs something else from the federal government, note that it could take longer than normal.
Travel is also more difficult and potentially dangerous these days, so if you need site visits or anything else travel-related completed during the merger, plan for how you will conduct everything safely.
Tips for successfully merging systems
When it comes to successfully merging payroll systems, Dever believes it all starts with giving yourself enough time to properly handle the key issues in mergers and acquisitions. "You can't say, 'OK, in 30 days we'll be merged.' We typically see 90 days minimum." For larger organizations, the M&A process could take closer to six months.
Giving yourself extra time can enable your business to handle any government delays, and it also allows your payroll merger team to produce a proper plan of action. Some questions to consider for your new system include:
Which payroll vendors will you use?
Will you change your EIN?
What will the new organizational structure look like in terms of business units and departments?
Will there be any location challenges, such as needing to travel between sites to figure out the merger?
Will there be any separations?
As you move forward with your plan, be sure to communicate the payroll updates to your staff. As Dever explains, "People often worry about their pay and benefits being messed with. HR needs to reassure them about what will stay the same, and if any changes are planned, explain why."
A payroll opportunity
Dever also sees a payroll merger as an opportunity. "It's a chance to reinvent your system and consider policy changes that were sitting on the table," she notes. For instance, if the business being acquired is relatively small, it might be missing standard payroll features like direct deposit or electronic delivery of W2s. Adding these would immediately make the system more convenient for the new staff.
You could also add new benefits like alternative payment methods, flexible work arrangements and mobile functionality to give employees more access to their payroll data as well as self-service capabilities. The M&A process can present an opportunity to review your current pay scale and make sure it's truly equitable in terms of race and gender, and that no hidden biases have entered over time.
Merging payroll and handling the many complexities of the M&A process won't happen overnight, but if you give yourself time to prepare and address the issues outlined above, you can set the stage for an even better payroll system after the deal is completed.
Learn more
ADP HR services range from simple templates and helplines to long-term HR consulting engagements related to mergers, acquisitions and reorganizations.