A 5-Step Guide for Encouraging Employee Direct Deposit Adoption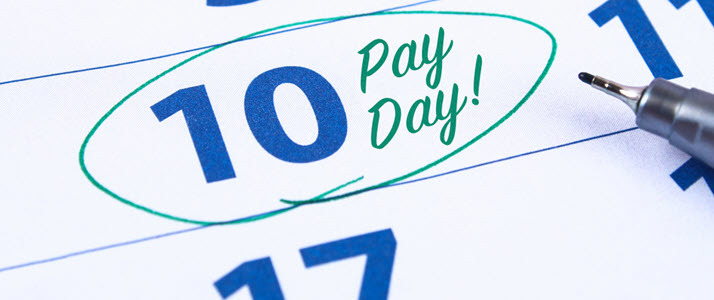 Direct deposit of paychecks can help reduce the risk of unexpected income interruptions due to inclement weather or other potential disruptions.
According to the American Payroll Association, 93 percent of employees surveyed use direct deposit. While no one can argue that's a big number, many more employees can take advantage of safe, convenient paperless pay. Let's examine how employers of all sizes can promote the adoption of direct deposit to employees not using it.
Developing an effective direct deposit communications campaign begins with the following tips:
1. Evaluate Current State
Pull current data on how many of your employees are using direct deposit
Determine if you can secure a list of employees who are not enrolled and target this population for your campaign
Review your onboarding materials and checklists:

Is there an opportunity to add direct deposit messaging into that content so you promote it from day one with new hires?

Determine if your payroll provider offers a mobile app and other tools for self-service:

If so, promote these as options for signing up for direct deposit and accessing pay statements
2. Know Your Audience and Consider Timing
Understand who you are communicating with – front-line employees and managers – and identify how they like to receive information
Consider the portion of your workforce working from home and how to effectively reach them

For example: email, company portal, virtual manager huddles, etc.

Determine the right time to deploy messages considering other critical communications being distributed during the same timeframe
Work with your executives, HR, legal and marketing communications team to confirm timing and tone of these messages
3. Develop Clear, Concise Messaging that Addresses "What's in it for Me?"
Think about the most important points you need to convey to your employees and create a short set of key messages that can serve as a starting point for content in all communications deliverables
Ideas for messages about direct deposit:

Quick. Because it is an electronic transfer, funds deposited to an employee's account(s) are available almost immediately (and sometimes the day before pay day
Convenient. Employees don't have to interrupt their workday or weekend to run to the bank and wait in line to deposit their check
Flexible. Offers employees the option to assign different percentages of their pay to multiple accounts (i.e. checking, savings or other accounts)
4. Use a Variety of Communications Deliverables
Keep in mind that it takes an average seven times to deliver a message before it's understood and acted on, but that doesn't mean you should send seven emails to your target audience
Mix it up and leverage different methods, such as posting a banner ad on your organization's intranet, posting information on social media channels (if available), such as Yammer, Slack or Workplace, distributing fliers via email or mail, or posting materials like table tents in the cafeteria or other common spaces
Tap into your HR leaders and people managers to help get the word out

Prepare them with talking points that can be shared in staff calls or one-on-one meetings
5. Measure, Refine, Repeat
Measure the effectiveness of your direct deposit campaign by reviewing payroll data to monitor direct deposit enrollments, solicit manager feedback, gather anecdotal feedback or host virtual roundtables to hear directly from your employees
Refine your content or tactics, as needed, and reinforce your messages year-round
Keeping the above communications tips in mind will help you promote direct deposit to your organization.
Be prepared to answer common questions, such as those below.
(Good news -- we've provided the answers.)
What is direct deposit?
Direct deposit is an electronic transfer payment made directly from an employer's bank account to an employee's bank account(s) for wages earned
What are some of the benefits of participating in direct deposit?
The pay will be delivered quickly into bank account(s)
Minimize the risk of lost or stolen checks
Save time by not having to go to the bank or ATM to make deposit
Compensation can be divided and disbursed to different accounts (i.e. checking, savings or other accounts)
Why should employees sign up for direct deposit?
Faster access to pay, better control of finances, safe and secure way to receive pay
Help reduce the risk of unexpected interruptions due to inclement weather or other potential disruptions
Related Resources