Goodbye Work-Life Balance, Hello Work-Life Integration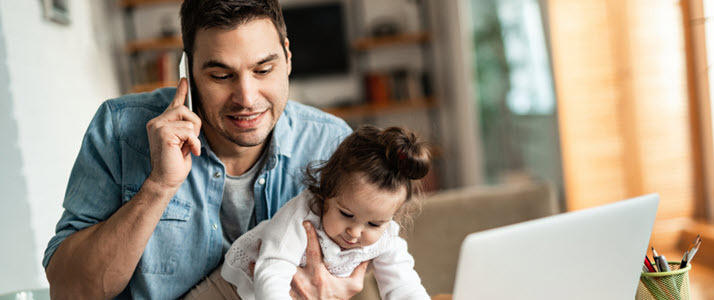 In this article, ADP's Amy Leschke-Kahle explores what it means for HR to welcome work-life integration in this next evolution of the world of work.
Until last year, we shared an ongoing dialogue about work-life balance in the human resources and personal development space under normal conditions. But then COVID-19 came along and pushed hundreds of millions of people out of the office and into the home to work.
How's it going? Reports vary. According to Gallup, almost two-thirds of U.S. employees who have been working remotely would like to continue to do so. But according to another study by PricewaterhouseCoopers, some 87% of employees report that the office is important for collaborating and building relationships, and another 68% shared that a typical employee should be in the office at least three days a week to maintain a distinct company culture.
… the discussion of work-life integration becomes a discussion of equity and fairness.
- Amy Leschke-Kahle, VP of Performance Acceleration
Your organization may be split down the middle, too. What I find most interesting is how clearly these matters push us out of the paradigm of work-life balance and into the new world of work-life integration. Here's what that means for HR.
Work-life integration puts the employee at the center of the decisions
The people most affected by the mass shift to remote work are the employees. At the most fundamental level, how and where an employee in the knowledge sector can work has been completely redefined, and it would be a mistake to assume there's a one-size-fits-all approach that will meet the needs of everyone you employ.
In this regard, the discussion of work-life integration becomes a discussion of equity and fairness. Employers who want to support work-life integration will put employees at the center of decision-making so their employees can determine the best way forward for themselves within the bounds of the work that needs to be completed.
For example, some employees have simply shifted their regular work hours offsite and into a remote location, and are battling isolation and stress. Others have had to adjust to care-taking duties for children or other dependents, which has changed what times of day they can dedicate to quiet focus on their work. Different employees will need different support — some may find that the best way to reduce stress is to add structure, while others may find that the best way is to remove it.
There's no one right answer for any organization, workplace or team
For HR practitioners, rules provide a certain amount of comfort, as they add structure and help to ensure fairness. The concept of work-life integration, then, can feel threatening because it leaves it up to each organization, workplace and team to figure out the best way to get work done and create whatever structure is necessary to do so.
At an organizational level, this can be confusing and even stressful, but moving forward, it will simply be the way work happens. While some types of work will continue to require clear guidelines, boundaries and constraints, a lot of work that's done in the knowledge sector will not. Organizations will need to align on a team-by-team basis to ensure their approaches suit the needs of the business as a whole and accommodate the work of individual teams.
Work-life integration is an invitation for HR to be courageous
As with any change within an organization, there will be resistance to increased work-life integration. However, our new environment won't let us get away with clinging to old ways of operating. HR professionals now have a choice to make: struggle to hold onto processes that no longer serve the business, or be a true advocate for employees and support greater work-life integration.
One of the most pressing examples of this shift, based on where our clients are investing, is employee engagement. For years we've been investing in complex, time intensive solutions to increase employee engagement. And yet, most managers still have a very check-the-box attitude when it comes to the traditional tactics, we've implored our organizations to do. If those top down efforts don't work, then let's stop. Instead we should invest in the one thing we do know accelerates employee engagement, a culture of high attention.
Building your organization's work-life legacy
Whether your organization is entirely remote or engaging in a hybrid system of on-site and off-site work, COVID-19 has introduced completely new standards, processes and boundaries to work.
The question then becomes: How will your organization adapt to this new situation? Will HR be a force that helps people do their best creative work on their own schedule, or will it struggle to fit so many different kinds of people into the same mold?
The only correct answer is to say goodbye to antiquated, over engineered mindsets on work-life balance and hello to simplified approaches that support work-life integration.
Generate meaningful engagement data to inform business decisions, allocate resources and support your people. Learn about StandOut® Powered by ADP®.