Lighting the Way with Cate Luzio and Luminary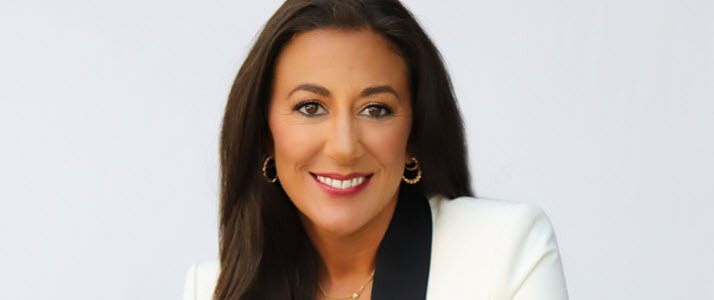 Each year in recognition of Women's History Month, SPARK features exceptional women small-business leaders. Commencing its 2023 coverage is Cate Luzio, founder and CEO of Luminary.
Cate Luzio was diagnosed with breast cancer in 2022.
"I wasn't prepared," she said. "I was getting on a Zoom call with about 400 people, leading a session with one of our big corporate partners, and my phone rang. It was three minutes before the Zoom call, and I answered."
It was Cate's radiologist. The diagnosis was official.
"I remember thinking, 'Wait, what?' I got on the Zoom call, looked at all these faces and said to them, 'I need 30 seconds.'"
She turned off the video and muted herself.
What do I do? Do I stop the call? Do I reschedule?
"I pulled myself together and said, 'I have to keep going. I just have to keep going.'"
Who is Cate Luzio?
Formerly a financial services leader in corporate America, Cate Luzio is now the founder and CEO of Luminary, a global professional education and networking platform. She and her staff work to uplift, upskill and empower women through all phases of their professional journeys.
"We bring you content and programming that lets you take that next step in your career, start your networking journey or build your business," Cate said. "We don't have an application process; we believe that creates barriers. We are an inclusive, join-now community."
Luminary's global ecosystem of business professionals, half of whom are small-business owners, founders and entrepreneurs, take advantage of Luminary's membership tiers, enjoying content and programming in person, virtually and via Luminary's community platform.
Luminary is headquartered in New York City, and its reach spans more than 30 countries. The business is thriving, with thousands in the community and more than 60 corporate partners, plus an upcoming tour and Women's History Month summit. Its success is the product of a tight-knit multinational network — and Cate's 20-year career in financial services.
The road to Luminary
The road to Luminary was paved, in part, with roads.
Before Luminary, "I would have called myself a road warrior," Cate said. "I traveled all the time, sometimes three weeks each month. I spent 20 years in corporate and investment banking and loved every minute of it."
Cate always made it a point to host mentoring sessions and roundtables with other women. Helping her women colleagues came naturally to her. International corporate travel also exposed her to how women in other countries live, broadening her perspective on women's issues. In March 2017, one year before Luminary's establishment, Cate joined the board of directors at Girls Inc., a nonprofit dedicated to inspiring all girls to be strong, smart and bold.
In part, Cate's experiences in corporate America are why Cate is the founder and CEO of Luminary today. Her time as a financial services leader taught her how to run a business, manage people and recognize women's inequities.
A vision inclusive of everyone
A former financial services powerhouse, Cate has firsthand experience working in a male-dominated industry, particularly as a senior leader.
"Things were changing when I was there. They continue to change, and I think a lot of progress has been made," she said. "But you still have the majority of leadership positions worldwide, particularly in the United States, occupied by cisgender, heterosexual white men. When you look at people in power, it's the same. When you look at compensation, white cisgender men make more than women in general, and when you get to women of color, it's far worse."
She continued, "When you look at the opportunities historically presented to men, they've had more opportunities and bigger networks. Why? Because there are more men in those roles. They can reach down and pull each other up. I saw it throughout my career. At Luminary, we focus on women because we need access to those resources. We need access to those bigger networks. We need to understand how we get equal pay and equal opportunities."
To Cate, uplifting, upskilling and addressing the systemic challenges facing women at work shouldn't be framed as "men versus women." Instead, she believes these objectives should be informed by everyone — men, women, transgender people and non-binary people. Cate knows that Luminary's economic, social and cultural vision can only be achieved if men contribute. Men are in the Luminary community today and can join anytime. They can also visit Luminary in the Big Apple. Cate wants them to.
"I knew I could do what I wanted without telling men they were doing something wrong. They're not. It's just what has happened. It's history. It's society. It's culture. It's organizations that have been around for a long time," she said. "But we can change those."
A pivotal conversation
Cate's time as a leader in corporate America nurtured her passion for supporting women. She didn't know it back then, but she would one day convert that passion into Luminary.
Unsuccessful in vitro fertilization (IVF) treatments and a divorce drove Cate to re-examine her life and career. Needing a change, she was about to switch jobs, but her mentor intervened.
"We had drinks, and he said, 'Is this really what you want to do, trade one big job for another, or do you want to have an impact? Not that you aren't having an impact in your current role, but is this it for you? You're young enough to make a big change if you want.'"
A big change had never crossed Cate's mind.
"I was just climbing," she said. "That was a pivotal conversation for me. A few weeks later, I decided to take a chance on myself and do something different. I didn't know what that was. I didn't have a job waiting. It was a massive risk."
Exiting financial services and attending an event
Cate vacated her role as a financial services leader, taking time to contemplate her next step. She kept recruiters on speed dial in case she regretted the decision. And for a while, she did. Her career had become her identity. She was depressed for six weeks because she kept second-guessing herself. Torn, she continued her job search. Like a pendulum clock, she swung back and forth between the past, present and future. Fortunately, while in limbo, she attended a women's event that didn't resonate with her.
"I learned some things from that event," she said. "I said, 'Wow, there are so many of these, and we're just trading business cards. Couldn't we do these better? Couldn't we do these differently by not excluding men?' I told my boyfriend, and he said, 'I think you should write this down.' And I said, 'Write what down? I'm just venting to you.' And he said, 'I think you have an idea.'"
Two weeks later, Cate had a business plan. She called the organizations she was interviewing with and said thank you, "but I'm going to start my own business." Some lauded her. Others didn't. A few months later, Luminary, self-funded by Cate, was born. Leveraging its professional education and networking platform and vision for inclusivity, Cate and her staff have been uplifting and upskilling women professionals and addressing systemic challenges ever since.
Being mindful of crucial developments during uncertain times
Recent reports of inflation, layoffs and a potential recession have stoked fears at home and in the workplace. Cate's position at Luminary and her work with its corporate partners grant her insight into how these events may ultimately affect women professionals worldwide.
"Many women in the workplace right now are self-advocating more than usual because they want to protect their jobs, given the market downturn, but also to ensure they have opportunities. They don't want to be part of a workforce reduction. But they better be prepared if they are. They need to be prepared to have those conversations and demonstrate that they are assets to their organizations, that they shouldn't be a part of a reduction and why. And if they are part of a reduction, they need to be ready to discuss how their employers will take care of them."
Speaking to women professionals directly, Cate said, "You've got to plan for the worst. Make sure you have the right tools so that, if you're part of a layoff or if there's a re-organization or big changes that you aren't a fan of, you're in a position where you can be very vocal about who you are in the market, your skills and your value to the organization. Make your business case about why you should be retained or hired into a new role."
Cate's outlook for small businesses
For small businesses, including Luminary, Cate said the hits keep coming.
"There's a lot of concern about access to capital," she said." It's more expensive. For those raising money from the investor community, people aren't investing as much, because capital is more expensive. You also have the cost of labor, which has gone up dramatically. The cost of goods is up. Inflation has hit small businesses in the face. We made it out of a pandemic, and now [we might] hit a recession. There's a big concern among small-business owners around how they retain customers and keep going. For women of color, who already have headwinds around lack of access and resources, this will be a bigger challenge."
Cate said to be on the lookout for another potential she-cession, plus a possible wave of women necessity entrepreneurs, who may start new businesses due to the economic downturn.
"We saw that in 2008 and during the pandemic," she added, "and I think we'll see that again as we head more into 2023 and 2024."
True to Luminary's vision of community, Cate and her staff plan to be in lockstep with women professionals as they tackle an uncertain future together.
A different kind of uncertain future
Luminary is almost five years old and has grown tremendously since its inception. Like any small business owner, Cate wants to continue growing Luminary and, in time, hopes to reach 10,000 women business owners, 120 corporate partners and double the number of cities Luminary visits on tour.
But that's Luminary's future.
What about Cate's?
When Cate was told she had breast cancer, she paused her Zoom call to compose herself. She considered canceling, but she didn't. Instead, she presented for over an hour in front of hundreds of people — like nothing was wrong. In her words, she "just kept going." Devoted to Luminary's vision, Cate sacrificed her needs for something more important than herself.
Cate still considers her work at Luminary important.
But her zealous commitment to helping others caused her to neglect her health.
And now, she says, it's suffering.
"The diagnosis was a huge wakeup call," she said. "I was forgetting about myself. I want to be here for a long time, and if I want to be here for a long time and set a good example for my community, I have to take care of myself. I deserve better."
Cate says she must take medication for the next five to 10 years and visit an oncologist every 90 days. She's fighting two fights now: one for her health and one for a global workplace where women thrive.
She's in good spirits and has a renewed dedication to health care and self-care. She hopes that, by sharing her story, others will seek the care they need — to love and support themselves — and to help Luminary light the way for as long as possible.
In honor of Cate and others with breast cancer, consider donating to After Breast Cancer Diagnosis (ABCD), Susan G. Komen for the Cure or the American Cancer Society .
Luminary's partnership with ADP
ADP is helping Luminary light the way with the ADP x Luminary Fellowship Program, supporting women-owned and women-founded businesses.
ADP Fellows receive best-in-class assistance with HR, hiring, payroll, taxes, compliance and benefits, plus access to Luminary's global community, workshops, coaching, mentoring and business marketplace. In 2022, the program awarded 100 Fellowships. Eighty-five percent were awarded to women of color.
ADP is Luminary's exclusive human capital management (HCM) partner.
Luminary uses RUN Powered by ADP®, an intuitive platform that makes paying and managing people faster, easier and more enjoyable.
Learn more about Luminary Fellowships
Read these other Women's History Month features:
Mamaprenista Stephanie Cartin on Motherhood, Business, Women at Work
CPA Jamie Trull Uses Care, Simplicity to Help Small Businesses Thrive