How This Visionary Woman Entrepreneur Built a Virtual CPA Business for Moms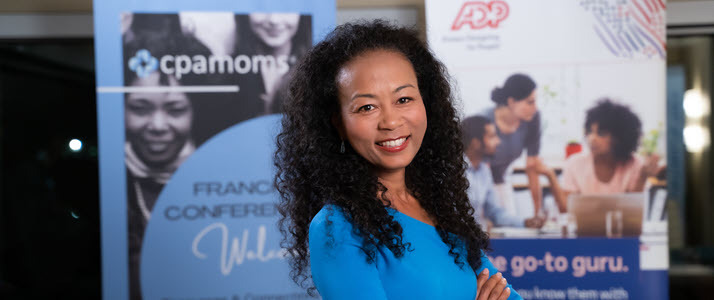 Learn how forward-thinking woman entrepreneur and former international finance executive Mayumi Young channeled the care of mothers into an innovative virtual business for CPAs who are moms.
Mayumi Young became an accountant because she got an A in her introductory college accounting class – and because accounting could pay her student loans.
"I asked my fellow students and professors how much you could make as an accountant once you got out of college, and I looked at my student loan bill and went, 'Okay, I guess I'm going to be an accountant,'" Mayumi says. "I really didn't know what I wanted to do with my life. I just knew I was really good at accounting."
Mayumi's mom had worked hard to get her into that college. A Japanese immigrant with a life marred by strife, Mayumi's mom grew up poor. Her father died when she was young, forcing her to quit school early to help take care of her family. In a word, she understood struggle, and she wanted better for Mayumi, whom she had after meeting Mayumi's father, at the time an American servicemember, and moving to the United States. But by the time Mayumi was a toddler, their marriage had ended, creating difficulties for Mayumi's mom.
"She's in a foreign country, doesn't speak the language, has no family, has no friends, has no education and is raising an infant," Mayumi says. "But despite all the challenges she faced, I never went without. My mom worked hard in a rope factory, working for minimum wage, and still attended every gymnastics class, band concert and track meet. She was a woman who bought me new shoes and wore my old ones. It was the ultimate sacrifice. She made sure I went to college. She made sure that I have the life that I have. Her involvement and presence mattered. She is my role model for working moms."
The life Mayumi had
After graduating college, Mayumi went on to earn her certified public accountant (CPA) license. She built a decorated career as a senior accountant at Price Waterhouse, now PricewaterhouseCoopers (PwC), one of the Big Four accounting firms, where she regularly consulted with Fortune 500 companies. Later, she worked as a European finance director and corporate financial reporting manager at WorldxChange Communications (WxC), now a Vodafone-owned telecommunications company, where she oversaw the financial reporting of accounting departments employing 100 accountants in 11 countries and represented around $250 million in the company's annual revenue, to name a few of her achievements.
"I had all the prestige," Mayumi says. "I was traveling all over the world."
Yet Mayumi's success – the money, the gallivanting, the status – didn't make her the least bit happy. Mayumi was an exceptional accountant, but she lacked an overarching purpose that could tether her heart to the profession. She felt that there was more out there for her in the accounting space, something that could make her feel more content, more aligned, more whole as an accountant – and as a person.
A mom's care
Everything changed when Mayumi met a mom and her young daughter at an airport during one of her many back-and-forth business trips to Europe. Mayumi and the mom struck up a conversation, and the mom, caring about her daughter's future, asked Mayumi what she did for a living.
"I told her the grandiose story, international finance executive, blah, blah, blah," Mayumi says. "The mom turned, looked at her daughter and said, 'Wow, that's really amazing. Wouldn't you like to be like her someday?' And I felt like this little 10-year-old girl looked into my soul – and I felt like I was caught in a big fat lie. I was so deeply and profoundly unhappy, and I never said it. I didn't at that moment have the courage to say to that child, 'I think you need to do something that really lights you up and makes you happy.'"
So, at that moment, Mayumi pretended – pretended that her jet-setting career and lavish lifestyle were everything that little girl at the airport could ever dream of. And now the thought of that little girl, somewhere out there right now, potentially living the same lie, is a reminder to Mayumi to stay true to herself.
Accounting for purpose
That revelatory moment at the airport shook Mayumi to her core. She vowed never again to pretend or work in service to money only; whatever she did next had to make her money, of course, but also be genuine, purpose-driven, fulfilling and for the betterment of people. Just months after her revelation, she had left her cushiony corporate accounting job and founded a company focused on developing financial literacy curricula for kids in schools. And she didn't stop there. She later founded Club Freedom, which coached entrepreneurs on creating personal financial independence.
Mayumi's first entrepreneurial ventures – she refers to them as "callings" – satisfied her newfound desire to be purposeful, fulfilled and altruistic. But things changed drastically again when a former practicing CPA was referred to Mayumi for a mini-coaching session over coffee. The CPA had been a stay-at-home mom for several years and had left the profession because she didn't have the resources to juggle being both a successful CPA and a good, caring, present mom. But she was ready to try again – after a little confidence boost.
"She was asking, 'Am I still technically ready? Can I still do this?' So, I gave her one of my clients, and that's when she realized she could still do it," Mayumi says. "And a lightbulb went off. I said, 'Okay, wait a minute. That's it.'"

CPA MOMS® is born
Driven by her coffee-shop conversation with the CPA, Mayumi, using the skills and knowledge she'd amassed over the years, founded CPA MOMS®, a virtual, national accounting and tax franchise that aims to give CPAs who are moms the flexibility and resources needed to be both successful CPAs while being present and involved in their children's lives.
"Every piece of what we do and how we do it was designed around being able to have both a family and a firm," Mayumi says.
CPA MOMS is two things: a matchmaker for entrepreneurs who need high-quality, affordable accounting services and a CPA firm franchisor for CPA mompreneurs who want to establish their own entirely virtual – entirely flexible – CPA firm.
The company has proudly launched seven CPA MOMS franchises in six states: Kentucky, Tennessee, Texas, Florida, Arizona and Alaska. Mayumi's goals are to grow the company to 50 franchises in the next three years, expand into more states and, ultimately, take CPA MOMS global.
"Even at the headquarters of the CPA MOMS franchise, we're a group of women leaders, and it's special. It's extraordinary," Mayumi says. "We want to be an example and a model for our industry and other industries."
Related: Read Inspiring and Supporting Women Entrepreneurs to learn about the ADP x Lumimary partnership that supports businesses owned and founded by women.
A vision for flexible, remote work
As a former executive in public accounting, Mayumi has witnessed numerous women CPAs leave public accounting to start a family and never return to the workforce. She calls it the "one-way revolving door," noting that many accounting firms employing women CPAs aren't adequately designed to support their career continuity once they have children.
"All these very intelligent, capable women would get their license, go on maternity leave and never come back," Mayumi says. "When you give these women the right systems, the right resources, the right support, they thrive."
So, when CPA MOMS was founded in 2008, it was important to Mayumi that it be, and stay, an entirely virtual business with remote, flexible working arrangements, allowing moms to resume, or start, their CPA careers on their terms and with plenty of flexibility. Fast forward to the COVID-19 pandemic, during which many women are being disproportionately pushed out of the workforce as well as taking on a disproportionate share of caregiving responsibilities, and CPA MOMS feels completely ahead of its time.
"Virtual has been my thing long before COVID," Mayumi says. "Every company I've built in 22 years, they've all been 100-percent virtual, and I'm proud of that."

Mayumi (center) with her ADP representatives, Rachel Schmidt (left) and Christina Dearth.
Caring for CPA mompreneurs
Overall, one word defines CPA MOMS: care.
Mayumi's decision making about what's best for her franchise owners is continually inspired by how her mom cared for her, how the mom at the airport cared for her daughter, how her colleagues and other working moms care about their careers and clients. Mayumi and her team take care of the CPA MOMS franchise owners so they can take care of their families, their clients and each other. Mayumi cares about giving her franchisees the resources they need to succeed, including:
Lead generation
A year of training on the business of accounting
Ongoing support
Preferred pricing with third-party resource partners, like ADP
A proprietary back-office technology that lets the franchise owners and their team of accounting professionals efficiently manage their clients' proposals, engagements and billing
An innovative ADP accounting platform designed by accountants, for accountants, that gives the franchise owners quick access to client data, analytics and practice resources
"Every franchisee that comes on board is added to the Accountant Connect platform," Mayumi says. "We love that ADP created this, and I'm so excited about the technology and what it can do for the accounting industry and for our moms."
Learn more about how ADP cares for CPAs and other accounting professionals.
Learn more about what CPA MOMS uses for payroll and HR.