What Is Business Agility, and Why Does It Matter?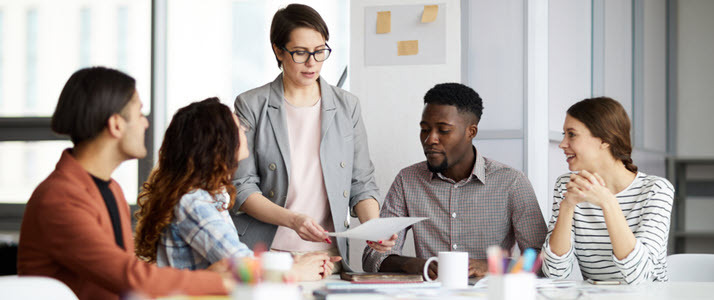 Business agility is critical for enterprises navigating the new world of hybrid work. It also enables organizations to adapt and overcome new challenges quickly. Here's how it works and what businesses need to do to achieve higher levels of agility.
The global health crisis proved that business agility was possible. When push came to shove, historical reticence around practices such as hybrid work and flexible access gave way to innovative solutions that have carried on to become critical frameworks for the "next normal" workplace.
However, during the crisis, agility born of necessity gave businesses little time to consider the longer-term implications of these substantial shifts. As enterprises now look for ways to support a hybrid-first workforce, there's a need for business agility practices that are both deliberate and data-driven.
Here's a look at the basics of business agility, the advantages of going agile and how businesses can achieve agility without breaking the bank.
What is business agility?
Business agility refers to the ability of an organization to adapt, survive and thrive in uncertain or complex business environments. The last two years offer an easy example: Organizations that embraced agility and learned to adapt even prior to 2020 were better prepared for transitions to remote and hybrid work.
In practice, achieving agility requires more than recognition of the concept. Culture comes first, and organizations need a corporate culture that's committed to creating an environment where performance can flourish, rather than focusing on narrow definitions of this environment.
Next is leadership. Effective agility demands leaders who are willing to see the process through by listening to what staff want and prioritizing their needs.
Finally, there must be a focus on data. Businesses need access to relevant and real-time data about everything from current employee engagement levels to turnover rates to overall productivity reports. Taken together, disparate data points can show trends that can help businesses pivot as needed.
Why does agility matter?
According to Aaron Smith, Senior Vice President of Product Management and UX at ADP, "One model isn't going to fit everybody, whether it's offsite or onsite."
For example, while some team members may prefer to work entirely from home if possible, others may be eager to be back in the office. Some prefer a balance that tips toward on-site operations, while others are looking to arrange their week in favor of staying home. This work/life differential offers a microcosm use case for business agility.
Consider what might happen if public health restrictions were to ramp up again in a few years. If organizations insist on bringing everyone back into the office, their agility would be low. While there might still be some familiarity with past processes, a lack of recent experience could make this a harder transition than it needs to be. If, however, enterprises use data to determine that hybrid and remote work won't diminish overall productivity — and in some cases could improve it — they'll likely be better prepared to be agile when it counts.
3 ways organizations can become more agile
Fortunately, business agility is something that even the most entrenched organizations can adopt and prioritize. When it comes to improving agility, three factors are key.
1. Tools
First up are data analytics tools capable of collecting, cleaning, and connecting data to deliver actionable insights. The more businesses know about what they have and why it matters, the better.
"It's about patterning your data," says Smith. "It's about understanding what's most meaningful in the next decision you need to make in the next hour, either as an individual employee or as a business leader."
2. Talent
It's also critical for businesses to understand the perspectives of employees. "You need to capture feedback on an incremental basis," Smith notes. "No longer are annual surveys enough to understand the workforce. You need to allow all the voices of your team members to share in business innovation."
If you take time to understand what employees want, what they have, and what they're looking for from your organization, you'll be more likely to have a focused and engaged workforce that supports your efforts at adaptation.
3. Tactical readiness
Finally, businesses need to think about long-term agility plans. While short-term solutions can make it possible to handle small shifts in operational or regulatory requirements, larger moves, such as addressing issues with pay equity or deploying effective diversity and inclusion initiatives, demand approaches that consider the bigger picture.
Where does this require investment or create cost savings?
Creating a culture of business agility requires an up-front investment, but it can also drive cost savings.
Smith uses the example of an employee working from home to illustrate this point. When they shift from their home life to their work life — from using personal devices to turning on work computers — there can be no interruptions, no hiccups. Employees now expect the same level of simplicity and user-friendly functions in work tools that they find in consumer products. As a result, the employer-to-employee technology framework is no longer B2B, but B2C.
From a budget perspective, this means investing in tools and technologies that underpin hybrid work. These include secure VPNs, dedicated user devices, identity and access management (IAM) solutions, and prescriptive analytics tools that make it possible to understand data gleaned from user behaviors.
The result of this up-front spending is cost savings over time. This is because staff who are supported by a culture of innovation and agility that allows them to work how, when, and where they want are naturally better prepared to react when new challenges emerge. For example, if businesses look to capitalize on new markets by modifying key offerings or changing operational focus, staff who are familiar with agility in their daily lives will likely be better equipped to act.
When will a business know it has achieved its agility goals?
Agility and adaptability looks different for every business, but in general, enterprises can evaluate their success by examining responses to smaller changes. For example, if you're planning to bring staff back to the office two days per week, be sure to capture relevant data about employee sentiment, engagement and productivity. The more agile your business is, the better positioned you'll be to weather these transitions.
The need for business agility isn't going anywhere anytime soon. According to Smith, "the tools and technologies that are out there are going to continue to evolve, but the principle of connecting people from home to work is something you need to pay very close attention to."
Equipped with relevant and real-time data, businesses can take steps to build and maintain a culture of agility that can quickly respond to changing conditions.
Learn more
Download our guide, "Future proofing your business: The top four technology must-haves for your HR and payroll platform."