Mental Health and Working from Home: 7 Ways to Support Your Team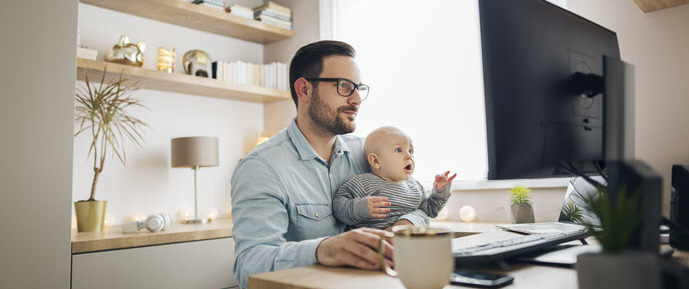 Working from home can take a toll on employees' mental health. A mental health expert offers seven strategies to support your employees during these challenging times.
HR leaders are increasingly developing strategies to support mental health and working from home. With the widespread shift to remote work due to coronavirus, many employees are experiencing working from home for the first time.
In a study conducted in Japan and reported by the New York Post, 35% of respondents said their mental health had been harmed as a result of working from home.
To get more insight into this critical topic, we spoke with Yasmin Flasterstein, co-founder of Peer Support Space, a Florida-based grassroots organization that teaches people how to use "the power of lived experience to support, educate and guide one another while providing additional, free options for mental wellness." Here are seven strategies to help your employees proactively balance mental health and working from home.
1. Be Aware of Stress Rippling Through the Organization
Promoting positive mental health in a work environment often starts with being aware of one's own mental state and how it could affect interactions with colleagues, direct reports and customers.
"People don't necessarily have the language to put what we're feeling into words. And when we don't know how to express ourselves, sometimes that comes out in the wrong ways, and we take it out on our employees or our coworkers or our loved ones," says Flasterstein. "Ensure that people are taking care of themselves so they're approaching their employees with compassion and understanding."
Encouraging managers and employees to be aware of their mental health and take steps to support it can improve your entire organization's experience, as well as your ability to meet the needs of customers during this difficult time.
2. Assess Productivity Expectations
Don't be afraid to tackle conversations about expectations, workload and productivity during the pandemic.
"It's totally human to readjust your workload during a pandemic. There's a lot going on," says Flasterstein. "To expect the same workload that people had before might not be fair because people who have kids may also be acting as full-time teachers, or they're caring for people who are ill. They're facing the challenges of isolation or mental health issues that come up.
"I hope that employers readjust their expectations of productivity, because it's absolutely reasonable to be a little less productive right now."
Look for strategies to help employees get their workloads accomplished with less stress. For example, having flexible deadlines or relying more on technology to accomplish basic or repetitive tasks could help alleviate anxiety.
3. Recognize That Employees Are Dealing With Different Issues
It's important to remember that employees may have different stressors now, whether they're figuring out how to homeschool children or navigating the healthcare system with an ill loved one. These challenges can be compounded by working remotely.
"One in four people have a diagnosable mental illness, and sitting at home allows you to just kind of have racing thoughts or anxiety," says Flasterstein. "Isolation can make depression worse. When you're really struggling, it can be hard to manage the basics, let alone hit a job deadline or get a presentation done."
Employees are struggling with a range of different challenges, from healthcare to family to finances, and it's important to remember that this can create unexpected challenges to getting work done remotely.
"Everybody is unique, everybody heals differently, everybody copes differently. People need to find what works for them, and I think that goes back to employers understanding that everyone is different."
Yasmin Flasterstein, Co-Founder and Executive Director, Peer Support Space
4. Foster Connection
For many employees, one of the biggest challenges is coping with the lack of social interaction that comes from working at home.
"We all have a human need to connect with others, and we realize how much we do that when we're at work," says Flasterstein. "Just simple things — going to refill our coffee and talking to our colleague as we walk by — those little moments of interacting, of walking around the office. We lose that when we're at home."
Find creative ways to foster connection. Using video conferencing, messaging applications and collaboration software can make it easier for your employees to stay connected. Allowing time for coworkers to connect and socialize about things other than work can also be beneficial.
5. Examine and Communicate about Benefits
"In benefits, make sure that telehealth is covered, make sure that employee benefits include accessible mental health resources that are available during this time, and make sure that employees know that those resources are available," says Flasterstein.
Sending out an employee newsletter to remind employees of their coverage and providing links to supported telehealth services can help workers who haven't accessed these benefits before — or simply aren't thinking about them — get needed support.
Flasterstein also recommends adding mental health days to your paid time off policy or encouraging employees to invest in self-care by giving them a bonus day or a few hours off.
6. Take Time During Meetings to Check In
Support in the remote workplace can help employees deal with these unique and challenging times. Flasterstein suggests taking a few moments to check in at the beginning or the end of calls. When leaders share a more human side and show empathy, it can open lines of communication.
Typically, checking in during established calls, rather than adding to already busy workloads, is a smart strategy for staying in touch without overwhelming employees.
7. Recommend Support Resources
Another strategy employers can take to support their teams is recommending a variety of wellness resources to help employees stay healthy.
"Something that is important in general is that everybody is unique, everybody heals differently, everybody copes differently," says Flasterstein. "People need to find what works for them, and I think that goes back to employers understanding that everyone is different."
Creating an employee newsletter or other resource that links to a variety of options such as meditations, yoga classes, free online fitness classes and more can help inspire employees who are wrestling with mental health and working from home find solutions that may work from them. Peer Support Space is also offering twice-daily free digital mental health check-ins during this time that may be helpful to employees.
Adjusting to working from home for the first time is a challenge under any circumstances. Your remote team isn't just working to maximize productivity and connect with colleagues — they're also undergoing major life changes. By taking proactive steps to help your employees access resources, make the adjustment to working from home and find solutions that work for their unique needs, you can lay the foundation for a healthy and productive team moving forward.
Learn More
Leadership in a Crisis — 10 Do's & Don'ts
Covid-19: Now is the Time to Have a Clear Internal Communications Plan in Place
Get customizable email templates and in-depth information on direct deposit, recent legislation and other valuable topics in the COVID-19 Employee Communications Toolkit.