Women in Technology: 4 Strategies for Taking the Lead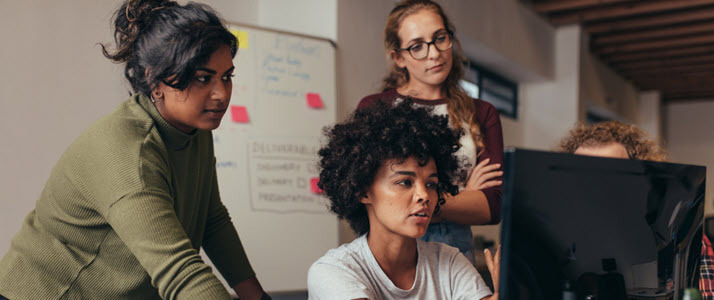 Women in technology can play a pivotal role in accelerating their own careers. Sharing strategies for this was the focus of the recent ADP Inclusion Summit 2022 panel discussion "Views from the Top: How Women Can Take the Lead in Tech." Here are the main takeaways shared during the insightful conversation.
For as long as the industry has existed, women in technology have been underrepresented. Although many companies have devoted significant time and energy to address the disparity, even now, only 28.8% of technologists are women, and only a handful of tech companies have women CEOs. Not only have fewer women been entering tech fields and rising to the top in recent years, but they've also been leaving those fields at a rate 45% higher than men.
It will take considerable commitment and constant effort to ensure women have opportunities to enter, progress and thrive in technology jobs. This communal endeavor will have to come from cooperating organizations, communities, governments and society at large. Women in technology can also play a pivotal role in accelerating their own careers.
This was the focus of ADP's recent Inclusion Summit 2022 panel discussion "Views from the Top: How Women Can Take the Lead in Tech," in which four powerful tech leaders shared strategies they used to advance their careers. Lori Warren-Williams, Vice President of Excellence and Compliance at ADP, moderated a group that included Suzanne Harris, VP of Human Resources at NexusTek; Aisha Lawrey, Training and Certification Global Ambassador for Cloud Career Training Programs at AWS; and Karla Rivera, Senior Manager of Strategy, Planning and Operations at Cisco Systems.
Here are the key details and main takeaways shared during the session.
Be the leader you want to see
Deciding to become a leader takes intentionality, especially when you're a woman in a male-dominated field. For Lawrey, the lack of representation galvanized her. "I didn't see many women or minorities in this space, so I wanted to make sure that I would be that representation for little girls and little boys so they could understand that women are in this space and that they do belong in this space," she says.
Get comfortable promoting your accomplishments
Despite the power and influence a leadership position can offer, directing others isn't easy when you're also combatting gender and cultural expectations, Rivera adds. "Being brought up as a Latina, it was 'put your head down, work really hard and people will notice,'" she notes. However, that subtle approach doesn't always get acknowledged. Instead, women in technology need to find a balance between humility and self-promotion, which Rivera calls a "humble swagger."
Humble swagger is a helpful concept to remember when applying for jobs. Lawrey says that women tend to pass up applying for jobs if they don't meet every requirement while men felt more comfortable doing so when they only meet some of the requirements. "Some barriers have made women stop themselves from pursuing higher levels of leadership," she explains.
Build a board of allies, mentors, coaches and sponsors
Women in technology don't have to wait to become members of a corporate board before they create their own support system. Early in Harris' career, she was told by a CEO to build her own personal board of directors. "And not just professionally," Harris says. "Look for those that will help you grow personally, grow financially and grow spiritually so you're working on the whole person. That overall just makes you more confident."
The board should consist of several entities, including allies, coaches, mentors and sponsors, Rivera says. Allies address bias at work and will advocate for women on topics like equal pay, equitable hiring and promotion. "Typically, these are conversations that men are having or others who hold positions of power and use their influence, knowledge and resources to support people who identify as women, people of color and marginalized communities," Rivera notes.
Mentors and coaches help others develop and refine their skills, and a sponsor involves a long-term relationship, usually with a leader you've known for at least a year. "Sponsors vouch for your character, your reputation and your skills," Rivera explains. "They're there in your successes and your times of trouble."
Increase your visibility even when working remotely
Following the global health crisis, remote work has opened opportunities for women who need more daytime flexibility or live in places where in-person job options are limited. At the same time, they often fear that the lack of face time with coworkers will result in a lack of job recognition and consideration for advancement.
"I encourage them to be visible, reach across the organization, create those relationships and connections, not just in their silo but across the organization," Harris says. Even those who don't aspire to manage people can be subject matter experts or a leader in their space. "Work remotely, but don't work alone," she advises.
Still working to get there
Gender disparities in the tech industry won't be solved with a single panel discussion, even one as thought-provoking as the conversation between Warren-Williams, Harris, Lawrey and Rivera. Gaps in hiring, pay and promotion as well as unintentional bias, organizational culture and the institutional mindsets that perpetuate inequities take time to dismantle. But it is absolutely possible.
"We still have a long way to go even though companies have really stepped up their efforts over the past couple of years. ADP's Inclusion Summit is a great example," Warren-Williams notes. As the effort and commitment continue, the wisdom the panelists shared gives hope and strategies to nudge progress forward. While much is still to be done, important conversations like these are sure to help spread awareness and inspire similar developments.
Curious to learn what else was discussed during ADP's Inclusion Summit 2022? Access a complimentary recording of the full event including the panel discussion, "Views from the Top: How Women Can Take the Lead in Tech."