Sponsorship vs. Mentorship: Which Model Is Best for Your Organization?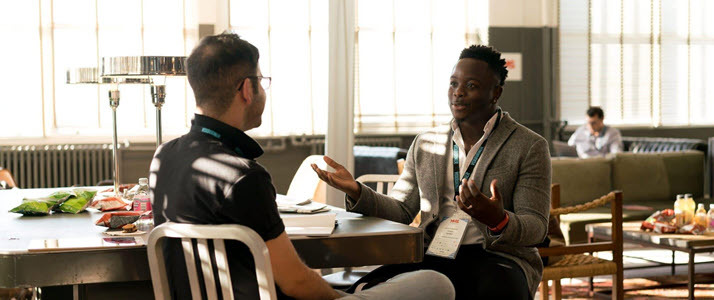 The benefits of implementing sponsorship and mentorship programs are clear, but leaders may be unsure of which model aligns most closely with their operations. ADP's Njeri Nginyo offers her insights on fostering a supportive and productive culture of professional developments, and the importance of doing so.
Sponsorship and mentorship are common buzzwords in the boardroom during discussions about talent development, employee retention and even talent acquisition. Many leaders know their organization should be implementing these programs but may feel unsure about which model aligns most closely with their business goals and work culture. Indeed, many business leaders may be hard-pressed to define sponsorship vs. mentorship, the differences between them and the host of benefits they offer.
To help dispel the confusion around these similar but distinctly different models, we spoke with Njeri Nginyo, Vice President, Assistant General Counsel at ADP. In addition to leading the global contracts team, Nginyo heads ADP's Women in Leadership organization, which is composed of senior and executive level women across the organization and in all different functions. Nginyo participates in ADP's informal sponsorship program and is committed to supporting career pathways for all employees, especially those who have historically faced disadvantages in the workplace.
What's the difference between mentorship and sponsorship?
Mentorship and sponsorship are related, but the concepts aren't interchangeable. Understanding their differences is key to learning how each model can benefit your employees and your organization.
Mentorship relationships are often based on providing support and empathy, and anyone can be a mentor. Mentors can be senior employees, peers or even more junior employees, if they have a unique experience to share with their mentees.
"When most people think of mentorship, they think of individuals that could be inside or outside of their organization, someone who provides advice," says Nginyo. "Usually it's around career situations, but a mentor is really more of an adviser, somebody who potentially has experience with certain things, who can provide a perspective to an individual who may be experiencing similar things. "Effective mentorship relies on a good matching process. We use technology to help people get matched," Nginyo notes.
Sponsorship relationships are founded on advocacy and creating opportunities. Sponsors strategically help their protégés improve their performance and enhance their skills.
"[A good sponsor is] really someone who can help an individual excel, move up the ladder and progress from a career perspective. And I don't think anybody gets to a senior level in a company without having someone who's a sponsor," Nginyo says. Sponsorships can be as informal or structured as organizational leaders would like, but the key to success is in sponsors being willing to risk their personal brand to help a protégé advance.
Which program is best for your organization?
If your organization is evaluating sponsorship vs. mentorship programs, know that there is no wrong choice. In weighing both options, the appropriate questions to answer are "when?" and "who?" To help you answer these, here's a closer look at how each model operates and which employees may benefit most.
Mentorships are best suited to early career employees and those acclimating to the organization. Having a mentor can help employees navigate the culture, understand expectations and respond to interpersonal conflicts. Meanwhile, sponsorship is best for developing talent at higher levels. "In terms of a sponsorship program, you're probably targeting people who are not at the first step in their career," explains Nginyo. "You're probably looking at somebody who's demonstrated success inside an organization for a while, and you now want to develop a pool of people to move up to the next level."
Mentorship and sponsorship programs are most successful when they focus on people at different stages of their tenure, and organizations can benefit from running either or both programs. Ultimately, the success of a mentorship or sponsorship program may rest with the mentees and protégés. "Both mentees and people who are being sponsored probably do more of the work in terms of relationship building," Nginyo says. They have the responsibility to manage the relationship proactively by reaching out to schedule meetings, share career goals and do the work that will help them advance.
Organizational leaders can hold mentors and sponsors accountable by measuring the experience of mentees and protégés. Often, leaders will ask questions such as, "Has your sponsor provided any opportunities for you? Any exposure? Has anything changed based on the sponsorship arrangement?" This practice contributes to what Nginyo calls "a culture for sponsorship," wherein mentors and sponsors are more likely to reflect on and value their contributions to these relationships.
Advantages of fostering sponsorship and mentorship relationships
Despite the differences in these two models, they share many of the same benefits. Over time, organizations may enjoy the following advantages from prioritizing sponsorship and mentorship relationships:
Workers feeling more supported in their career development. Mentorship and sponsorship can help employees progress in their career paths, and not just upward. Workers might also choose to make lateral moves and take on additional or different responsibilities. However, it can take time to see these results reflected in your organization. "It's not as though you're going to implement a sponsorship program and six months later, all of a sudden, you see this great increase in promotions or expansion of responsibilities for people who are being sponsored," notes Nginyo. "But over time you're going to want to see that."
Progress in reducing inequities. Recent research reveals that Black managers are 65% more likely to advance to the next career level if they have a sponsor, yet only 5% of Black employees have a sponsor, while 20% of white employees do. Sponsorship can also help women overcome the 'broken rung' obstacle that prevents advancement into managerial positions. "When you look at promotions for women at that first level compared to the promotion of men, there are more men getting promoted at that first level than women," says Nginyo. Sponsorship can support equity, especially for underrepresented groups in certain fields. For example, McKinsey recently reported on how sponsorship can help women advance in technical roles.
Boosted employee engagement. After implementing mentorship and sponsorship in your organization, employee engagement should increase. "A lot of organizations use engagement scores," Nginyo explains. "If you can see a meaningful difference in the engagement of critical talent when they are sponsored or mentored, versus when they're not, it's a way to measure success."
Improved retention. Another key performance indicator to measure is the relationship between retention and mentorship/sponsorship. Adopting mentorship and sponsorship opportunities can, over time, help with the retention of critical talent. Combined with the increased likelihood that those employees will advance within your organization, this is a recipe for a sustainable workforce.
Increased two-way learning between mentors/sponsors and mentees/protégés. "Oftentimes in a mentorship relationship, the mentor gets as much out of the relationship as the mentee," Nginyo notes. And because mentors aren't necessarily senior leaders — peers and even junior employees can function as mentors too — the mentorship model has something to offer everyone at every level of your organization.
What's the next step?
If you're considering sponsorship vs. mentorship within your organization, the important question may not be, "which is best?" but rather, "where should we start?" Mentorship and sponsorship programs can start as small as you like because they can be scaled easily.
Both models can be informal or structured, and both can provide a litany of valuable benefits that every organization needs to continue competing for top talent.
Learn more
In the post-pandemic world of work, the organizations that prioritize people first will rise to the top. Find out how to make HR more personalized to adapt to today's changing talent landscape. Get our guide: Work is personal