What's the Importance of Mentorship in Talent Acquisition?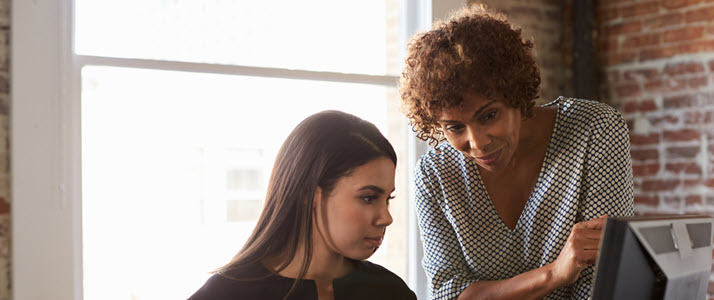 These days, talent acquisition is on everyone's mind. Sponsorship and mentorship programs can help support recruitment efforts by delivering what most jobseekers want. Here are the best practices for leveraging these programs in your hiring efforts.
Implementing structured sponsorship and mentorship programs can help organizations boost employee engagement and satisfaction, improve productivity and internal mobility, and even help to close skills gaps. One of the biggest benefits — and also perhaps the most often overlooked — is the importance of mentorship and sponsorship in talent acquisition.
We spoke with Njeri Nginyo, Vice President, Assistant General Counsel at ADP, about the role of sponsorships and mentorships in an organization's talent acquisition efforts. Nginyo leads the global contracts team and heads ADP's Women in Leadership organization, which is composed of senior and executive-level women across the organization and in all different functions. Nginyo also participates in ADP's informal sponsorship program and is committed to supporting career pathways for all employees.
In discussing the impact that mentorship and sponsorship can have on talent acquisition, Nginyo offered advice for organizations that want to leverage their existing programs to support recruiting. Here's what business leaders need to know.
Jobseekers want professional development
One key reason to implement sponsorship and mentorship programs — and advertise them during your recruiting efforts — is that jobseekers want to work at organizations that invest in their employees. In a recent survey by The Harris Poll for the American Staffing Association, 80% of jobseekers across age groups said professional development weighs heavily in their evaluation of a prospective employer.
If your organization has mentorship and sponsorship programs but jobseekers aren't aware of them, you could be eliminated from their consideration before you've even had a chance to engage. If you don't currently offer these programs to the workforce, it may be time to start planning how to build them.
Strengthening your employer brand
Building on the idea that sponsorship and mentorship programs help give jobseekers what they want, it's also important to understand how these professional development efforts can strengthen your employer brand. While the majority of candidates may be looking specifically for professional development, others may simply be impressed by organizations that take a proactive approach to future business success.
"Organizations must set themselves apart from other organizations to attract and retain the best talent in today's competitive marketplace, particularly given today's exceptionally low unemployment rate and the recent Great Resignation," says Nginyo. "Among the criteria jobseekers often focus on in selecting an employer is the opportunity for career growth and development."
Even when mentorship and sponsorship are not a line item on a jobseeker's wishlist, their existence can influence how — or whether — a jobseeker engages with a potential employer. "Organizations that are known for their robust programs to support such growth and development, including formal mentorship and sponsorship programs, may be more appealing to prospective employees, particularly employees who are in the early to middle phases of their careers," Nginyo notes.
How to spotlight sponsorship/mentorship in recruiting efforts
It's not enough to simply add mentorship and sponsorship to the list of perks outlined in your job postings. Jobseekers likely want to know more about how these programs are structured, what it's actually like to participate in them, and what kind of impact the programs could have on their careers.
Like many aspects of organizational culture, the best way to share this information is through stories, and there are several ways to tell the stories of your sponsorship and mentorship programs in your recruiting efforts:
Elevate employee voices and stories. Employee advocacy can be a powerful tool for teaching candidates about the inner workings of your organization and its culture, including your mentorship and sponsorship programs. "Employers can encourage their employees to share their own experiences relating to such programs on social media platforms and platforms where prospective employees go to learn more about organizations," explains Nginyo.
Update your recruiting communications. Look for opportunities to infuse stories about your mentorship and sponsorship programs, including success stories, into the written, audio and video content that supports your recruiting efforts. "Employers can highlight these programs on their own website along with other information about careers and professional development programs," Nginyo notes. You don't have to create a whole new section of your careers site for this information, either. You can integrate it into the other content that jobseekers see.
Leverage industry relationships and communities. "By participating in seminars and panel discussions at industry conferences, employers may be able to share information about vital organizational initiatives and programs, including spotlighting efforts to support mentorship and sponsorship within their organization," says Nginyo. Like the other tactics mentioned above, this practice can help strengthen your employer brand and build awareness of how your organization values employees.
Highlight what makes your organization unique. Jobseekers often look for differentiators among potential employers, and your professional development programs can offer just that. You may not have the oldest mentorship or sponsorship programs, but how you approach employee development can matter as much as your results. "At ADP, we facilitate mentorship among our Business Resource Groups through a software platform that matches potential mentors and mentees," Nginyo says. "We highlight our assortment of Business Resource Groups and the programming offered by such groups as part of our recruiting efforts."
Attracting more interested candidates
Business leaders tend to focus on the internal impact of sponsorship and mentorship programs — and rightly so, as that is where most of the results can be seen. However, it's essential to recognize the importance of mentorship and sponsorship programs in talent acquisition as well, especially in a tight talent market.
By adopting the best practices and committing to supporting your programs' growth, your organization can maximize the benefits of its professional development offerings and use them to attract and engage with more interested candidates.
Learn more
In the post-pandemic world of work, the organizations that prioritize people first will rise to the top. Find out how to make HR more personalized to adapt to today's changing talent landscape. Get our guide: Work is personal