Identifying and Avoiding Digital Harassment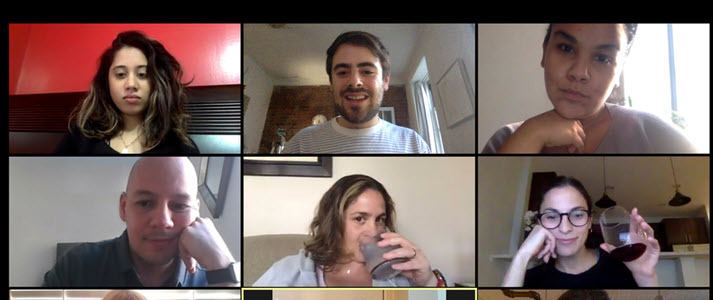 Digital harassment has increased in workplaces with remote and hybrid workforce models, largely due to more employees working remotely. Here's a look at four effective ways to prevent this from happening.
Digital workplace harassment is becoming an increasing concern as businesses continue to embrace remote and hybrid workplace arrangements. Statista reports that 41% of Americans have experienced some form of digital harassment, and over the last two years, this issue has become more evident in the workplace than ever.
Preventing in-office harassment has been a focus of organizations for decades, but as more workers go remote, either full- or part-time, employers need to update their policies to cover digital harassment. We spoke with ADP Senior Counsel Abby Natelson to get the latest on digital workplace harassment prevention and insight into the steps businesses can take to protect themselves and their employees.
Increased technology leads to increased digital harassment
Workplace harassment is defined as any unwelcome conduct that is based on an individual's protected characteristics, which may include factors such as race, color, religion, sex, age or disability status. "Generally, that conduct becomes unlawful when either an employee is made to endure the conduct as a condition of employment or continued employment, or the conduct becomes so severe or pervasive that it creates a work environment a reasonable person would consider to be intimidating, hostile or abusive," says Natelson.
Digital harassment simply takes these behaviors to a virtual medium, using technologies like text, phone, video messaging, email or social media. Examples are diverse, but may include commenting on an individual's socioeconomic status or personal objects that are visible in the background of a video conference call, as well as publishing blog posts or social media posts about employees' protected characteristics.
In other cases, digital harassment may focus on an employee's caretaking responsibilities when they're interrupted by children or elders during meetings, or it may involve the grooming gap, where women might receive disproportionate comments on their appearance during conference calls compared to male colleagues.
Instances of digital harassment have risen recently
Organizations' pivot to increased remote and hybrid work has led to an uptick in workplace digital harassment. Work-from-home arrangements allow a window into employees' lives, and in some cases, the increase in these working arrangements has opened the door to digital harassment.
One element of this dynamic is the ability to see religious icons, home settings, family members and other factors that may connect directly to an individual's characteristics. Another is that, as more communications go digital, conversations are also becoming more informal, and interactions that are more personal than professional have greater potential to develop into harassment.
"This could be a breeding ground for harassing or discriminating behavior if individuals are not fully informed or trained on their responsibility to be professional and not to engage in any kind of improper conduct in these environments," says Natelson.
4 strategies for preventing digital harassment
The good news for concerned employers is that there are numerous strategies for preventing harassment. Here are four tactics to consider implementing.
1. Update your policies and training
The first step toward preventing digital harassment is raising awareness of it and being clear that it is prohibited. "It's really important that organizations make sure they look at their anti-harassment and anti-discrimination policies to ensure that these policies are up to date and encompass the different types of work environments employees are working in," says Natelson. From there, it's helpful to expand workplace and manager anti-harassment training to include digital harassment, either by integrating it into existing training or offering it as an additional mandatory module.
2. Encourage management to take an active role in preventing digital workplace harassment
When organizations rely on technology and ask employees to complete work tasks in their home environment, management needs to be sensitive to comments or dynamics that focus improperly on any individual's protected characteristics. Leaders also need to be ready to step in.
"Managers should be receiving manager-specific training on anti-harassment procedures," says Natelson. "Additionally, if a manager witnesses harassing conduct, they should stop that conduct, whether it be to cut off a conversation that is going in the wrong direction or to ask somebody to leave a conversation if they're engaging in conduct that is not appropriate."
3. Have a process for responding to incidents
Natelson notes that businesses should respond to digital workplace harassment in the same way they would respond to in-office complaints. Employees should understand how to report incidents and know that their complaints will be taken seriously. Issues should be investigated promptly, and if they are found to be problematic, harassment must stop immediately.
HR teams must follow best practices for investigating and addressing workplace harassment, and they need to take all digital aspects of the issue into consideration as well. "Make sure you have good retention policies for workplace emails, text messages and messaging platforms so that if you have an investigation and need to go back and see what went on, you're able to access those items as well," advises Natelson.
4. Expand channels for reporting an issue
Employees who experience harassment and work remotely may not be comfortable with reporting it. For example, an employee who would have relied on a face-to-face conversation with HR may look for digital alternatives.
Organizations that provide wider options for reporting are more likely to have affected individuals step forward. Accordingly, organizations should give all employees the ability to schedule a one-on-one video conference with HR, call HR or send an email to their manager or an HR representative.
What employees should do if they experience digital harassment
When you use digital technologies, there may be fewer bystanders or witnesses to harassing behavior. "Any type of documentation that the employee can put together is going to be critical, even if it's notes taken at the time when it happened to document what happened. Contemporaneous notes are a great way to ensure that you have some sort of documentation that can be relied on, and not just your account, which may be removed from the moment when something happened," advises Natelson.
It's also a good idea to keep a copy of all written correspondence related to an incident, such as the initial report to HR and any related conversations that follow.
Digital workplace harassment is a risk in remote and hybrid work environments. However, proactively acknowledging the issue, updating policies and training, and taking the time to educate managers and employees on this important issue can dramatically reduce these incidents. As organizations develop new strategies to ensure a flourishing culture in remote and hybrid work environments, digital harassment prevention must remain a critical consideration.
Take action:
Be sure your organization's policies and trainings are up-to-date. This article provides a valuable checklist, Employee Handbooks: 10 Must-Have Policies for 2022 and this article provides a good refresher on training to prevent sexual harassment - digital or otherwise, The Importance of Effective Sexual Harassment Prevention Training.