Hybrid Working Models: What Is Right for Your Business?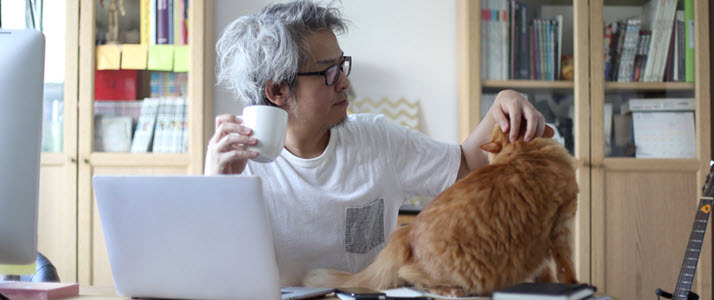 Record high voluntary quits and challenges in talent acquisition are prompting employers to deep dive into hybrid working models, with the aim of creating a work environment that promotes employee engagement and retention while attracting top talent. Here's some insight into the steps they're taking and how they stand to benefit.
The Four Major HR Trends to Follow in 2022 revolve around defining the "new normal" in the workplace, whatever that might be. Accordingly, one key focus in 2022 is the need to rethink what employee visibility means in the age of hybrid working models, where some or all of your workforce may be remote some or all of the time.
When everyone worked in the same office, managers could rest assured that people were working if they could see them at their desk, and "face time" was often linked with the notion of productivity — however subjective or unproven that might have been. The rise of remote and hybrid work means organizations need to find new ways to interact with employees and job seekers alike.
Organizational leaders face unique challenges amid record-high voluntary quit rates and a jobs surplus outpacing available job seekers by 2.8 million at the end of September 2021. Employers are simultaneously working to increase employee engagement and retain talent while scrambling to attract candidates and fill open positions, all in a dramatically shifting talent market.
Adopting the right hybrid working model and working to encourage culture shifts — to get the most out of the new ways work is being done — are key steps to take in the current environment.
How hybrid work impacts employee engagement and retention
More than a year after the pandemic forced 35% of the U.S. workforce to become temporarily remote (compared to just 13% of workers who worked remotely prior to the health crisis), organizations are still struggling to create a hybrid working model that works best for their business. Many employers are looking to implement a model that keeps the organization on track for business goals and supports employee engagement.
These challenges are very real, and their impacts affect numerous industries. For instance, ADP Research Institute recently found that remote workers feel less connected with their team members than on-site workers do. Additionally, remote workers report that communication and meetings consume more of their work hours (25% vs. 15% for on-site workers).
These disparities are all the more reason to offer employees more flexibility, something hybrid working models can do very effectively.
Redefining employee visibility and engagement
Hybrid working models mean leaders can no longer rely on physical presence and eyelines as a measure of employee output, and it takes more effort to help remote workers feel connected and engaged. The definition of employee visibility must evolve and leaders need to prioritize trust in their relationships with their team members.
"Trust is a two-way street," says Martha Bird, ADP's Chief Business Anthropologist. "Acknowledging a person based on their contributions, rather than how much time they spend in the office, is a great starting point to building mutual trust."
This is the foundation for meaningful employee engagement. Bird emphasizes the need to "actively listen to others, undistracted by other tasks — to be curious about people different from oneself so you can see where people are coming from. When people are seen, they are more likely to contribute in more meaningful ways."
In a remote work arrangement, being seen is less literal. In-office face time or visual contact through daily video meetings is no longer needed in order to keep tabs on employees, or to show them support. Many employee engagement tools, such as ADP's StandOut, make it easy for managers to perform regular check-ins with their team members and help leaders unlock employees' potential through strengths assessments and personalized coaching. Every hybrid working model should include a plan for ongoing personal and professional development, and today's tools support those goals more than ever.
How hybrid work impacts talent acquisition
In today's talent market, many job seekers prioritize a remote or hybrid work schedule when evaluating potential employers and job offers. Across the board, ADP SMB research found that three in five people will look for remote options in their next position.
The figures are even higher among certain types of workers. For instance, working women with children are 50% more likely to prefer remote work compared with men. Additionally, people with seen and unseen disabilities may also prefer working from home.
Being transparent about your hybrid working model — and even actively promoting it — can be an important part of your organization's recruiting strategy and may help you attract and engage the types of people who are looking for the arrangements you offer.
Creating a hybrid working model for your organization
While there are more remote workers than ever before, and more attention around the desire for remote work, avoid making assumptions about who wants to work from home. It's not for everyone. In fact, 54% of fully remote workers say they want to return to on-site work. The most important takeaway here is that your top priority should be engaging with your employees and potential hires about the types of work arrangements that are best for them.
These decisions should, of course, also be informed by the actual requirements of each position. This is an exciting era when nearly anything is possible thanks to the combination of creative thinking and the strategic use of technology.
Designing the future of hybrid work
Before you make key decisions about the future of your remote or hybrid workforce, consider your options. Learn about different types of hybrid working models, and seek to understand the benefits and challenges that come with each possibility. By evaluating your business needs, factoring in employee opinions and looking at emerging best practices, you can design a hybrid working model that allows you to support your workforce, improve employee engagement, attract top talent and continue crushing your business goals.
Learn more by downloading our guide, "How to Design a People-Centered Workplace." Get it here.