Solving for Talent Shortages: 5 Strategies to Boost Employee Retention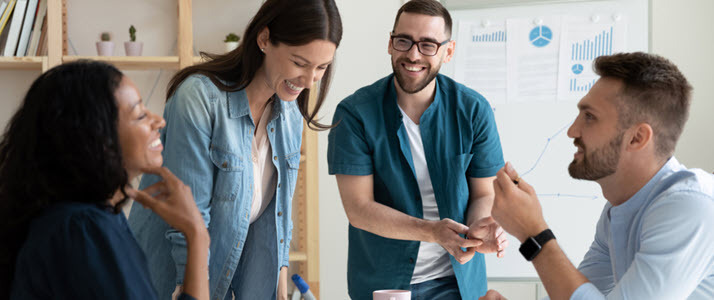 The Great Resignation is underway, but with the right approach to understanding staff needs and addressing key concerns, it's possible to minimize the impact of changing workplace expectations.
Organizations are going back to the office, but the caveat is that not all of their employees are going with them.
While some are opting for hybrid or remote work options, others are leaving corporate life behind entirely. And it's not just a few staff here and there — turnover is now so widespread that the movement has its own term: the Great Resignation. Data from the U.S. Bureau of Labor Statistics makes it clear that growing talent shortages are currently affecting numerous industries, with April through June 2021 showing the highest quit rates in American history.
So, what's going on? Why are staff leaving secure positions to find other opportunities, and what can enterprises do to stem the talent tide?
Diving into the disconnect
As a general rule, when unemployment rates go up, turnover goes down. In some respects, the pandemic has proven to be an exception. Many workers who have enjoyed the flexibility of remote work are willing to leave jobs that won't make this possible going forward. In fact, 32% of staff now say they want to work completely remotely, and 80% would prefer some level of hybrid work.
Rising wages also play a role. Recent ADP data shows that wage growth reached 5.9% in Q1 2021, which means it's now possible for employees to find similar or better-paying work elsewhere if they don't like their current conditions.
In some cases, the disconnect isn't tied to anything specific. Employees may just want to make a change and explore new opportunities or find a situation that will offer better work/life balance. While it's impossible for your business to be all things to all people, five strategies can help reduce turnover and boost retention.
Strategy 1: Foster flexible work
Seventy-nine percent of employees say that flexibility improves their work/life balance and reduces stress. As a result, it's critical for organizations to ensure flexible options remain available as they create their return-to-work plans.
Recent survey data found that 71% of midsize businesses have now backpedaled on flexible work policies and are prioritizing returning to the office. While there's no doubt that face-to-face interactions come with business benefits, any moves to frustrate flexibility may result in employees going elsewhere.
Strategy 2: Consider competitive pay
While flexible work is a key priority for many employees, competitive pay also plays a substantial role in their decision to stay or go. This is especially true as wages continue to rise across the country — there's no shortage of enterprises looking for talented staff.
It is possible to keep staff under these conditions, even with the same salary or a pay cut, but doing so may require substantial investment in strategy #1, since employees working entirely from home can often avoid additional costs related to commuting, childcare or other concerns.
Strategy 3: Mind the generation gap
By 2025, Millennials will comprise the majority of the American workforce, and they have priorities that are substantively different from those of previous generations. Specifically, 76% say they're looking for a workplace that actively encourages diversity, and 70% say they would leave their current jobs for better career opportunities.
The result is the need for a social/skills balance: Businesses must demonstrate their commitment to environmental, social and corporate governance initiatives while simultaneously providing new training and upskilling options.
Strategy 4: Create an authentic culture
Corporate culture matters to staff. This isn't about the culture you showcase on social media or post on job boards — it's about the actual culture of your workplace day in and day out.
Employees want to be treated and valued as individual humans with their own needs, wants and preferences. They're looking for employers who don't expect staff to be carbon copies of one another but instead trust employees as trained and talented adults who are committed to getting their work done on time.
In practice, adopting this strategy could mean allowing staff to come and go as needed, provided their work gets done, or allowing them more freedom in prioritizing projects and hitting due dates.
Strategy 5: Make trust a true priority
Reducing talent shortages also depends on trust. Employees who trust their team leaders are 14 times more likely to be engaged, and engaged staff are much less likely to seek other employment.
According to data from research firm Gallup, while it takes almost no effort for other firms to poach disengaged employees, it takes at least a 20% pay raise to even get the attention of engaged team members.
Managing key metrics
In addition to effective retention strategies, businesses also need the ability to capture and leverage key metrics that will help them make better staffing decisions. For this, businesses need tools that can help them understand the market at large by providing industry data on wage and work benchmarks so they can see where they fall on the spectrum.
It's also critical to deploy in-depth survey solutions to identify where staff are satisfied and where your approach needs work, and to ensure that new staff sourcing approaches are targeting the right talent market in the event that staff move on to other opportunities.
Reducing the resignation impact
There's no way to avoid the Great Resignation completely. What began as a response to pandemic pressures has evolved into a fundamental shift in the way employees view their roles and responsibilities at work and what this means for their life as a whole.
As a result, some talent attrition should be expected no matter what strategies you employ, but with the right approach to understanding staff needs and addressing key concerns, it's possible to minimize the impact of changing workplace expectations.
Download our guide today
Work is Personal: Your Guide to a People-Centered Approach to the Workplace