Virtual Recruiting is Here to Stay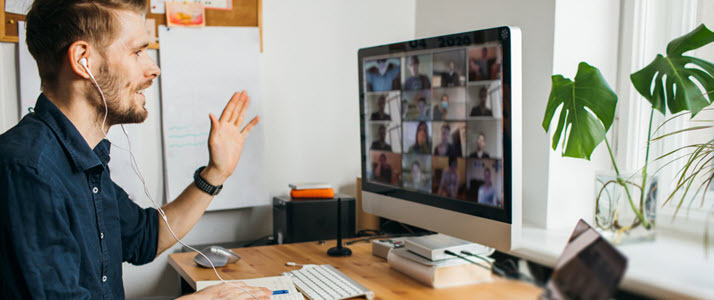 Advances in technology, tools, and connectivity – plus a global pandemic – have earned virtual recruiting a permanent place in the talent sourcing toolbox.
Even before the COVID-19 pandemic, recruiting technology advancements were evolving at incredible speed, and companies that evolved with the changes adapted well. The use of artificial intelligence, chatbots and SMS text to source candidates were accelerating the hiring process.
The global health crisis caused staggering and sudden shifts in market dynamics, which quickly shaped a more remote working environment — which sped advancements in technology, tools and connectivity to support the demand.
Wherever your organization is along the spectrum of virtual recruiting, now is the time to move the people, processes and technology skills of your recruiters to the next level.
Current state of the market
Seventy-five percent of potential hires are not actively searching for a job, but would be open to fielding great opportunities. Labor force participation rates have dropped as low as 61.4% (down from 84% pre-pandemic)causing continued labor shortages. Wage increases are on the rise and unemployment benefits, stimulus payments, a shift to remote work are contributing factors keeping strong talent from looking for work.
Leveraging an agile, comprehensive and creative recruitment strategy in a virtual world is key to business success. Having a strong, data-backed strategy and a variety of virtual recruiting methods are important to reach and recruit the right candidates.
It's easier to use a virtual approach for some roles more than it is for others. It can be a challenge to recruit virtually for industries where talent demand is high (skilled trades, production, warehousing, etc.). Candidate online presence may not be as prominent for these roles and the competition is extremely fierce. Whereas, it is important to have an online presence and interactions available for professional, information technology, corporate and many other roles, etc.
An agile, comprehensive and creative recruitment strategy can include:
Virtual sourcing: 81% of talent professionals agree virtual recruiting will continue post-COVID, and 70% say it is here to stay. Sourcing through professional sites and job boards allow companies and recruiters to market and track jobs efficiently as well as directly source active and passive candidates who are easily contacted through the tools.
The tools also assist in uncovering market intelligence by communicating with various candidates. Due to the pandemic, sites are also starting to add ways for candidates to show they're actively looking for work so recruiters can identify them more quickly. Some sites are also adding features to help with communication and efficiency like texting and scheduling technologies.
Virtual interviewing: As the pandemic took hold and travel came to a halt, in-person interviews and recruiting events ceased, leaving few alternatives to interview candidates. Companies quickly shifted to conducting virtual or pre-recorded video interviews in order to continue hiring and realized benefits such as a faster hiring process which gives recruiters more time to spend on finding the right candidates and identifying cost savings.
Virtual events: Virtual career fairs grew during the pandemic due to travel restrictions, regulations on large gatherings, and general uneasiness due to the virus. The average virtual event participation rate increased from 50% to 90% since the pandemic and experts predict that 80% of recruiting will remain virtual for the foreseeable future. Companies have evolved to using more of these technologies and if proven to be successful can help with controlling costs.
Social media: 69% of American adults use at least one social media site, and 79% of job candidates use social media in their job search, leaving little debate that recruiting through social media can drive talent to your organization. Different social media sites will work better than others depending on the target audience, for example: Github for developers, Pinterest for females, Twitter or Instagram for a younger demographic, LinkedIn for professional roles, etc. But the premise remains the same; you can attract candidates to your company with good employer branding, marketing jobs well, using direct sourcing and outreach, and grass roots recruiting efforts.
Tried and true methods
Traditional methods of recruiting may still be effective for jobs when in-person restrictions are lifted. Using government agency resources, accessing layoff reports and searching through candidates affected by the downturn may also help. Yet, companies can also expand their reach virtually and increase their candidate pool by incorporating:
Market data: Market data can help identify if your compensation structure is competitive. It defines the talent supply and demand landscape, helps determine if you are looking for talent in the right area, and what your competitors are doing. ADP® DataCloud offers the opportunity to compare your workforce data to market averages which are based on real, up-to-date anonymized and aggregated HR and pay data from ADP's U.S. client base of over 30 million employees.
Employment branding: Leverage your employment brand sentiments and organizational values to develop a strategy to bring both to life. Technology and creative materials, visuals, and content will help tell your story. Consider the value of a well-designed careers website, day-in-the-life videos, employee testimonials, advertising and more. Cascading your brand and value proposition across multiple channels can position you as an employer of choice and increase the candidate pipeline.
Geofencing and talent communities: Geofencing is a great way to spread the word by using GPS and radio frequency identification to set up a virtual, wireless perimeter around an event, zip code, neighborhood, etc. Therefore, people in the area receive messages and/or advertisements on their cellphones. In a recruiting sense, you set up that fence to get your message to potential candidates and drive them to your career site. In the same way, talent communities allow you to digitally garner candidates interested in your company. Be sure to communicate regularly with candidates once they have shown interest.
Using the internet and other virtual methods to successfully recruit talent is more important now than ever. Once you have captured the interest of candidates, you have to ensure the candidate experience is positive. Speed and efficiency are important to candidates, recruiters, and employers.
Virtual recruiting is here to stay. To learn more, visit adp.com/rpo.
Related: See how CNH Industrial transformed their talent acquisition strategy through an RPO model in partnership with ADP.