Video Interviewing: Why Do So Many Recruiters Love It?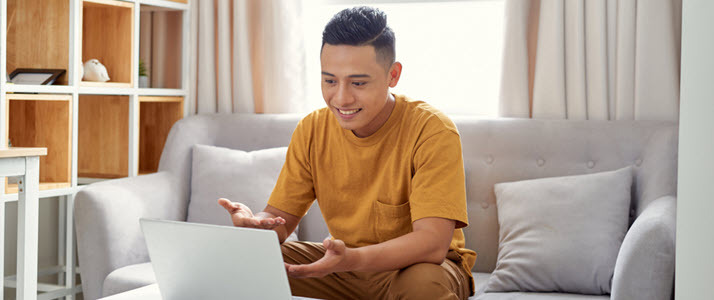 Special thanks to ADP Marketplace partner, VidCruiter, for this article

In light of reduced in-person interactions and travel restrictions resulting from COVID-19, video interviewing has become a popular hiring strategy. Its use by hiring managers has increased by 159% year-over-year, and that momentum shows no signs of slowing down. While some talent acquisition teams are using digital interviews out of necessity, many more are using it out of choice. 86% of organizations now conduct virtual interviews to hire employees. But what is it exactly that recruiters love so much about virtual interviewing?
Help provide better candidate insights
Virtual, face-to-face interviewing can give recruiters more information about job applicants — much sooner in the talent acquisition process. Think about this: 55% of communication comes from body language. Consider how much more value virtual face to face interviews can bring compared to two-dimensional telephone interviews (can hear voice and tone) and one-dimensional resumes/CVs.
It's the same rationale as turning on your camera during online meetings with existing coworkers. You're able to get a better, real-time sense of the people on the other side of the lens. You're still face-to-face, even at a distance.
Accelerate recruitment
There never seems to be enough hours in the day to check off everything on our ever-growing to-do lists. Thankfully, video interviews can save recruiters time. Since interviewers learn more about each applicant within a shorter period of time, hiring teams often need to conduct fewer interviews, reducing time to hire.
Auto-scheduling (having candidates select from available calendar time slots) saves even more time. It eliminates the frustrations of phone tag and long email chains just to arrange a mutually convenient time to meet.
Free up headspace
By saving time and gleaning insights into shortlisted candidates faster, many recruiters can find more headspace. This helps them re-energize and re-focus, so they can prioritize the most important, high-value tasks in front of them. This can also help hiring teams make more confident hiring decisions and overcome interviewer fatigue.
Widen candidate pools and support diversity efforts
The online nature of video interviewing removes geographical barriers from the hiring process. With so many roles transitioning to 100% remote work, this allows hiring teams to connect with talent anywhere on earth. 74% say flex work is the new normal. This increases the likelihood of diverse applicants which supports organizations' diversity, equity and inclusion (DEI) efforts.
Help save money (and the planet)
By saving time, recruiters are saving money, too. But that's not the only reason video interviews are cost-effective. Sharable profile links and standardized rating guides within certain video interviewing tools can help (even remote) hiring teams consolidate feedback to arrive at the right hire. Ensuring candidate fit and minimizing hiring bias can help reduce turnover, which is often very expensive.
Another bonus of video interviewing? It offers an entirely paperless process with no travel required. It's an environmentally friendly process that keeps all job interview data in one centralized spot.
As part of the digital HR transformation currently underway, recruitment teams are navigating new ways of doing things. HR tech, like video interviews, can make the process more efficient and equitable.
See the latest stats on the rise of video interviewing in this infographic.

VidCruiter integrated with ADP Workforce Now®

Recruiters can conduct live video interviews directly within the ADP Workforce Now recruitment module. VidCruiter is available on ADP Marketplace in the U.S. and Canada.
About ADP Marketplace
ADP Marketplace is a digital HR storefront that allows employers to automatically integrate and securely share data between their HR systems with best-of-breed solutions from ADP® and third-party partners. Easily discover, try, buy and implement solutions to build a custom HCM ecosystem, all with the simplicity of single sign-on, single data input and single billing. Learn more about ADP Marketplace