Engaging Your Workforce When Communications Isn't Your "Day Job"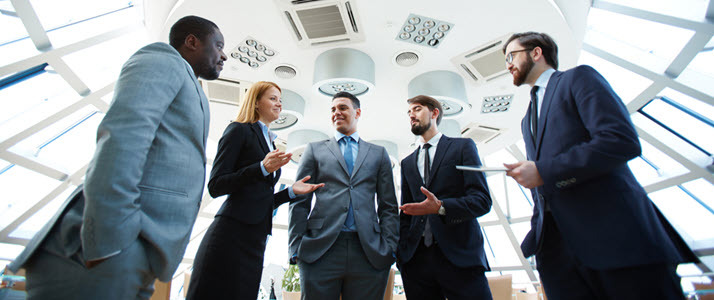 When COVID-19 hit, the need for regular, clear and concise employee communications became more important than ever. Here's how to keep it up, even if communications isn't your day job.
It's true that engaged employees go above and beyond their duties, which supports higher productivity. But, did you know that just 29% of the workforce is actively engaged in any organization across the United States? Wow! What's more compelling is that a recent study found 60% of employers don't have a long-term internal communications plan, even though communications experts state that improving internal communication should be a number one priority to keep employees engaged. That's one of many reasons senior leaders and managers are putting a comprehensive communication plan as a top priority in 2021.
When the pandemic hit, work environments were turned upside down, and organizations of all shapes and sizes had to adapt and evolve to continue to support their customers and their employees. As a result, the need for regular, clear and concise communications – on everything from work location, safety protocols, returning to work, new and revised policies, organizational updates and more – became more important than ever. It also became critical to understand how to reach a growing distributed workforce, including "deskless" and frontline employees who make up 80% of the global workforce.
However, many organizations don't have a "formal" internal communications team, so the role of managing internal communications often falls to HR.
So, what do you do when communications isn't your day job?
First, it requires having a strategy (don't worry; it doesn't have to be anything fancy or formal), some creativity and additional help from team members. Here are three tips to consider:
Build a Plan
Outline Communications Channels. Begin by outlining all the communications channels you can use to reach employees, including those without regular access to a computer, email or mobile phone. Email, social collaboration tools, fliers, posters, videos, blog posts and FAQs are all great ways to distribute information to your workforce.
To reach a deskless workforce (workers in the field, on the floor, on the go), you may need to prepare talking points for managers to deliver during pre-shift meetings and/or create materials that can be posted in common areas – or even mailed to employees' homes.
Identify Key Stakeholders. Knowing who your key stakeholders are is vital to pulling together a comprehensive plan. To help identify these individuals, think through the following questions:
Who do we need to reach?
What do they need to know?
What action do they need to take?
And, last, but certainly not least, "What's in it for them?"
Create an Editorial Calendar. Begin with a spreadsheet to help you organize and plan when and how your messages are going to be delivered to your organization. Think of it as a visual representation of how your communications plan will work. Adopting an editorial calendar is important for keeping everyone on the same page and on schedule – as well as ensuring consistency, organization and collaboration across teams.
Build and Deploy Messaging. Key messages are the main points and information you want your stakeholders to hear, understand, remember and act on. They are, ideally, bite-sized messages that clearly articulate the main point of your message. Here are some tips for developing effective messages:
Make them relevant and compelling
Keep them simple and minimize jargon or words/acronyms – what's familiar to you might be confusing to others
Make them memorable – use a clever headline or subject line, tap into visuals, checklists and call out boxes – to make the information easy to understand and act on
Determine Who Will Deliver the Messages. For example, if the communication contains important details about pay and benefits, consider having a member of the C-Suite (CEO and CHRO) distribute the message to employees. This enables leaders to rally their team around a shared vision, empower employees, build trust and successfully navigate organizational change(s).
Partner with Legal, HR and Other Key Leadership. Ask these departments to review and approve all messaging and materials prior to distribution to avoid any missteps. When it comes to engaging your employees, it's important to build workplace trust by communicating often and with transparency. So, review your communications for content and tone – it's important to be sensitive to employee concerns, respond appropriately and in a timely manner.
Designate a Point Person. This individual can help provide resources, distribute information to employees and answer questions from stakeholders – thus allowing you to focus on other communications efforts. This person may be an HR business partner, team leader or supervisor. You should also prepare your communication partners to answer questions from employees, so creating things such as FAQ documents and hosting regular calls and meetings will help employees stay informed and give you the opportunity to listen to what they have to say. That's a win-win for everyone.
Get Creative
Last year, many organizations got creative with communications by adding new tools for "getting the word out." Now that it's a new year, it's time to review and adjust and add channels to engage and reach employees. Below are just a few creative ways to do so.
Engage Leadership. Encourage your CEO or other leaders to get involved in communications efforts. One idea is to record a video of leader(s) thanking employees for their hard work and dedication. You could also solicit quotes from senior leaders to include in your communications.
Involve Managers. Ask managers to conduct weekly or monthly virtual meetings to ask if their team needs any resources, what new ideas they may have and/or how things are going in their roles. Or, encourage managers to select a different team member each week/month to host the meeting instead.
Empower Employees. Create a monthly or quarterly newsletter and ask for employee feedback and suggestions. But, be sure to act on what input is received. Responding to the "voice of the employee" will encourage employees to continually share their thoughts.
Call in the Cavalry
Consider involving others to help shorten your to-do list. One way is to determine if someone from your marketing team can step in to help with the work. For example, can they help write materials, review your content and/or help deploy some of the messages?
Create Change Champions. Another idea is to create a network of change champions, which is a team comprised of people who represent different areas of your organization, different locations or regions, etc., who can help get important information out to your workforce – i.e. a general manager at a warehouse or shift leader at a call center.
Encourage change champions to utilize FAQs, talking points, toolkits and other resources to distribute information and engage the workforce. Their role is vital, so select team members who recognize the responsibility and appreciate being involved.
Include Leaders. Last, see if the C-Suite can get involved. For example, can these leaders participate in a brief video to provide updates to your employees on a regular basis? You could build an editorial calendar by month (or quarter) to outline which topic will be communicated when and by which leader. Messages could rotate from person to person on the leadership team to provide weekly updates, monthly communications, etc.
Using these tips, you can start to build your plan to regularly engage your employees as well as support two-way communications. After all, having effective internal communications can have a tremendous impact on employee engagement, productivity and retention as well as support the overall employee experience.
Helpful communications resources are available in the COVID-19 Employee Communications Toolkit.