Trends in HCM Tech for 2021: How Will HCM Technology Continue to Evolve?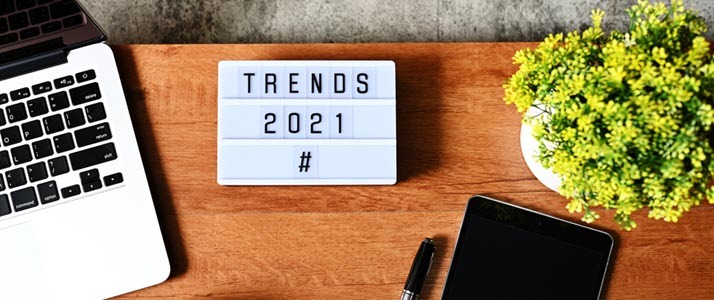 HCM technology continues to evolve in response to changing demands in the workplace. Here's a look at three trends shaping the future of HCM technology.
It is evident now that two elements were essential in 2020 to help organizations survive — and in some cases thrive: the resilience of their people and the tools used to get work done.
The pivot from office to work-from-home, from status quo to unparalleled change, required a new level of understanding and communication between organization leaders and team members. HCM solutions were and can continue to be core in creating an environment that helps people feel more confident, connected, and resilient as they navigate waves of change. As many of last year's challenges yet remain in 2021, HCM technology trends will reflect these core needs.
We spoke with Linda Mougalian, Sr. Division Vice President – Growth Marketing at ADP, about the key trends to watch. These insights can help guide HR leaders to make informed decisions about technology within their own organizations.
Trend #1: Staying Connected
Virtually overnight, a large swath of the workforce shifted from working alongside their co-workers to working remotely or in more socially distanced settings. We're more acutely aware than ever of our need for connection, and organizations are looking to technology to help create work environments where employees feel valued, supported, and safe – wherever they may be working and whatever device they may be using.
Providing teams with the tools and technology to understand each other's strengths, skills and challenges can help build trust and drive performance. Creating simple, efficient ways for leaders to stay in tune with their team members is essential to keeping employees engaged, productive, and committed to their organization. For example, tools that enable quick check ins to stay aligned on priorities and give support where needed will help teams continue to make progress whether they are working together or apart.
As companies are planning their return to the workplace it's just as important to understand how your employees feel about their return as it is to prepare your worksite with safety measures. Quick sentiment surveys that gauge comfort levels around returning to work can help employers convey that they care about their employees and are accommodating both their physical and emotional needs.
"Creating consumer-level experiences to help bridge physical distance and keep teams connected to their work and their teams, wherever they may be will be a top priority going forward," says Mougalian.
Having data and trusting data is great, but if you don't act on it, it's as if it didn't happen.
- Linda Mougalian, Sr. Division VP – Growth Marketing at ADP
Trend #2: Staying Confident
Regulatory changes related to the health crisis and the increased need to address diversity, equity, and inclusion (DEI) challenges mean employers need to be able to refine their HR strategies and initiatives with confidence.
Industry leading expertise, compliance, data security and analytics to address the challenges of managing organizations are key — from small local businesses to large global workforces - to keep the organization focused on what they do best.
Having an HCM partner who puts compliance first is critical. System updates and in-product changes that are deployed rapidly are essential in a climate where change seems to be the only constant. Employers need to be ready to take action on changing guidelines in practically every aspect of human capital management, and they need to be ready quickly.
Many organizations are striving toward meaningful DEI strategies. While the desire is high, organizations are running into challenges to find solutions that can be woven into their everyday culture. Having visibility of diversity and equity data along with simple pragmatic tools such as turnkey analytics and nudges in moments that matter can help organizations set and achieve DEI goals.
"While data is essential, alone it does not drive outcomes. As with real-time solutions drivers use to avoid traffic, employers can feel more confident with proactive insights and recommended action plans presented in the flow of work," says Mougalian. "Having data and trusting data is great, but if you don't act on it, it's as if it didn't happen."
Trend #3: Staying Resilient
Companies need to be able to change on a dime and seamlessly extend system capabilities in order to deliver functionality to their stakeholders. Open systems that play well with others are more important than ever.
By seamlessly integrating with disparate systems and keeping the workforce experience at the center of design principles, adaptable HCM technology allows your organization to be prepared for whatever comes next by keeping your systems, technology, and people connected and delivering experiences based on the needs of your organization's specific locations, functions, and teams.
Evolving HCM Tech
People and organizations are working diligently to survive and thrive in these challenging times, and they are looking to HCM tools to help them stay connected, confident and resilient.
Success for HCM tech will be measured by the success of the people who use it. HCM technology will continue evolving to meet employees and employers where they are, both figuratively and literally.
Managing your people has never been easier with ADP's all-in-one, cloud-based platform for payroll, HR, time, talent and benefits - view the demo today.
Related articles: