Women Business Owners Nourish and Sustain Their Communities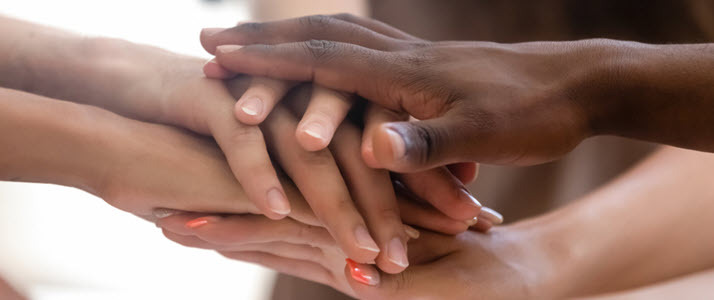 The second blog in our series on women- and minority-owned ADP business clients spotlights two business owners with unique stories who stayed true to their dreams and now help others in their communities achieve theirs.
Raquel Rivera moved to the U.S. in 2003 when her then-husband's military base in Puerto Rico closed. Raquel was a small business owner, an accountant, ran a daycare, and often cooked for friends and other military families in Puerto Rico. Living in a new country with four children, Raquel wasn't sure what to do next. Going back to her love for cooking, she and her husband opened De Rican Chef in Virginia Beach, VA, in 2005, to bring authentic Puerto Rican food to their new community.
The first location had 10 tables and a small menu. Determined to keep the flavors authentic, Raquel only served recipes she could make with the same ingredients she had used at home in Puerto Rico. It's a little more expensive to source some of the ingredients, but the authentic flavors attract customers. Many of Raquel's customers are from Puerto Rico, and there isn't a lot of traditional Puerto Rican food in the area.
Raquel isn't afraid of competition, however. People come to her for advice on starting their own restaurants, and she is happy to support them, even if they are serving the same type of food. "It's a way to expose people to Puerto Rican cuisine," she says. Raquel's vision for how to broaden exposure to her culture and food is by working together. "People with the same interests should meet as owners to network and support one another."
The most popular dish at De Rican Chef is Mofongo, a mix of plantains with garlic, oil, butter, and stuffed with meat. Cuban sandwiches, empanadas, and fish – fresh snapper, mahi mahi and grouper – are also on the menu. Because most dishes are cooked to order, De Rican Chef can easily accommodate allergies and special requests.
When Raquel opened her second restaurant, she had to write down her recipes for the first time. She had to prepare all the dishes and weigh out and record the measurements that she was used to just eye-balling, so any chef who worked in her kitchens would be able to prepare the same exact dish with the same flavors. The measurements have allowed her to control inventory costs and better set prices.
Customers appreciate the consistency. In December, Raquel will open a third location on the oceanfront in Virginia Beach. She employs 53 people between the first two restaurants and will hire 30 more for the new location. Raquel attributes De Rican Chef's popularity mainly to word of mouth, but it is also due to her involvement in the community. Like many small business owners, Raquel gives back to her community, participating in fundraisers through church and school activities, and providing meals for community members who are ill or need assistance. "Why not give back when we are having good fortune?" Raquel says. After Hurricane Maria, she sent seven containers of supplies, including water, medicine, and clothing to affected areas in Puerto Rico with the help of the local community. De Rican Chef offers military and senior discounts and also does catering and special events.
Savvy business practices
Raquel spoke about the value of treating and paying her employees well. Another secret to Raquel's success is delegating. In addition to maintaining consistent flavors and treating customers and employees like family, Raquel's husband, Jose, son and daughter work with her and know everything about the restaurants. Combining savvy business practices like inventory and cost management with strong community ties and celebration of family tradition has been a recipe for success for Raquel Rivera.
Shemica Copeland, owner of Access Business Solutions in Hampton, Virginia, has a positive impact on her community through the work she does helping people start businesses and non-profit organizations and cultivate healthy workplace cultures. Shemica's original focus was in administrative management, and she worked more as a behind-the-scenes coordinator. Since 2007, however, she has been helping small business owners build their businesses, from the initial idea all the way to fully functioning operation. "People have good ideas, but often need help with structure, accountability and processes," she says.
Once the businesses are off the ground, Shemica continues to consult and provide training and professional development. Like Raquel Rivera, Shemica Copeland spoke about the importance of treating employees well. "I work with entrepreneurs to cultivate a culture of respect," she says. "I counsel them that if you are in this for the long haul, you have to have a higher sense of respect and value for your employees. When you treat your employees well, they treat the company well."
Shemica has a bachelor's degree in human services from Virginia Tech and a master's in public administration from Old Dominion University. She uses her expertise to support a healthier workforce, not just physically but mentally.
"I pour my knowledge into [my clients'] hopes and dreams and help cultivate a healthier and more sustainable workforce," she says. Her methodology includes study and analysis of business processes, assistance with preparing grant proposals and applications, and referrals to ADP for additional services. Her partnership with ADP helps Shemica provide a higher level of payroll and HR support than her competitors. ADP small business services take the burden of payroll, taxes, and even some human resource functions off business owners' plates so they can focus on their employees and operations.

See the rest of the above illustration for more from Raquel and Shemica.
Supporting sustainable businesses
The goal of Shemica's work is to help build a sustainable workforce. When entrepreneurs succeed, it benefits the entire community.
"Young people see that a regular person can own a successful business and provide jobs in our community," she says. Shemica believes owners who are more "introspective and interpersonal help the growth of the company."
Shemica shared her top tips for success:
1. Know your values, principles, and boundaries. Appreciate yourself, and others will appreciate you.
2. Never give up. No matter how hard or dim it looks, every experience you go through makes you stronger.
3. Be a continuous learner – of your industry, your craft, and yourself.
By helping her clients develop business acumen to apply for their own contracts and grants, Shemica is enabling them to become self-sustainable. Empathy and understanding are Shemica's forte. Helping a small business owner realize their goals and caring about the longevity of their business and staff creates a healthy economy and community, and that benefits us all. "Healthy community, healthy world!" Shemica's work goes way beyond generating revenue for her own company, instead helping develop entire business communities.
This profile on business owners Raquel Rivera and Shemica Copeland is part of a series on women- and minority-owned ADP business clients that focuses on how they are helping shape their communities. We look forward to sharing more inspiring stories.
More information