Women Business Owners Giving Voice to Their Communities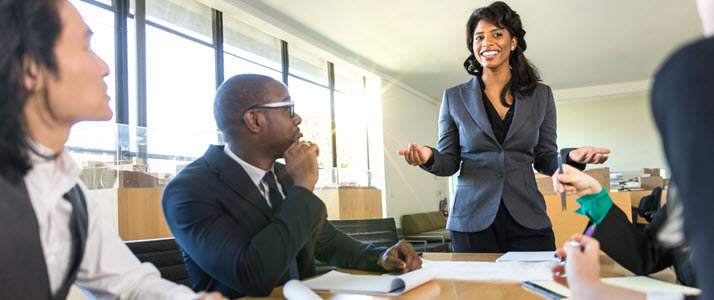 Welcome to the inaugural blog in a series focusing on women- and minority-owned businesses that are ADP clients. In the first edition, we spotlight two women attorneys who work to amplify the voices of marginalized clients and community members.
In the current environment of rapid global change, people are striving for meaning and belonging. I recently had the pleasure of speaking with two women business owners who are ADP clients and are making enormous positive impacts in their organizations and communities.
Judie Saunders, owner of the Law Offices of Judie Saunders, describes herself as a disruptor by nature, but she means the trailblazing kind. A first-generation American whose parents came from Trinidad and Tobago, Saunders grew up in a culture of storytelling that was truthful and sometimes fraught, but always optimistic. Saunders grew up hearing about Marcus Garvey, Emmett Till, and the Tulsa riots, so she understands historic obstacles for African Americans, and how they have not all been overcome.
Rather than feeling defeated by a lack of progress, Saunders carried hope alongside her ambitions. After law school, she worked as a prosecutor before deciding to start her own legal practice. As an African American business owner, Saunders faced a challenge that drives her to this day: "Being told that you have to work twice as hard to gain half as much. You wish it could be different, but you don't let it stop you."
"Survivors think their thoughts and emotions don't matter, but we all lose out when someone's voice is grabbed from them."
- Judie Saunders, Owner, Law Offices of Judie Saunders
In her law practice, Saunders specializes in representing clients who have been victimized, and pursuing their matters in civil and criminal courts. She works with elite gymnasts who have been abused by their coaches. Saunders empowers these clients to reclaim their voices. Her litigation experience is a tool to help them heal: "The main objective with abusive authority figures is to keep individuals silent so they can impose their will," she says. "Survivors thinks their thoughts and emotions don't matter, but we all lose out when someone's voice is grabbed from them."
In Saunders's pro bono work, she supports juveniles detained in New York and New Jersey as well as representing Andre Wallace in Birmingham, Alabama. Andre was convicted on a no-evidence guilty plea. Saunders offers these clients representation to help amplify their voices and give them a fair chance.

See more quotes from Judie Saunders here.
Supporting Other Women in Business
Saunders supports women in business as well. Her firm is certified by The Women's Business Enterprise National Council (WBENC), the largest certifier of women-owned businesses in the U.S. Saunders encourages other women to pursue the certification. It validates that a business is at least 51 percent owned, controlled, operated, and managed by a woman or women and gives businesses the ability to compete for real-time opportunities provided by WBENC corporate members and government agencies.
Of her relationship with ADP, Saunders says, "I never thought ADP would service a business of my size." The business relationship between Saunders's law firm and ADP is an example of businesses of varying sizes sitting together at the same table and contributing their strengths to build a more accountable and inclusive business community. ADP is proud to work with small business clients who help strengthen their communities and provide access to resources to those who need them most.
Flexibility to Do & Be Good
Rebecca Geller, owner of The Geller Law Group in Virginia, started her law firm when her first two children were younger than 3. She saw brilliant women fleeing large, traditional law firms because of a lack of work-life balance: "The legal profession was trying to make women fit into work models designed by men," she says. In 2011, Geller left a very large Washington, D.C., firm to start her own company, offering genuine work-life balance with flexible hours and telecommuting.
Geller believes employees who are happy in their lives are going to be happy in their careers, and vice versa: "Autonomy and control equal better performance," she says, and numerous studies by SHRM, ADPRI, and industry analysts have shown this to be true. Corporations of all sizes are basing HR policy on these studies, offering greater flexibility and benefits that satisfy employees on a personal level as they recognize the positive impact on their bottom lines when employees are happy at work.
Geller attributes the success of her firm's employment model to trust. Her team is comprised of 23 women, 15 of whom are lawyers. She trusts her employees to get their work done on time and with high quality and doesn't need to know their whereabouts every minute. Word is spreading about Geller's firm, and 99% of resumes come from women: "We're hiring right now, and the number 1 reason people apply here is the flexibility. We offer and promote the values that people want in their lives. In addition to being known for our flexible schedules, our firm also values social justice and community service very highly. There's been a generational shift [to values-based employment choices]."
One of the main organizations that Geller's firm supports is the Lorton Community Action Center (LCAC), which provides low-income people and families in southeast Fairfax County, Virginia, with access to basic needs and self-sufficiency programs. During the height of the COVID-19 pandemic, Geller started a food and supply drive in support of LCAC through Amazon. In August alone, the effort generated enough donations to assemble 9,000 snack packs (grab-and-go food and supplies LCAC distributes to clients). The firm matches all donations.
When Geller sees a need in the community, she puts the power of her law firm and passion for social justice into action. The firm is located in the Washington, D.C., area, and many of its clients were affected in January 2019 by a prolonged federal shutdown and forced to go without pay for a significant period of time. In the midst of a major filing system overhaul, Geller's firm hired furloughed federal employees as temporary workers to get the new system up and running. Three administrators at the firm hired, vetted and trained 25 to 30 temporary employees in just a few days.

See other quotes from Rebecca Geller here.
Company Culture on Display
Like Judie Saunders, Rebecca Geller walks the walk and talks the talk, and she encourages her employees to do the same. Not only does this improve her employees' work performance and quality of life, but openly practicing and supporting social justice and family values helps build strong client relationships, too. The majority of their referrals come from clients.
"Our clients value our culture as well," she says. "Over the years we've gotten more vocal about work-life balance. Many clients, some of whom are single men, share with me how much they respect what we're doing with the firm. Many want to bring their business to firms that believe in social justice, and recognized us as that firm after our response to what happened to George Floyd."
This profile on attorneys and women business owners Judie Saunders and Rebecca Geller is the inaugural blog in a series focusing on women- and minority-owned businesses that are ADP clients. In this first article, we focused on two small business owners who work to amplify the voices of marginalized clients and community members. Their dedication to healing and uplifting through workplace policies, client support, advocacy and community outreach is vital in the current climate, as in our personal and professional lives we all must be the change we want to see. We look forward to sharing more inspiring stories in this space.
What do you need to know about choosing the right payroll solution for your business? Get the ADP Payroll Buyer's Guide. Learn about ADP's solutions for small business.
Read other articles in this series
Celebrating Women's History Month with Small Business Owners