3 Developments Driving HR Innovation Right Now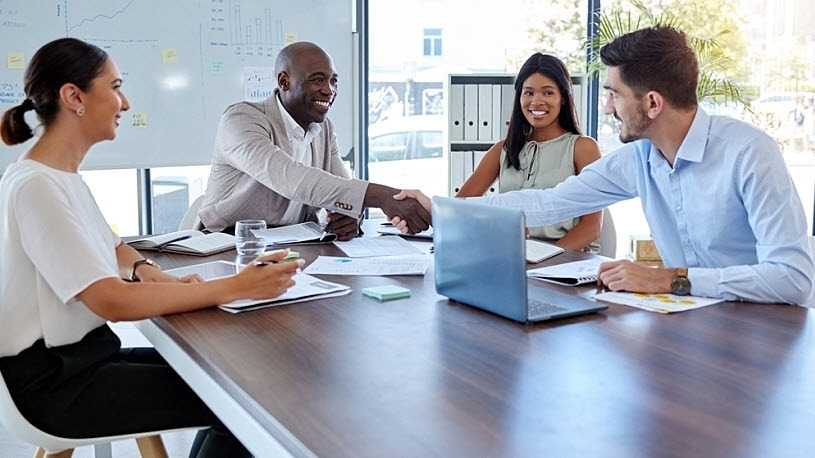 Discover three key developments driving HR innovation today: generative artificial intelligence (AI), pay transparency tools and increased investment growth. These developments are shaping today's HR innovation landscape and transforming how HR departments serve their people and organizations.
HR has experienced seismic shifts in recent years. With the advent of various new trends and technologies, the industry is evolving rapidly, with leaders looking to take advantage of ongoing transformation. In this article, we'll explore three new developments driving HR innovation, but first, let's discuss innovation in the HR field and the factors that influence it.
What is HR innovation?
It's the process of improving how HR and business leaders manage their workforces. And it's about discovering novel and more efficient ways to help employers and employees work better together. Ideally, innovations incorporate data and human-first approaches to help validate and enrich the decision making and experiences of leaders and workers. For example, innovations such as intelligent self-service can help employees proactively resolve HR issues and access personal information more efficiently, reducing the need for practitioner intervention.
How do you drive HR innovation?
There are several ways HR companies drive innovation. One way is through client feedback on products and services. People analytics can also provide insights that help companies, including HR companies, identify workforce trends. These insights can function as thought starters for new and exciting ideas that spark innovation in the field. HR companies may also invest in or acquire successful startup companies to absorb fresh solutions and expertise, or an HR company's leaders may collaborate cross-functionally and stay up to date on industry trends and best practices to continually identify innovation opportunities.
3 developments driving HR innovation today
From generative AI to pay transparency tools and an increase in investment activity, these developments are shaping today's HR innovation landscape:
1. Generative AI
Proactive nudging, or nudge engines, is a generative AI innovation being incorporated into some HR solutions. Practitioners and employees are sent cues about tasks, steps to take and information to review, helping both parties optimize their workdays. Generative AI is also changing how HR departments provide employees with helpful guidance and resources. For example, generative chatbots can promptly answer frequently asked questions about pay and benefits in a human-like way. Overall, the technology's impact on HR is accelerating and will continue to shape the industry's products and services for some time.

"We're going to see it go in a couple of interesting paths next," says Jason Albert, global chief privacy officer, ADP. "There will be these levels of automation associated with it that none of us can really anticipate today, this notion of not only recommending a trip but booking that trip, of notifying your hotel that you're going to be late, of rebooking your rental car, of booking a dinner at an airport. These types of things will happen automatically. I'm excited about that."
2. Pay transparency tools
Pay transparency tools can help HR and business leaders respond to pay transparency laws and expectations. Examples of these tools include pay equity explorers and compensation insights and benchmarking. Pay transparency laws typically require employers to publish pay or benefits in job descriptions or when candidates or employees request disclosures. These tools can help leaders close unexplained pay gaps, create or refine pay ranges and determine what similar companies pay. While these tools aren't new, they're being fine-tuned to meet employers' pay transparency needs today. Even businesses that aren't mandated by pay transparency laws may find these tools helpful, especially if transparency is a growing expectation in their workplace or industry.
"Pay transparency isn't going to stop at the handful of states that currently have laws on the books. It's going to keep growing. It's going to grow globally," says Deb Hughes, senior vice president, transformation communications and change management, HR, ADP.
3. Increased investment growth
HR companies have leveraged or created corporate venture capital (CVC) funds in recent years to support startups driving HR advancements and innovations, such as those involving employee data integration and generative AI. HR technology venture investments grew from $3.1 billion to $9.8 billion from 2018 to 2022, with $100 million or more in venture capital deals closed in 2022 alone.1 While 2023 investment has been cautious as a general trend across the venture capital industry, the leading years saw significant growth. This increased activity is an opportunity for startups to explore their funding options with the industry's key players as they express financial interest in new HR features, products and services. Startups should be selective, seeking guidance from an industry leader with a stable market position, go-to-market support and potential access to the company's experts, clients, partnership networks, technology and platforms and proprietary data.
Create the future of HR innovation with ADP
ADP Ventures is the strategic investment arm of ADP, whose corporate venture capital fund targets early-stage startups aligned with ADP's growth and innovation agenda. The fund invests in the trends and technologies shaping the human experience inside and outside work. Focus areas include HR technology, employee wellness and collaboration, generative Al and flexible work.
Are you interested in creating the future of HR with the industry's top leader?
Visit the ADP Venture Capital Resource Center at adp.com/ventures to learn more.
1. Pitchbook, Pitchbook data and analysis (includes CVC participation up to Series G), 2023