Rescinding an Offer: What You Need to Know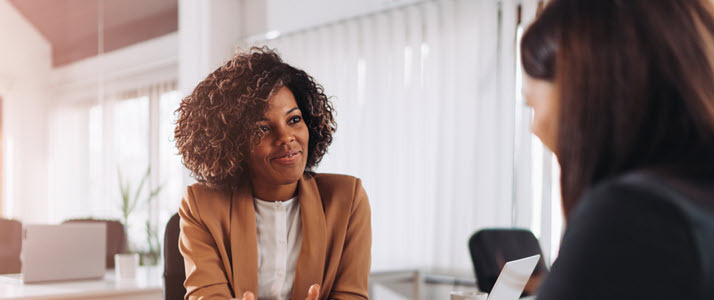 Headlines are increasingly reporting companies are rescinding employment offers as news of economic uncertainty grows. However, this decision carries significant risk, and organizations considering it should begin their conversations with legal counsel.
In times of economic uncertainty, it may be necessary to reevaluate job roles, implement a hiring freeze, rescind an offer or consider laying off current employees. Few hiring situations are as complex to navigate as rescinding a job offer. However, in some cases, it may be necessary to evaluate this option. Advanced planning can help contain risk and mitigate the fallout.
Measures to restrict hiring are on the rise, with the CEO Economic Outlook Index reporting that organizational leaders have voiced declining optimism about sales, hiring and capital investments. Meanwhile, Axios reports that companies are increasingly considering offer revocation as a cost-cutting measure, with high-profile companies making headlines recently.
Before your organization decides to rescind a candidate's job offer, here are some critical steps to take and factors to consider.
Always speak to legal counsel
When you've gone through a hiring process and made a job offer, even thinking about rescinding it should be handled with the utmost care. "If economic or company conditions have changed and a company would like to explore rescinding an offer, legal guidance is best practice as a first step before any decisions are made," says Tiffanie Ross, Senior Director of AIRS, powered by ADP.
Speaking to legal counsel can help you understand any potential liability connected with rescinding an offer because the legal and financial implications can vary widely. The timing is also critical. It's important to have these discussions before you initiate communication with the candidate.
"Legal guidance should always be sought and a critical component of any discussion before any decisions are made or conversations take place with a candidate," Ross notes. "There are often state and other jurisdictional requirements, guidelines and laws that need to be met, and they will drive decision-making and next steps."
Understand the risks of rescinding an offer
While the specific risks of rescinding an offer can only be outlined by legal counsel familiar with the specific facts and circumstances of a situation under review, organizations may face a range of legal risks and financial penalties. The specifics may depend on where you're operating, the language in the offer to the candidate and other factors. But a survey of HR literature and recent media coverage highlights a range of possible concerns, such as claims of fraud, discrimination or breach of contract.
While legal risk may be the primary driver for organizations exploring their options to rescind a job offer, there are other impacts that should be considered. "Organizations need to be aware and considerate of the risk to their employer and employment brand, employee referral pipeline, talent acquisition and retention goals," Ross says. "How candidates are treated is reflective of a company's values, ethos and culture and directly impacts them at all levels of the talent landscape."
In other words, even if your legal counsel suggests that an offer can be rescinded with minimal legal risk, it's important to take time to assess how this can influence your future talent goals. The negative sentiment from such an experience — or gaining a reputation as a company that takes these steps — can hurt your ability to attract and retain talent.
Explore your contract language
As part of a hiring process that has compliance at the heart, it's important to understand how the language in your job offers, employment contracts, job applications and other documents affect this decision. How does the text of your offer letter address the possibility of an offer being rescinded, if at all? Are there contingencies that can help pave the way for smoother discussions? Now may be the time to take a closer look and speak with legal advisors about it.
"Any language to be included would be provided by an organization's legal counsel and would be in alignment with requirements by state, federal or other applicable jurisdictions," Ross explains. "This should be a standard practice and part of an effective hiring process."
If there's any concern, initiating that conversation with your legal team before you need to invoke these contingencies or clauses can help you better understand your options and mitigate the risks.
Carefully manage senior talent offers
While rescinding any offer is a significant decision, many organizations may want to examine their processes for dealing with executives and senior talent in particular.
"Legal should be part of the process that includes offer letters, contingencies and any negotiations between the candidate and hiring organization to ensure legal risk is minimized and compliance is at the forefront of the communication as expectations are set throughout the process," Ross says.
The more closely your legal team is involved in the process from the outset, the more easily they can help you navigate unexpected waters.
Consider alternatives to rescinding an offer
Often, rescinding an offer is driven by an underlying need to cut costs, preserve cash flow or meet another goal. There may be other approaches that HR and leadership can consider, in partnership with legal counsel, to achieve those goals without incurring the same level of legal or reputational risk. For example, that may mean implementing a hiring freeze for requisitions that don't have active candidate offers in play or not replacing talent that's lost to regular attrition. What other options may be available to you can be a useful question to ask legal advisors.
"Options to consider, depending on legal guidance, could include offering optional open role(s) that are being filled and in salary range/skill set, start-date deferment or other remedies that would not create legal liability for the company," Ross notes.
In addition, if a candidate does not pass a contingency outlined in their offer letter, such as a background check or drug test, companies can typically follow the mechanisms for rescinding an offer as generally detailed in the offer letter.
Evaluate the next steps
Even opening the discussion about whether you should rescind an offer is a complex process. HR professionals who carefully craft their talent pipelines have multiple consequences to consider. And as individuals navigating a variety of challenging decisions during periods of economic uncertainty, HR leaders understand that candidates may have made important decisions based on having accepted that offer.
It's a decision that isn't taken lightly at any level of the process. But if your organization is evaluating options to preserve financial health and this is on the table, it's imperative to involve legal counsel as early as possible. From there, you can map out the potential risks and evaluate a menu of different solutions that may be open to you during an otherwise difficult time.
Find out how to make HR more personalized to adapt to today's changing talent landscape. Learn how to design a people-centered workplace. ADP.com/ItsPersonal