How Can a Small Employer Increase Their Prospects and Hire Additional Employees?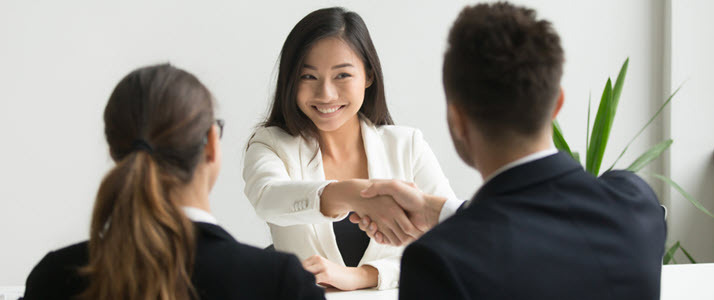 As a small business, competing for talent with larger organizations can feel like an uphill battle — but it doesn't have to. For improved results, organizations need to identify how they will communicate all that they have to offer to jobseekers.
As a small business owner, it can feel as if the cards are stacked against you when you're trying to hire. You might search for talented and motivated job candidates but end up with a small pool of mostly unqualified jobseekers. Rest assured, you're not alone.
It can be tough to compete for talent with larger organizations that have bigger budgets, formal career development and mentorship programs, and generous benefits packages, but that doesn't mean you're playing a losing game. Here are some points of guidance on how to hire additional employees for a small business.
Focus on culture
According to a study from Glassdoor, organizational culture and values are the main drivers of employee satisfaction — ahead of the quality of senior leadership, career opportunities, and even compensation and benefits.
Once you've defined your organizational culture and put it into practice, be sure to showcase it as part of your recruitment efforts. Keep in mind that today's job candidates may do a lot of research on your business before they even respond to a job ad, so you'll need to look for ways to highlight your culture on your website and social media channels.
Some approaches worth considering include:
Asking current employees to write blogs or film testimonials discussing their experiences working with the organization and share them on your website's careers page and social media platforms.
Sponsoring nonprofit and community events.
Using photos of actual employees rather than stock photography.
Celebrating employee accomplishments, including work anniversaries, promotions, educational achievements, etc.
"People want to be able to connect to more than what your company looks like from the outside," says Kiran Contractor, Director of Talent Acquisition at ADP. "So showcase your organization at the employee level, so candidates can relate."
Take a personalized approach to benefits
You may not be able to offer the most comprehensive benefits package or formal professional development programs, but small employers have one advantage that most large employers don't: agility.
"As a small organization, you have the ability to take a personalized approach," Contractor notes. "Try to understand who your employee is and what matters to them. It all comes down to what makes someone feel valued."
Flexibility and work/life balance are excellent places to start, since each person's needs are unique. Remote work has gotten a lot of attention recently, but flexibility doesn't always have to mean being fully remote. For example, you may have one employee who wants to start work later to make time for a morning run, while another might prefer to leave work early to pick up their kids from school. Providing flexible hours can help both of these employees achieve better work/life balance.
Beyond flexibility, look for other ways to support and motivate employees with generous and creative benefits, such as an allowance to help them cover their home internet, car insurance or pet insurance.
"The types of benefits that will resonate depend on your workforce," Contractor explains. "So evaluate who your people are. Even if you only have a team of 10 people, take a survey to ask what's important to them, or what benefits they would think are desirable if your company could allow them."
Define career paths
For employees, the potential for career development is an enticing reason to sign on and stay with an organization. Highly talented and motivated people aren't just thinking about their next role; they're also considering where it could take them in the future.
Employers wondering how to hire additional employees for a small business must therefore show jobseekers a pathway to their potential future up front. In your job ad, don't just mention "growth opportunities." Instead, highlight your organization's commitment to career growth by detailing your tuition reimbursement and mentoring programs. During the interview process, let people know how long it typically takes to take on new responsibilities and get promoted. Discuss how employees in your small organization get to play multiple roles and learn new skills.
"Candidates are looking for ways to contribute now but also want opportunities for the future," Contractor says. "So create a vision to get them in the door."
Remember, in a big corporation, individual employees can feel like parts of a giant monolith, but in a small business, the relationship between employer and employee can be much more personal. Be sure to leverage that strength in all of your efforts to attract top talent.
Learn more
Hiring and keeping your best requires greater people intelligence. Get our guide: How to Design a People-Centered Workplace