Insurance Insights: Guardian's Zarifa Brown Reynolds on Small Business Benefits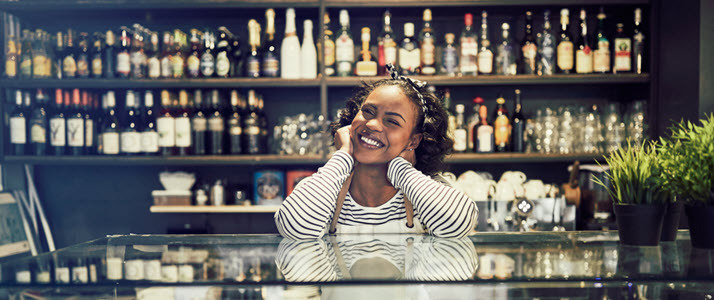 Welcome to "Insurance Insights," Automatic Data Processing Insurance Agency, Inc.'s series in which ADPIA® connects with industry experts to share ideas and perspectives to help small business owners better understand insurance.
Erik Bristow, Vice President of Business Development and Product Marketing of ADP®'s Insurance Services division, recently spoke with Zarifa Brown Reynolds, Head of Strategic Growth Markets & Small Business Segment at Guardian.
Bristow: Welcome to Insurance Insights, Zarifa. I welcome your thoughts about what current benefits challenges small businesses face in 2021 – 2022?
Reynolds: I see three main challenges facing small businesses. The first is cost control. Health insurance (which Guardian doesn't offer) is expensive but there are ways to manage those costs. For example, individual coverage health reimbursement arrangements, or ICHRAs, allow small businesses to set up a budget they can afford for healthcare, which then provide those funds to individual employees to purchase health insurance.
The second challenge is the unequal access to information. Small businesses usually do not have the in-house benefits expertise that larger companies do. So, it's important to enable employers and employees at small businesses to gain access to insurance information. That's why Guardian's broker network provides information to employers and employees through digital platforms so both can make informed decisions. These platforms also make it easier for employees to enroll and view their benefits. Ultimately, we are empowering employers and employees by making benefits information more accessible.
The third challenge relates to employee wellness and whether small employers can cover the entire individual, from a financial, mental, and physical health perspective. According to our Guardian Workplace Benefits Study, only 27% of small business employees say their benefits address their financial health well.
On the mental health front, only 36% of small business employees say their organization offers enough support for mental health. Small businesses have the opportunity to think creatively about how to differentiate their benefits to attract and retain talent by offering supplemental health and voluntary benefits.
Bristow: What technology and benefits trends have accelerated over the last 12-18 months?
Reynolds: COVID-19 has accelerated the adoption of technology, including benefits technology. We've witnessed the nearly complete digitization of the way many companies work and the way customers engage with companies. For example, our Workplace Benefits Study showed 72% of employees who reported satisfaction with their benefits experience say they enrolled via a digital method.
Employees have become much more comfortable accessing benefits through digital platforms, especially around mental wellness resources and telemedicine. These changes aren't going away anytime soon.
On a related note, COVID-19 has also highlighted that we have an opportunity to more deeply engage with and welcome younger employees into the workforce. Although younger employees may be digital natives, as they enter the workforce, they need the training and apprenticeship to acclimate. Technology enables flexible work arrangements and can also be leveraged to ensure that small businesses provide the ability for younger entrants to properly transition to the workforce.
Bristow: Can you give an example of small businesses thinking more creatively about benefits?
Reynolds: We worked with a trucking company that offered their employees the use of their vehicles for themselves, their family, and friends. The benefit didn't really cost the company anything, and it was a perk people really appreciated, especially if they had to move their kid to college or if a friend was moving.
A small fitness business we worked with gave all employees a fitness plan, but they extended that benefit to each employee's family and friends. So, employers are increasingly thinking about value-add benefits that might be meaningful to employees and are not cost prohibitive.
Bristow: Why should supplemental health and voluntary benefits be part of a benefits strategy?
Reynolds: When coupled within a broader wellness framework, supplemental health and voluntary benefits allow employers to offer more benefit options to more employees. These benefits can be part of a package that provides foundational employee wellness. They're also surprisingly accessible — voluntary benefits, like critical illness or accident insurance, have three payment options: paid by employer, shared contribution, or paid by employee. There are even built-in discounts associated with bundling benefits.
For example, high deductible health plans typically work better for younger employees than more expensive, all-in plans. Younger employees like Guardian's supplemental health benefits because they help ensure there's no real downside to high deductible plans. Our hospital indemnity insurance, for example, pays for costs related to a hospital stay directly to the employee for expenses not covered by their medical plan.
Finally, we understand that there is a lot to learn about voluntary benefits – for both employers and employees – so we recently launched our second series of videos for our educational campaign called Simply Put. We invite your readers to view our videos and learn more.
Bristow: Please share your thoughts about Guardian's role in helping small businesses leverage benefits?
Reynolds: Guardian offers a suite of employee benefits, including dental, life, and disability insurance, as well as supplemental health products like hospital indemnity and critical illness coverage.
But I think of Guardian as more than that. I see Guardian as an enabler who helps small business owners empower their employees to live the lives they want to live. It's about fostering a culture that helps attract and retain great people.
When small businesses think strategically about employee benefits, owners will see they can offer coverage to help increase their employees' financial protection as easily as employers of larger companies. It's great to be part of that experience.
For more information about ADPIA visit: Insurance.adp.com
For more information about Guardian visit: https://www.guardianlife.com/
Automatic Data Processing Insurance Agency, Inc. (ADPIA) is an affiliate of ADP, Inc. All insurance products will be offered and sold only through ADPIA, its licensed agents or its licensed insurance partners; 1 ADP Blvd. Roseland, NJ 07068. CA license #0D04044. Licensed in 50 states. All services may not be available in all states. This information is not intended as tax or legal advice. If you have any questions, contact a tax or legal professional.
This is not an endorsement of Guardian or any of its products and services. ADPIA partners with multiple carriers to provide access to group health benefits products and services.