Paid Family Leave: Why It's Essential and How To Design an Effective Policy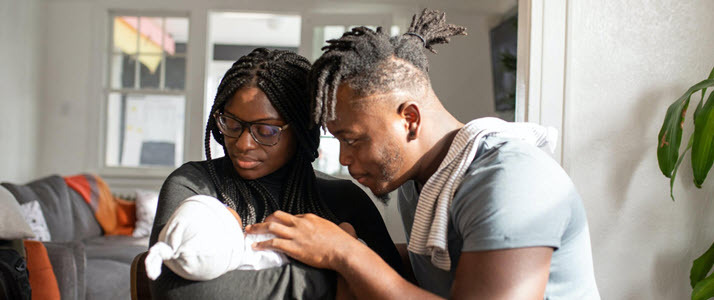 Paid family leave isn't guaranteed by federal law, but many states and local governments have enacted regulations around paid family leave in recent years. Employees and jobseekers also highly value access to this benefit, and organizations need to evaluate where they stand in order to remain competitive.
If you know one fact about paid time off in our nation, it may be that the U.S. is the only wealthy country on the planet without a federal policy that ensures paid family leave for workers.
Despite the absence of federal regulations, the American workforce is making slow progress, with many states and local governments adopting paid leave rules to guarantee this benefit to certain workers. As of March 2021, only 23% of private industry workers had access to paid family leave. But that figure is on the rise, as many organizations are implementing their own paid leave policies, partly because it's an effective way to support workers and partly because today's candidates demand it.
Expanding family leave programs can provide a strategic advantage in talent acquisition because jobseekers are increasingly prioritizing benefits like these. For instance, in April 2021, 82% of Americans thought employees should be able to take paid maternity leave, including leave for adoption. The rising demand for inclusion in the workplace means new policies should include family leave for all workers.
The current candidate-driven talent market means business leaders need to expand their policies and create more family-friendly work cultures. Remote or hybrid work and flexible schedules can help a lot, and paid parental leave is the logical next step.
Samantha Munro, Senior Counsel at ADP, kindly answered many of the common questions employers have around paid family leave policies. Here are the insights she shared to help guide you through creating a new paid family leave policy for your organization or expanding your current leave policies to offer this popular benefit.
Why offer paid family leave?
Business leaders need to understand the compelling reasons to offer family leave, even though the benefit isn't required by law. The key motivation is competitive advantage. Expanding benefits offerings can help you compete for top talent, especially if your organization's policies go beyond traditional maternity/paternity leave to support employees in all kinds of familial relationships, including those that involve caring for unmarried partners or aging parents.
"The primary reason for employers to expand family leave is to stay competitive," notes Munro. "In an effort to stay competitive in the market, employers are either considering or offering more expansive leave entitlements than what is required by law. To be truly competitive, they're having to offer leave that is not only more inclusive amongst all employees, but goes far beyond what is actually required."
Paid family leave policies can help organizations attract and land candidates, but current employees naturally benefit from these policies as well. The advantages of paid maternity leave are well documented, and McKinsey also describes the many benefits of paid paternal leave, which include strengthened partnerships between parents and closer bonds between parent and child.
Best practices for paid family leave
Adding or expanding a paid family leave policy can help you attract new talent and enhance your organizational culture, but only if you approach the move with keen strategy and proven best practices. Here are several to consider:
Put compliance first. The first step for any organization's family leave program is to learn what is required by state and local law. These requirements set a floor for employers designing leave policies. Due to the state of the talent market, competitive organizations will likely want to exceed these minimums.
Define leave offerings. "Any paid leave policy should specifically identify what paid leave is being offered and what it can be used for," says Munro. "Paid leave may take the form of paid time off, medical leave, parental leave or other types of paid leave." Additionally, effective paid family leave policies explicitly define how leave time is earned. There may be length-of-service requirements as well. For example, employees might only be allowed to take paid family leave after 12 months of continuous employment.
Set rollover rules. "The employer, in their policy, should outline whether any unused leave will roll over into the following calendar year," explains Munro. "And if so, how much? Employers can decide whether or not they will allow that employee to roll over all or some of that leave." This decision should be informed by state and local law, "which may provide some requirements as to whether or not you can allow only a certain amount of rollover or, as an alternative, forfeiture of all unused paid leave that has accrued," Munro adds.
Consider separation. It's also crucial to decide what happens to an employee's accrued leave balance when they leave the organization. "Consider whether upon termination you will pay out unused leave to the employee," says Munro. State and local laws may cover this and might require employers to pay out leave balances or force "use it or lose it" policies.
The future of paid family leave
While fewer than a dozen states currently guarantee paid family leave, we should expect to see new laws take effect in the coming years.
"It will be a domino effect whereby most, if not all, states will likely enact some form of paid leave over time," notes Munro. "As those floors are set, especially with the talent market as competitive as it is — and probably will continue to be — employers will be almost expected by their employees and applicants to offer more generous leave packages than what is required by law. Family leave is only going to get more expansive and more inclusive over time, certainly within the next five and 10 years."
Supporting all employees with inclusive policies
The future of paid family leave is expansive and inclusive. What expansion looks like can vary widely depending on the size of an organization and the demands of its business operations, but employers are tasked with the challenge of responding to the growing demands of candidates and employees. Making new or existing leave policies more inclusive is an important step toward accomplishing that task.
"Some organizations are moving to providing both paternity and maternity leave where historically only maternity leave was offered," says Munro. "This will assist in removing what could be perceived as a stigma surrounding the need for only some employees, but not others, to be absent from the workplace following the birth or adoption of a child. In addition, employers want to ensure that employees who historically were not included in family leave laws — such as employees experiencing infertility, those who are transgender and those who have same-sex partners — are included in any family leave policies that are rolled out by the employer."
There are, of course, other important ways to support employees and their families. As Munro notes,"Employers may also want to consider additional offerings to support their employees, such as part-time schedules for a certain amount of time and flexible schedules where the employee can work remotely or in a hybrid work model."
Ultimately, the goal of paid family leave policies is to support employees during one of the most important and challenging phases of their lives. That should mean more than simply paid time away from work.
Learn more
In the post-pandemic world of work, the organizations that prioritize people first will rise to the top. Find out how to make HR more personalized to adapt to today's changing talent landscape. Get our guide: Work is personal