How to Celebrate Juneteenth at Work: 9 Ways [2023 Update]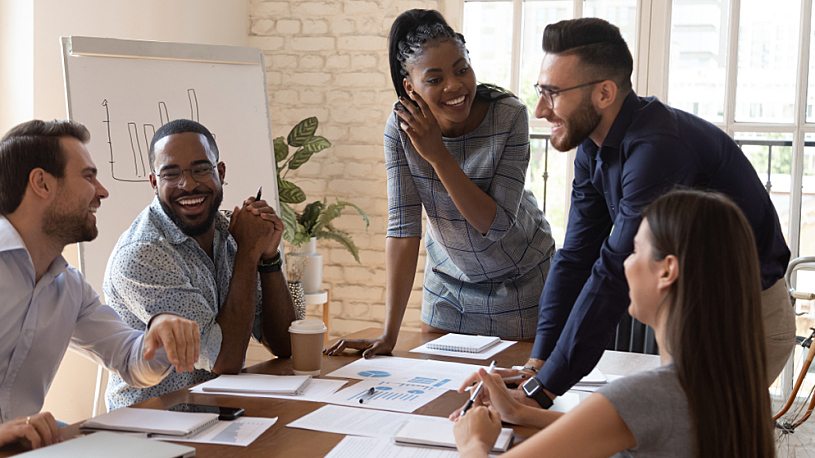 As you consider how to celebrate Juneteenth at work, know that there isn't a right way to celebrate. Focus on keeping the mood festive, reflective, forward-looking and inclusive.
Beyond giving your employees the day off, consider how to celebrate Juneteenth at work to demonstrate your commitment to the holiday's history, traditions and impact.
"As we approach Juneteenth, I am reminded of the importance of celebrating freedom and progress," says CT Mobley, division vice president, sales, small business services, diverse business channels, ADP. Mobley is also the president of Cultivate, ADP's Black and African-American business resource group (BRG). "Juneteenth is not just a historical event but a reminder of a community's resilience and strength. We are honored to have the Cultivate BRG illuminating the way in commemorating this day at ADP, and we hope that other organizations will use the BRG's activities to inspire meaningful celebrations in their workplaces and reflect on the progress that's been made and the work still to be done. By coming together, we can honor the sacrifices of our forebearers and pave the way to an empowered future where all workers can thrive."
What is Juneteenth, when is it and why is it important?
Juneteenth, or Juneteenth National Independence Day, is a federal holiday celebrated annually in the United States on June 19. The holiday is important because it commemorates the ending of slavery in the US and functions as a large-scale celebration of Black history and culture. June 19, 1865, marks the arrival of Gordon Granger, a Union general, in Galveston, Texas, where he announced the end of slavery and the Civil War, the latter of which had ended on April 9, 1865. According to the Congressional Research Service (CRS), as of July 1, 2022, all 50 states and the District of Columbia recognize Juneteenth as a holiday or observance, and more than a dozen states and the District of Columbia have designated Juneteenth as a permanent paid or legal holiday through legislation or executive action.
What are some ways to celebrate Juneteenth at work?
Below are nine ways to celebrate Juneteenth at work, inspired by ADP's own celebrations. Don't forget to include virtual connection points for hybrid and remote employees as you plan.
1. Ask leaders to talk about the holiday
Ask leaders to talk about Juneteenth, its history and why your organization has chosen to celebrate it. Reasons vary, but it's important to voice yours so that employees can understand your commitment to the holiday and all that it represents. For example, for a previous Juneteenth, ADP had some of its diversity, equity and inclusion (DE&I) leaders discuss the holiday within the context of a theme known as "Educate and Celebrate." Similarly, you could choose a theme and ask your leaders to discuss, for example, the story of Juneteenth, why it's celebrated on June 19 and why it's significant. You could also distribute a "What does Juneteenth mean to me?" communication with thoughts about the holiday from your most prominent leaders. In that communication, involve your employees by encouraging them to share their thoughts as well.
2. Host a 'Did You Know?' campaign
Host a "Did You Know?" campaign to educate employees about Juneteenth. You could showcase facts about the holiday on office display screens, on an organizational portal or in an internal "Did You Know?" email series. Here are some points to get you started:
Did you know that, on June 17, 2021, President Joe Biden signed the Juneteenth National Independence Day Act, which officially made Juneteenth a federal holiday?
In 2021, the city of Galveston, Texas, dedicated a 5,000-square-foot mural known as "Absolute Equality," where Granger made his announcement.
Did you know that Juneteenth goes by a few different names, such as Freedom Day, Jubilee Day, Cel-Liberation Day, Second Independence Day and Emancipation Day?
You could also showcase Black art as part of this campaign, offering interesting "Did You Know?" insights about the artwork and artists. Alternatively, you could simply partner with local Black artists and discuss the terms of an in-office or virtual exhibition of their artwork.
3. Create out-of-office message templates
Juneteenth 2023, or June 19, 2023, falls on a Monday, with some observing the holiday by giving their employees that day off. For workers with access to internal instant messaging (IM) applications and email accounts, consider providing them with templatized out-of-office (OOO) messages. Ask them to include the messaging in their IM statuses or OOO email responses. These messages will tell people contacting your employees during the holiday why they can't be reached, but they can also discuss why your organization observes or celebrates Juneteenth. In other words, the messages can say more than "I'm out of the office." Get creative and include facts about the holiday or discuss why your organization has chosen to recognize it and give its employees the time off.
4. Serve traditional Juneteenth foods
Serving food during Juneteenth celebrations isn't solely for nourishing celebrators. Uniting around food is an integral Juneteenth tradition, so don't hesitate: Prepare the serving trays and cookout dates and times. While planning the menu, consider incorporating foods with historical ties to Juneteenth. For example, for a previous Juneteenth, ADP served Texas-style barbecue, an homage to the Lone Star State's historical connection to Juneteenth and to barbecue's presence at various 19th-century Juneteenth celebrations. Additionally, red foods and various delicious sides are traditionally served on Juneteenth.
5. Incorporate celebratory tunes
Musical performances have been a Juneteenth tradition since Texans began celebrating the holiday in 1866. In recognition, consider including live or recorded music, dancing and singing as part of your celebration. For example, for a previous Juneteenth, ADP partnered with the New Jersey Performing Arts Center (NJPAC) to bring live music to its Roseland, Florham Park and Parsippany, New Jersey locations. Could you do something similar with local musicians? If you need musical inspiration and song options, find a Juneteenth streaming-service playlist with favorites like "Lift Every Voice and Sing" and "A Change Is Gonna Come."
6. Create a pop-up shop for Black businesses
Consider supporting your local community by partnering with Black businesses and promoting their products and services to your workforce. You could do this as part of a pop-up shop, where employees stop by throughout the day to browse and learn more. Consider establishing a company-sponsored digital storefront for hybrid and remote employees or employees who prefer to shop online. Additionally, are there opportunities for raffles and prizes, giveaways or goodie bags and promotional codes? The businesses may be willing to participate in these. Also, with their permission, could you provide the businesses' hours, locations, social media handles and other details to enhance their exposure? Know that this pop-up shop idea isn't standalone. It can also be incorporated into other celebratory events, like Juneteenth presentations and cookouts.
7. Host a red, black and green day
Host a red, black and green day to honor the colors of Juneteenth. Your employees could wear their best red, black and green shirts, pants, jackets, shoes, jewelry, hats and other apparel. Crank up the engagement factor by hosting a best-dressed contest, ensuring that everyone is recognized no matter what. Could you take a group photo, creating a wonderful memory for all to enjoy year-round?
Also, red, black and green can go beyond attire. Could you partner with artists in your workforce or community to promote their red, black and green Juneteenth art? Could you pay an artist to create a red, black and green Juneteenth mural for your workplace? Perhaps you could offer a red, black and green coloring activity or a similar arts-and-crafts activity incorporating these colors. Get creative and consider all the different ways you can use red, black and green.
8. Play games that incorporate Juneteenth trivia
Gather accurate information about Juneteenth and turn it into a trivia game using an online trivia service like Kahoot! This game can be played in person and remotely, making it perfect for all workers. Depending on the size of the group participating, you could also play trivia manually, asking questions and gathering answers while keeping score with a pen and paper. For a unique twist, you could combine trivia with bingo by creating bingo cards that list the answers to predetermined Juneteenth-related questions. Increase the engagement factor by playing festive music and offering prizes, and enjoy learning about Juneteenth while having fun with your colleagues.
9. Get active on social media
To raise awareness of Juneteenth, consider posting about your organization's celebratory activities on LinkedIn, Facebook, Twitter, Instagram and any platforms relevant to your industry. You could also share your organization's point of view on Juneteenth, talk about its significance and traditions and discuss the different ways you're celebrating. Organizations with business resource groups (BRGs) can leverage their internal employee channels to get the word out and share memorable moments from location-specific celebrations. ADP, for example, encourages BRG chapters and engagement groups to host local Juneteenth celebrations, make them their own and share photos with ADP's headquarters.
Conclusion
As you consider how to celebrate Juneteenth at work, know that there isn't a right way to celebrate. Focus on keeping the mood festive, reflective, forward-looking and inclusive. Pick a theme and tailor the celebration to your unique workforce and workplace. Remember that this is a holiday that everyone can enjoy, and, most importantly, remember to have fun.
For resources on diversity, equity and inclusion (DE&I), visit ADP's DE&I Resource Hub.
ADP's Cultivate BRG contributed to this article.
Cultivate supports the professional development of ADP's Black and African-American associates and their allies, inspiring, empowering and encouraging its members through career development, education, mentoring and networking opportunities.