What Makes a Stellar Mentoring Relationship? 4 Key Elements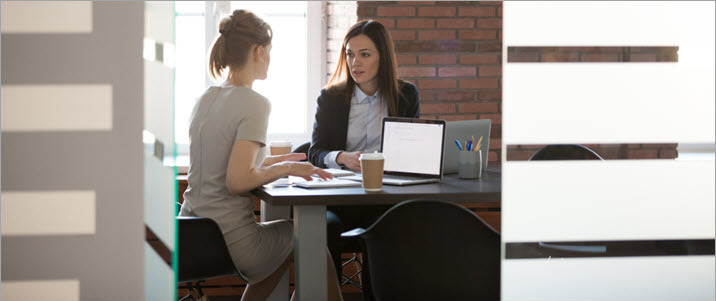 Talent retention and development – two topics every organization is focused on right now. One effective strategy to keep and grow top talent is offering mentoring. Here are tips on how to develop a successful mentoring relationship.
As my toughest critic, I find myself asking, "What makes me qualified to write about mentoring others?"
But then I take a step back and remember that mentoring has always been a passion of mine. I enjoy helping others realize their own goals and uncover new ways to achieve them. I've been fortunate enough to have many people help me along the way, by offering advice (the good, bad, and hard to hear), providing valuable insights and setting me up with opportunities to grow in my career. So, when I get the chance to give back, I jump in.
For the past 10+ years, I have served as a mentor for several programs for women in leadership, like the Pathbuilders organization in Atlanta. Watching mentees learn, grow, become more confident, and succeed in their roles - I feel like I learn as much from them as they (hopefully!) do from me.
When embarking on a mentoring relationship, keep these four elements in mind:
1. Build trust
First and foremost, there must be trust between the mentee and mentor. This is imperative to building a productive mentoring relationship, particularly when the mentor and mentee work in the same organization. Each must feel comfortable sharing insights, lessons learned and challenges in a way that is confidential and judgement free.
It's also important to set ground rules, i.e., confidentiality, how often and when will you meet? How does the mentee like to receive feedback – blunt or with a spoonful of sugar? Will the mentor assign "homework"?
Tip: One way to build trust and transparency is to listen more, talk less and ask open-ended questions for deeper understanding of the issue(s). It's also important to be transparent about your own experiences. Mentors who are open and honest about their own shortcomings make themselves more relatable to the mentee.
2. Establish goals and share lessons learned
It's hard to get anything other than polite conversation out of a mentoring relationship unless you have specific goals to focus on. What is your mentee trying to accomplish? Many mentees I've worked with want my support on improving their presentation and public speaking skills, developing executive presence, enhancing networking skills, and overall career development – just to name a few. In some cases, the mentee might not know how to articulate what they want to focus on. It's the role of the mentor to ask the right questions, listen and offer suggestions.
Mentors should share their path, the ups and downs and how they responded, what they learned and how they've applied those lessons over their career. This sometimes means sharing the "tough love" lessons learned, which means being willing to be vulnerable. I remember when I was an intern early in my career, a very veteran VP yelled "Be resourceful!" at me (cringeworthy, I know). Another leader told me about the invaluable "meeting before the meeting," and taught me how to have tough conversations with my team. All that is advice I carry with me to this day.
Tip: Both the mentor and mentee should have goals for the relationship. In the case of the mentee, that might be a combination of things such as career development or managing crucial conversations. In the case of the mentor, it might be improving communication and advisory skills. Write down the goals and review them as part of your meetings.
3. Take action
Mentees should drive the relationship - after all - mentors are donating their time. So, mentees should help set up meetings, schedule calls or video conferencing sessions, and even put together agendas. Revisit previous conversations and have the mentee share updates, progress and how they applied the advice offered. This approach provides a chance to discuss any speedbumps and how to address them going forward. And, bonus, it shows progress, which is always rewarding for both parties.
Tip: Don't assume. A few years ago, I had a mentee with a career development challenge. She was convinced her manager wanted her to "stay put" in one department. When I asked her to say more, it turns out she and her manager had never actually talked about it!
So, we put a career map in place to show both a "ladder" and "lattice" progression with a five to seven-year trajectory. She was then able to have a productive conversation with her manager. As a result, she was offered new stretch assignments and projects to help her prepare for what's next. A win-win!
4. Celebrate successes
This is incredibly important. Celebrating milestones, achievements – large and small – is key to showing progression. One program offers a "graduation" ceremony with certificates of achievement, a virtual toast and awards for mentor and mentee of the year. A great way to cap off time well spent.
As organizations continue to look for ways to engage, retain top talent and promote a supportive workplace culture, mentoring is one of the strategies to tap into. It's the gift that keeps on giving.
Learn more
In the post-pandemic world of work, the organizations that prioritize people first will rise to the top. Get our guide to find out how to adapt to today's changing talent landscape.